Grow Your Fundraising: JustGiving's Newest Insights & Actions [June 2023]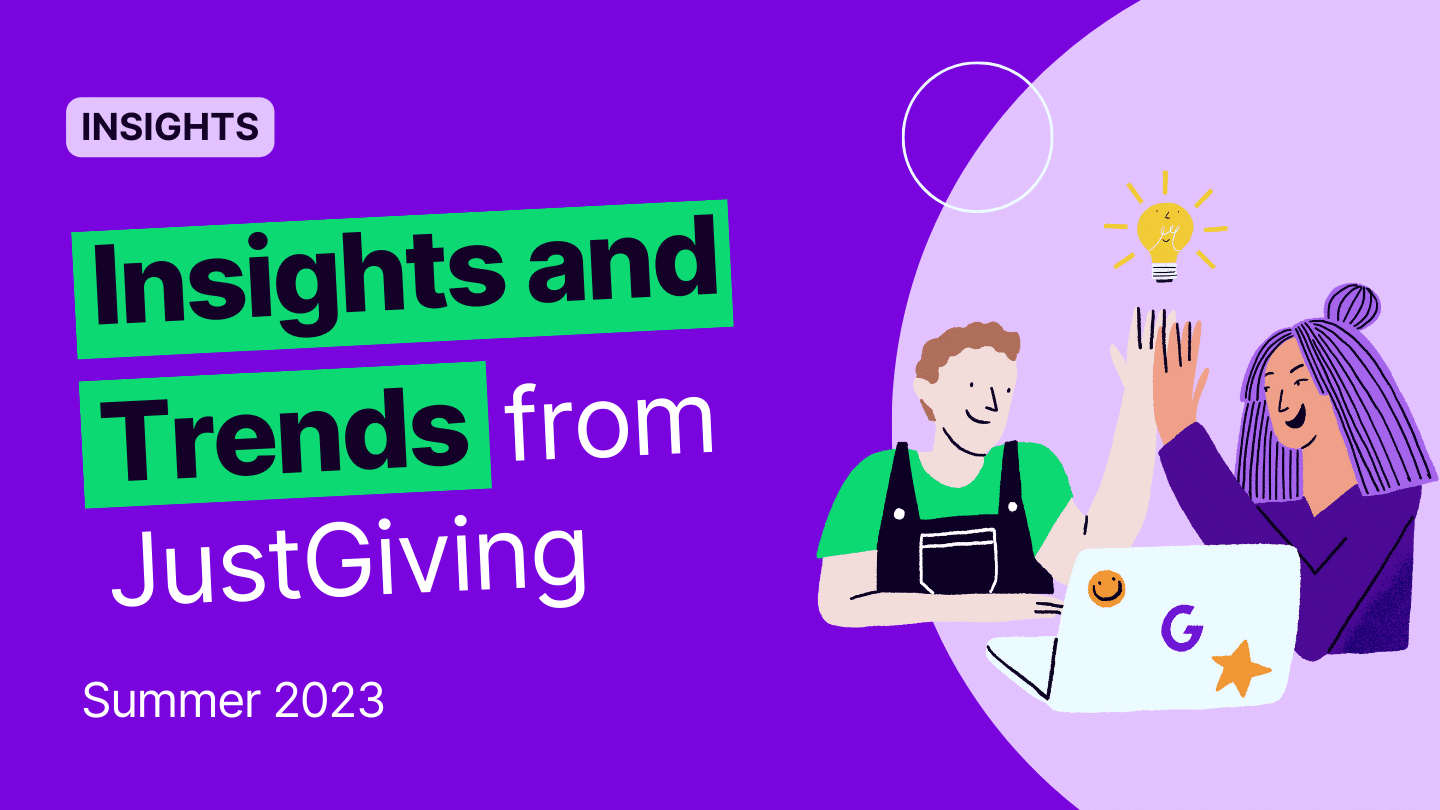 One of the best ways to raise money for your mission is by learning from data.
But with so many reports out there, it can be hard to determine what's most important and which numbers you should even trust. 
Through 20+ years and millions of donations on the JustGiving platform, we've got a good bird's eye view of the charitable landscape. 
In this round-up, we're highlighting the key trends from the recent Summer edition of our JustGiving Insights webinar. Carry on reading for the key highlights, or get the full picture and watch the webinar now on-demand. 
We've split things down into three key areas (click the link to skip to that section):
We hope this report helps you make more informed fundraising decisions and gives you some confidence you may not have had at the start of the year!
*Note: The data here is for UK and Ireland, and for the most part we're looking back at 2023 and 2022 (for some we've added in 2019 as the last "typical" year pre-COVID).
Peer-to-peer fundraising insights & actions
First up, we're covering all things P2P Fundraising (peer-to-peer fundraising).
By P2P Fundraising, we're talking about individual supporters who collect donations for your charity. 
On JustGiving, we define this as someone who has a fundraising page. We see all sorts of activities happening using fundraising pages, from Great North Run and London Marathon, to pub quizzes and cake sales. 
So let's jump in and get things started by looking at the volume of fundraising pages created on JustGiving.
On the below chart, you'll see each year broken down by quarter: 2019 in green, 2022 in pink, and the first half of 2023 in purple. 
We can see that pages are trending up year on year, which suggests the appetite to fundraise online for charity is stronger than ever!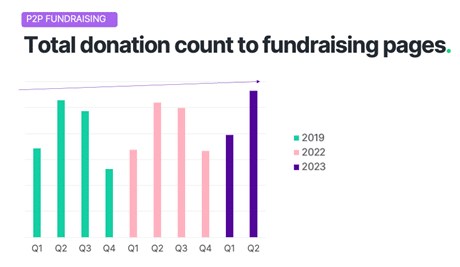 The average donation value to fundraising pages remains stable at about £30. This is positive to see, considering the economic outlook at the start of the year.
But what's really driving growth is that more people are giving to fundraisers. This is contributing to an increase in the average raised per page. 
Regular giving to fundraising pages is also rising…fast! 
Earlier this year, we enabled people to set-up a regular gift to fundraising pages on JustGiving. It's early days for this feature, but we're excited to see the growth trajectory and the potential to acquire new supporters for your charity.
With regular giving, donors have the choice to set up a recurring donation to a fundraising page. This also gives them the option to end the direct debit when the page closes or transition their regular gift to the charity directly.
We know ¾ of the public think it's never been more important to help others. But our insight also shows many people are hesitant and lack confidence (20% don't believe they'll raise much money, don't know what to do, or where to start).
When we asked London Marathon fundraisers on JustGiving how confident they were about hitting their target, many said they were quite or very nervous.
A recurring theme appears to be a lack of confidence.
What this suggests is there is a need more than ever to send fundraisers your tips, support, and motivation. The great news is that charities and friends were top of the list when we asked people who was most likely to inspire them to help others. This means your charity is in a great position to give hope and inspire action!
Key actions
The most important thing right now is to build up your supporters' confidence. People still want to give, and we've got some tried + tested tips that charities can share to help their fundraisers raise more.
Give them a helping hand and share our top tips for creating the best fundraising page possible.
For more benchmarking stats for these events, you can watch the Summer edition of our JustGiving Insights webinar – available now on-demand.
Individual Giving
Next up, let's look at the individual giving trends we're seeing on JustGiving.
By Individual Giving, we're talking specifically about when a person makes a direct donation to your charity. 
This can happen on your Campaign Page, your JustGiving profile page, or on Giving Checkout (which charities use to get online donations on external channels like their website). 
In the below chart, we can see strong growth year to date and in Q1. It's clear to see the outpouring of generosity at the start of the year for those impacted by the earthquakes in Turkey and Syria.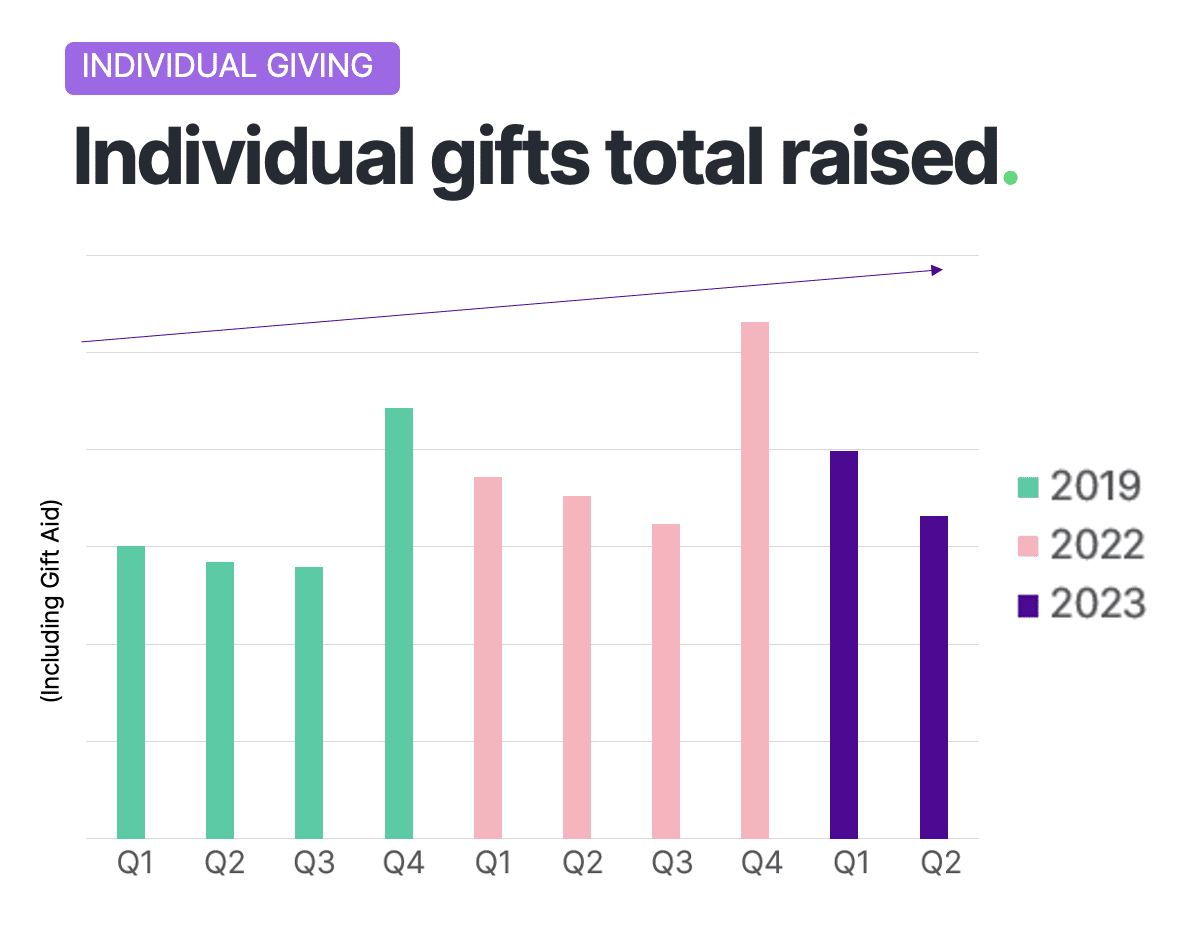 We're also seeing some signs of decline, with the average donation currently at approximately £50 (vs £60 pre-pandemic). However, donation volume is up, which means more people are giving, but giving a bit less on average.
We're also seeing strong growth in regular giving volume, with more people than ever setting up direct debit mandates to good causes.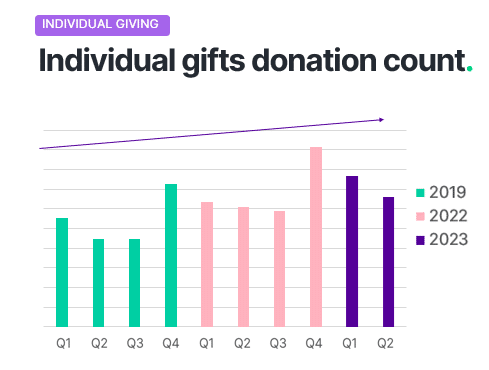 When we look at how people are giving, something that jumps out is the growth in contactless donations. Money raised in this way nearly quadrupled since 2022!
It's convenient, quick, and easy. People got used to it during the pandemic. Less people carried cash, and the different types allow for all kinds of cool giving experiences: QR codes, NFC tags, stand-up devices, and more.
Our partnership with LibertyPay has made all this possible for charities on JustGiving. If you're already a JustGiving customer, you can get your account pre-linked to a variety of cool devices.
Key actions
With JustGiving, your cause can inspire donations from anyone, anywhere in the world. People can make one-off donations too, making an impact to your cause directly. Here's how to inspire more donations (even during the cost-of-living crisis).
If you're looking for a simple way to get fee-free donations right from your website, check out Giving Checkout. For more information about receiving contactless donations, learn more about LibertyPay.
Get the full picture
Watch the Summer edition of JustGiving's Insights & Trends webinar for more.
Multi-charity events
This quarter, we're also shining the spotlight on multi-charity events. We've dug into the numbers, and uncovered some interesting trends in events where multiple charities are taking part. 
These are usually put on by 3rd-party organisers like London marathon and London Landmarks Half Marathon. 
Can you guess what the most popular type of fitness fundraising is on JustGiving so far this year? 
In Q1 and Q2, the answer's clear as day. Running still dominates with 72% of pages created for running events! Long-distance running, in particular, is growing in popularity.
And while page creations for swimming, cycling, and treks are less popular compared to 2022, walks have also grown over the past two years.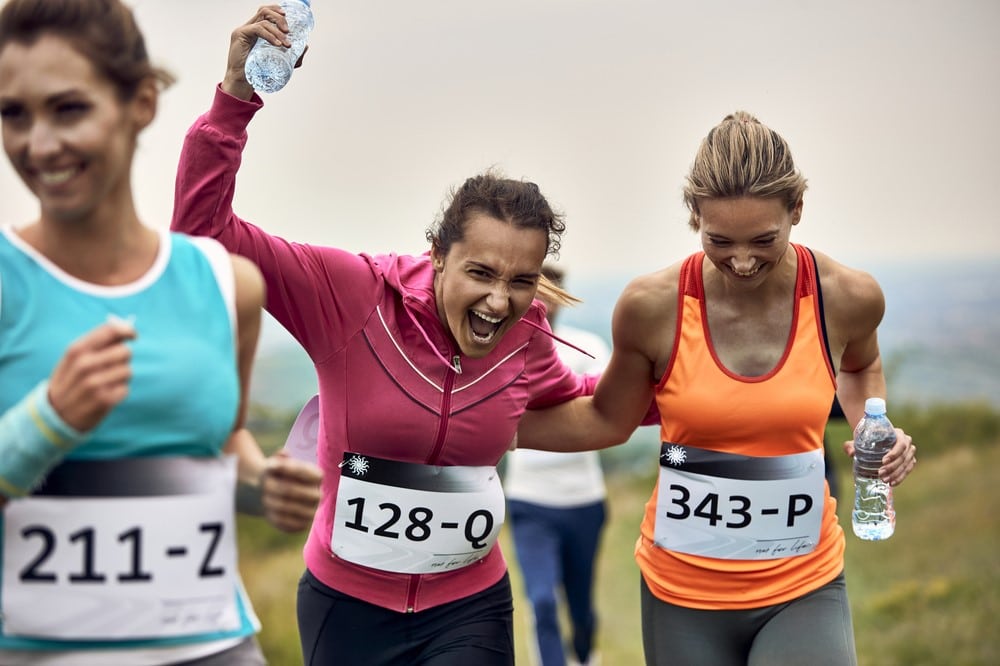 For more benchmarking stats for these events, you can watch the Summer edition of our JustGiving Insights webinar – available now on-demand.
Here are some helpful pages to help you start fundraising for upcoming events:
Have confidence in your fundraising
Generosity is still strong, despite tough times. Remember, 74% of Brits believe it is more important now than ever before that communities help one another!
Have confidence in your mission, your fundraising, and your asks.
And share that confidence with your supporters.
Send fundraisers your support, motivation, and fundraising tips. If you're light on resources, we have an entire library of fundraiser pro tips. Share these other articles with your community to give them the boost and confidence they may need:
You might also inspire supporters to engage their networks in creative ways. For example, instead of directly asking for donations, people could share training updates, or show off the work they've been doing for your cause.
Encourage your community of supporters to jump on board and try out JustGiving's unique tools like Fundraising Pages, recurring giving, QR codes, fitness app integration, and more.
Get the full picture
Watch the Summer edition of JustGiving's Insights & Trends webinar for more.
Create your Campaign Page with confidence
There's no better time than now! Launch your fundraising campaign or appeal today to start raising money for your upcoming event or appeal.
Have a question about any of the above?
We know that's a lot to digest! And we're here and happy to help. If you have any questions or to talk fundraising strategy, please feel free to book a call with our Success team.
Get inspiration in your inbox!
Don't miss out on digital fundraising tips, tools and trends.
Brian is on the Community and Content team at JustGiving. He's passionate about sharing online fundraising tips, research, and inspiration to help fundraisers raise more money, build their brand, and grow their cause.