10 tips for building a brand newsroom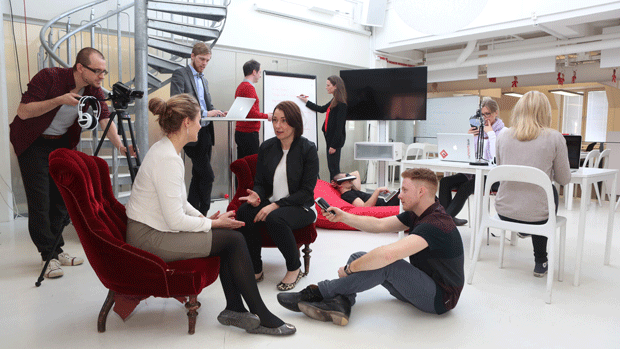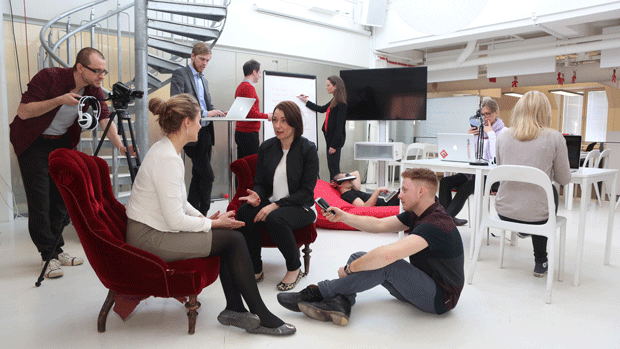 Mynewsdesk is the world's leading all-in-one brand newsroom and multimedia PR platform. Over 5,000 brands use their Mynewsdesk newsrooms to publish and distribute their content, achieve greater visibility across search and social media, connect with key influencers and tell their stories. Communications executive Laura McLean shares her top ten tips for building a brand newsroom in your organisation.  
To keep up with developing trends in communications and the changing media landscape, many organisations are beginning to think and act like media companies, a strategy we refer to as the brand newsroom approach.
So how does this apply to your charity or non-profit?
Well, working in this way means you'll be better equipped to take advantage of breaking news stories, deal with the many different social media channels your audience uses to communicate and engage with your target audiences.
And how can you do it?
1. Define your audience
If you don't understand who you're writing for, then not only are you making your job more difficult, but you reduce your chances of producing a good piece of content.
List your charity's goals then work out who you need to engage with to make these happen.
Create a persona of each different type of person you want to engage with and every time you have an idea for a piece of content, test it against these.
2. Establish an editorial proposition
You will undoubtedly feel strongly about the cause your charity is aiming to help, but your challenge is to make others care about it as much as you do.
Make your audience understand why they should care about this issue by aligning it with what matters most to them.
3. Don't fall for the myth of virality – actions speak louder than views
Yes, as a charity the more people who know about your cause the better, and it may be good for your corporate ego to get thousands of YouTube views, but without a clear goal and call to action the effort will be wasted.
Save the Children's video to raise awareness of the impact on children of the civil war in Syria is a brilliant recent example.
[youtube id="RBQ-IoHfimQ" align="center"]
Not only did it put the conflict into a context which was relevant to their target audience, but the style was original and concluded with the hashtag #savesyriaschildren, continuing the conversation on social media.
The video went viral with over 29 million views and was picked up by a wide selection of the UK national media.
4. Find your tone of voice
The best stories work at a human level, with an informal and direct tone of voice.
Cancer Research UK is fantastic at this. Their Science Blog breaks down complex research into a format that is easy to read and understand, even if you don't know the first thing about science or biology.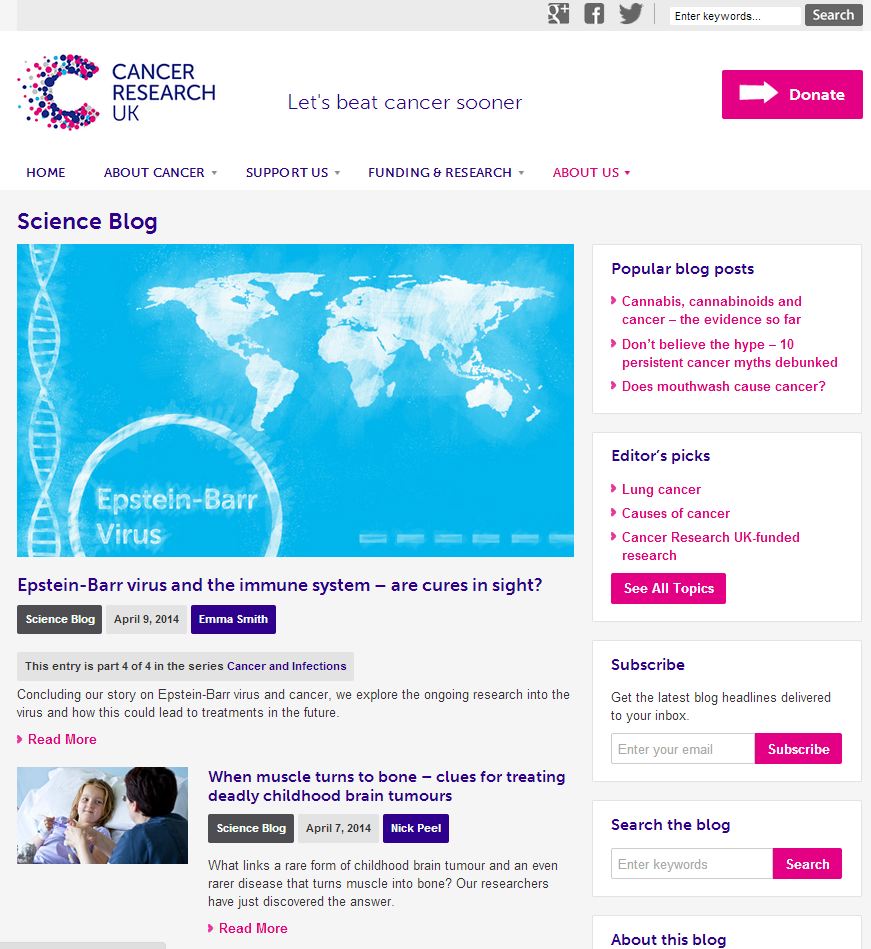 They're also great at mimicking popular styles and formats. For example, they recently wrote 'Don't believe the hype – 10 persistent cancer myths debunked' which mirrors the popular BuzzFeed-style listicles.
5. Build a team
A major issue for many organisations, non-profit or otherwise, is lack of resource.
However, there are ways to get around this:
When you build your marketing or comms team, make sure to hire people with versatile skill sets.
Look to your whole team for hidden talents. You never know, the girl fundraising on the street or the guy answering the phones may be great at blogging, taking pictures or creating video.
Use guest bloggers. Industry experts, celebrities who support your cause or a person who has benefited from the work you have done, can all give new angles on issues. Perhaps they'd even be willing to be regular contributors.
6. Use the diary
There are so many events every year to plan campaigns around.
One fantastic example of this is Street Child World Cup, an initiative of the charity Street Child United. Ahead of every FIFA World Cup, they bring together street children from around the globe to play football and run an international conference to challenge the negative perceptions and treatment of homeless children.
7. …but be ready to react to news
There are so many charities who are fantastic at this. When disasters strike, organisations such as the British Red Cross and WSPA are quick to respond in terms of providing help and communicating the plight of the people and animals affected.
And it's not just the traditional media you should keep an eye on, but the developing trends on social media.
If you use Facebook it was difficult to miss the recent #nomakeupselfie campaign in support of breast cancer awareness.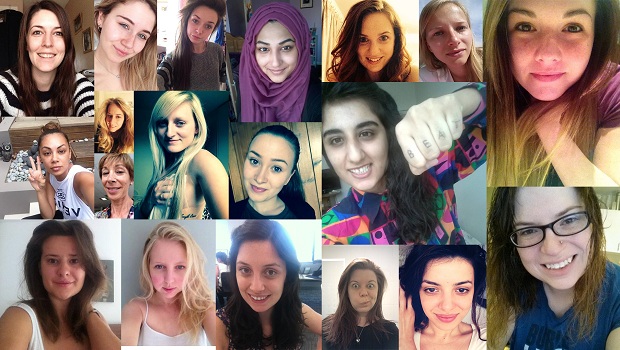 Nobody really knows how this campaign started, but it resulted in thousands of social media users taking pictures of themselves and nominating their friends to do the same and donate to charity. Cancer Research UK set up a text number to make donating even easier and boost the total amount of money raised.
8. Define a workable sign-off process
To take full advantage of breaking news stories and trends, you have to set up an efficient content approval process to ensure your charity's voice is heard as part of topical discussions.
9. Establish no-go areas
It's important to create a set of guidelines so everyone in your organisation who can create content or is active on social media is aware of what they can and can't comment on.
This means people are less likely to waste their time on producing content that will never be signed off and reduces the risk of creating a crisis on behalf of the charity.
10. Give them what they want
Every piece of content you create, regardless of what its purpose is, must be interesting. If you hadn't created it yourself, would you be interested in it? Is it something you'd imagine your friends talking about and sharing on social media?
Download our 'Rise of the brand newsroom' white paper for a more in-depth look at the brand newsroom approach and tips from leading PR and communications professionals.
If you're interested in guest blogging for 'We make giving social', drop us a line at wemakegivingsocial@justgiving.com
Get inspiration in your inbox!
Don't miss out on digital fundraising tips, tools and trends.
Laura manages the newsroom, social media and communications for Mynewsdesk. She recently completed her masters in International PR and Global Comms Management at Cardiff University and is passionate about all things PR, especially if it helps promote organisations and issues she cares about.