Six conversion tips for your charity website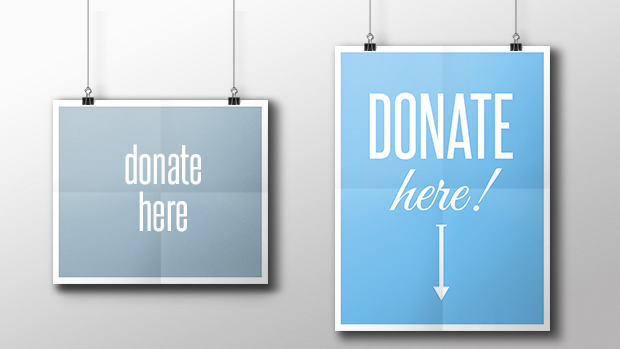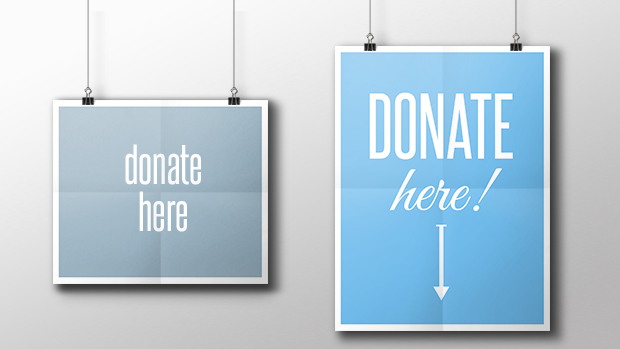 Conversion Factory is a consultancy that specialises in boosting the conversion rate of its clients across a range of industries, including the third sector. We spoke to Kyle Hearnshaw, a consultant at Conversion Factory, to find out what changes charities can make to their websites to drive up conversion rates. 
Implementing these six changes on your site could make a valuable difference
Soliciting online donations is harder than any other form of ecommerce. The reality is that it's often easier to sell new shoes than a monthly donation to a homeless shelter. Because of this, it's vital that charities get the most out of their limited audience by maximising their conversion rates. It might sound cliché, but every penny counts for these organisations.
The 'sales process' that charities face is very different than a typical for-profit organisation, so alternative approaches are often needed.
That's not to say it's all doom and gloom for the non-profit sector! Studies have shown that many donors like to be very informed before making a donation – but once that donation has been made, the donor is likely to be a repeat customer. They'll keep coming back!
1. Design your website experience to suit your end users
For charities, the donor is not the end user of the product – they give money, but aren't receiving a tangible benefit from their act of giving. Instead, the act of giving itself is the benefit. Charities should ensure the giving process is a rewarding one.
For example, parents will often sponsor an animal on behalf of their child, and it's easy to imagine the family browsing a site together to find the perfect choice. The site therefore needs to appeal to both parents and children to connect them with the animals they are viewing.
Dogs Trust is great at this. Not only can a user select a particular dog to sponsor, but each dog has a witty profile and beautiful pictures to go along with their sponsorship. Families aren't just sponsoring an organisation that provides animal services – they're connecting directly with the animals who need their help.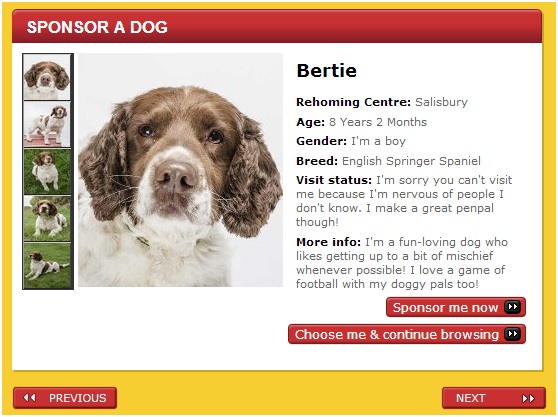 2. Just because you're a charity doesn't mean you have to be boring
Look at the following charity checkout form.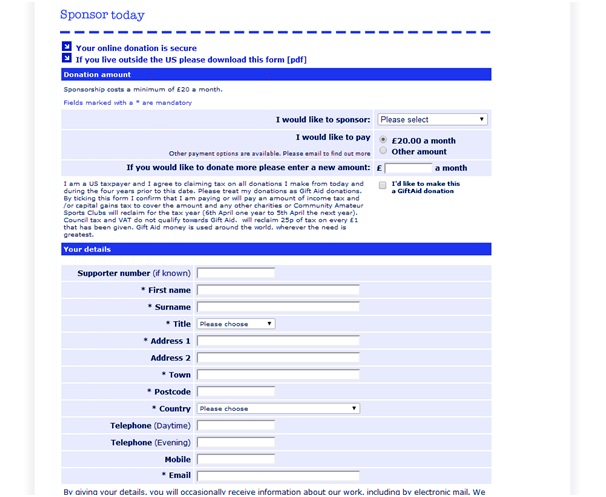 This form is about as exciting as a tax return. Regulations for charitable giving are strict, but there's no rule saying that a charity sign up form has to be this intimidating. A charity has already overcome so much resistance to get a user to this stage. It's unacceptable to scare them off with a poor user experience.
Compare the previous form to Macmillan's. It's clear, looks simple and even has interactive elements showing the impact of different donation amounts.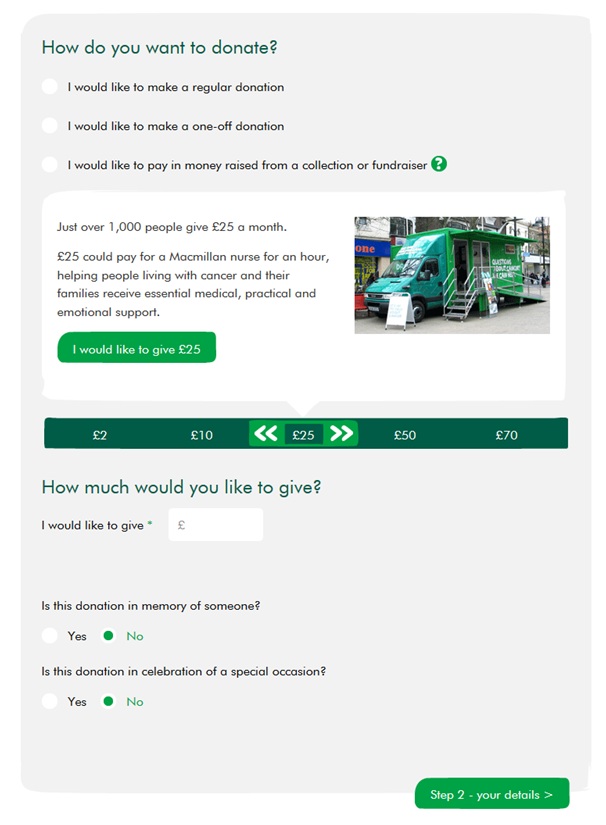 Even though a user has to give the same personal information, it's plain to see which form is a more enjoyable, rewarding experience.
3. Sell yourself, not just your services, with an engaging About Us section
The 'About us' section is arguably one of the most important for a charity. Charities are in direct competition with each other, and so their brand identities can help with donations regardless of the services they provide.
Lots of information must be listed here, but organisations should try to avoid filling the landing page with links to complex financial reports. Visitors actively looking for these documents will likely seek them out so they can have less prominence.
Instead, the 'About us' landing page should be about selling your brand and your mission. Sport Relief's page is a great example. It uses video, photos and interactive diagrams to deliver engaging content that really sells the idea of Sport Relief. Visitors can even tailor the information by location to make it particularly relevant to them.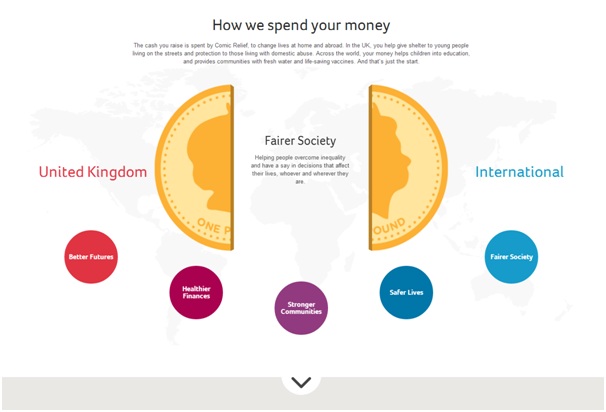 4. Don't rush to the funnel. Qualify your visitors.
One common charity pitfall is pushing for a donation too hard and too frequently, encouraging visitors to enter the checkout process too early in their visit. Yes, some users may want to donate right away, but many others require more information, and the constant push for donations can lead to high abandonment rates in the first step of the checkout.
Create natural paths through your site that include key pages that will satisfy users' common questions. To identify the best pages and paths, look through analytics for pages with a high page value or use behaviour flow reports to spot the well-trodden routes through the site.
Link the pages in these paths using calls to action that lead to the next suggested page. Breadcrumbs can also be used to make it obvious that a visitor should follow a certain path.
On the final pages of these paths, an "I'm ready to make a donation" call to action can naturally lead visitors into the donation process. Even at this point, having obvious routes for visitors who still want more information will help reduce dropout rates.
5. Offer multiple ways to donate
Setting up a direct debit is a major conversion barrier for many visitors. No one likes searching for their account number and sort code, and there are inevitably concerns about the security of giving banking details over the internet.
Combat this by offering a wide variety of alternative payment methods – and we don't just mean accepting both Visa and MasterCard.
There has been an explosion in the number of charities that have started collecting donations via text message. Children in Need have adopted this and give multiple payment values by text on their website
This technology can also be great for cart abandonment. If a charity can capture email addresses or telephone numbers in their sign up form, it can email or text anyone who abandons with a message asking if they just want to make a one-off donation.
To go a step further, software like Bounce Exchange can be used to show a message to visitors who look like they're about to leave a site. This window can offer a final plea using a different method of donating before the user clicks away from the site. Users who are leaving because they don't want to set up a direct debit might be willing to make a one-off donation by text message instead.
6. Change impressions by changing contexts
If you're asked to donate £15 a month, that might sound like quite a lot. But if you're asked to donate 50p a day, that's closer to giving the bit of change you get back after buying lunch. It feels like an insignificant sum.
The two amounts are actually about the same (50p*31 days = £15.50/month), but by changing the donation from months to days, we've changed its context. Instead of associating the donation with things like monthly payments (rent, phone bill, gym membership, etc), a user will associate the donation with daily payments that they don't deliberate about.
The reverse of this is to present a shopping list of what varying donations could buy. Testing different price presentation techniques, such as anchor pricing, is a great opportunity for increasing average donation amounts.
Ensure that the link between bigger donation amounts and greater impact is clear. The following charity struggles with this. (It's a real form, but we've kept the charity anonymous.) Does donating five times as much money (£10 versus £2) lead to five times as much value? What other benefits come from this higher donation? By putting direct comparisons in place, this charity would likely see a jump in average donation amounts.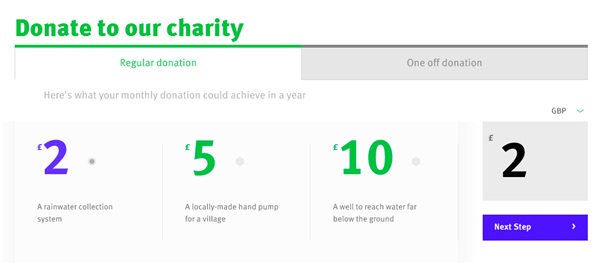 Conclusion
Charities don't get to use typical methods of increasing their conversion rate. Discounts can't be offered, added benefits like free shipping can't be used, and marketing budgets are often minimal compared to for-profit organisations.
This means that when users reach a charity's website, every effort must be made to convert them with the appeals discussed above. Barriers must be broken down – whether they be the method of donating, the context of cost, or a user's desire to learn more before donating. Emotional links must be created – to the organisation itself, and to those being assisted with each donation. And finally, the experience needs to be a fulfilling one at every stage of the donating process.
Make it a pleasure to donate, and users will surely donate again.
JustGiving tools to improve conversion
Have you seen any examples of charities doing things right (or wrong)? Please share your experiences in the comments below.
If you're interested in guest blogging for 'We make giving social', drop us a line at wemakegivingsocial@justgiving.com
Get inspiration in your inbox!
Don't miss out on digital fundraising tips, tools and trends.
Kyle has helped clients in ecommerce, publishing, travel and charitable sectors boost conversion rates with his creative ideas and rigorous testing. Kyle has a keen interest in the unique needs of third sector organisations, and is always looking out for new challenges and conversion optimisation projects in this industry.