New improved Fundraising Page – Find out what's changed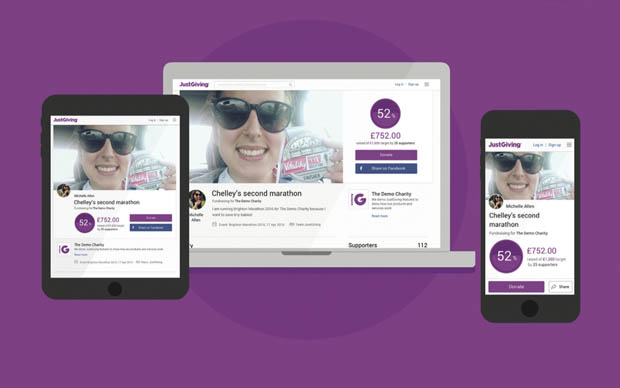 This week we are delighted to be sharing our new Fundraising Page with you.  As part of our promise to help charities raise more money and reach more people, we have been finding ways to make our fundraising page work even harder. Not only is it the single page that drives the most traffic, it also needs to respond to changing trends, as more users update and browse pages on different devices, on the go.  Research with charities, page creators and their supporters identified 3 key opportunities:
Championing the fundraiser's identity and story
Putting the charity story at the heart of the action
Using JustGiving's power to deliver the best experience, all the time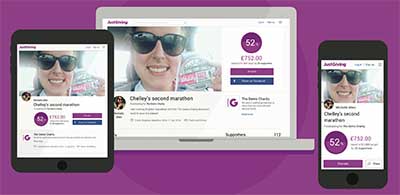 Here is a summary of the changes we've made on the back of this insight. We've put together a guide containing more detail around specific features for you to download.
We are leveraging the personality of fundraisers
It is accepted wisdom that people don't just give, they give to other people – people they know and care about. The first job has been to make every page owner's story as unique and individual as possible, because a powerful page owner is a powerful charity advocate. This means more personalised storytelling, imagery and updating features, all of which enable a page owner to engage their supporters every step of the way, forging bonds between their cause and their community.
We are sharing the charity story with supporters
Secondly, research underlined the importance to users of knowing exactly where their money was going towards. So the charity profile has been given greater priority on the page, with room for a clearer charity logo as well as an impact statement, to help show users how their donation will make a real difference. This also binds the charity story tightly into every page, strengthening connections between the great work being done and the community supporting it.  This is just one way we are looking to deepen bonds between donors and charities in 2016.
We are making the site effortless for users
The final set of improvements focus on usability.  Users and charities alike rely on JustGiving to deliver the best possible experience, all of the time.  We now have a fully responsive page, so that every user gets the best experience whatever device they are using.  There is also a cleaner, crisper look that brings more consistency to the experience for supporters, regardless of device.  Finally, speed and power have been increased even further, so JustGiving how has the same power levels as Amazon. This ensures that we can continue to handle unexpected big events, like the next ice bucket challenge.
As a charity do you need to do anything?
No, we've got it covered. We'll be migrating all your content (charity name, logo, impact statement etc.) into the new design, so there is nothing you need to do right now. If you want to review your theme colour, you can do so via the charity account.
Why can't I see the new page design?
We like to carefully test new features at JustGiving and with the fundraising page being our most highly trafficked page, this roll out is no different. Therefore from today we're slowly releasing the page to a randomly selected group of just 5% of users. Over the coming days, as we track the performance of the new page design, we'll look to increase percentage until roll out is complete and the old current design is no longer in use. Those users that can see the new page will be able to across all their device types as long as they are logged into JustGiving. Download your guide to the new Fundraising Page now.         
Get inspiration in your inbox!
Don't miss out on digital fundraising tips, tools and trends.
Jamie Parkins is the API product manager at JustGiving. He specialises in developing the services and technologies that enable charities, agencies and a growing community of developers to build applications that utilise JustGiving's technologies.