Here are your JustGiving Awards 2018 winners!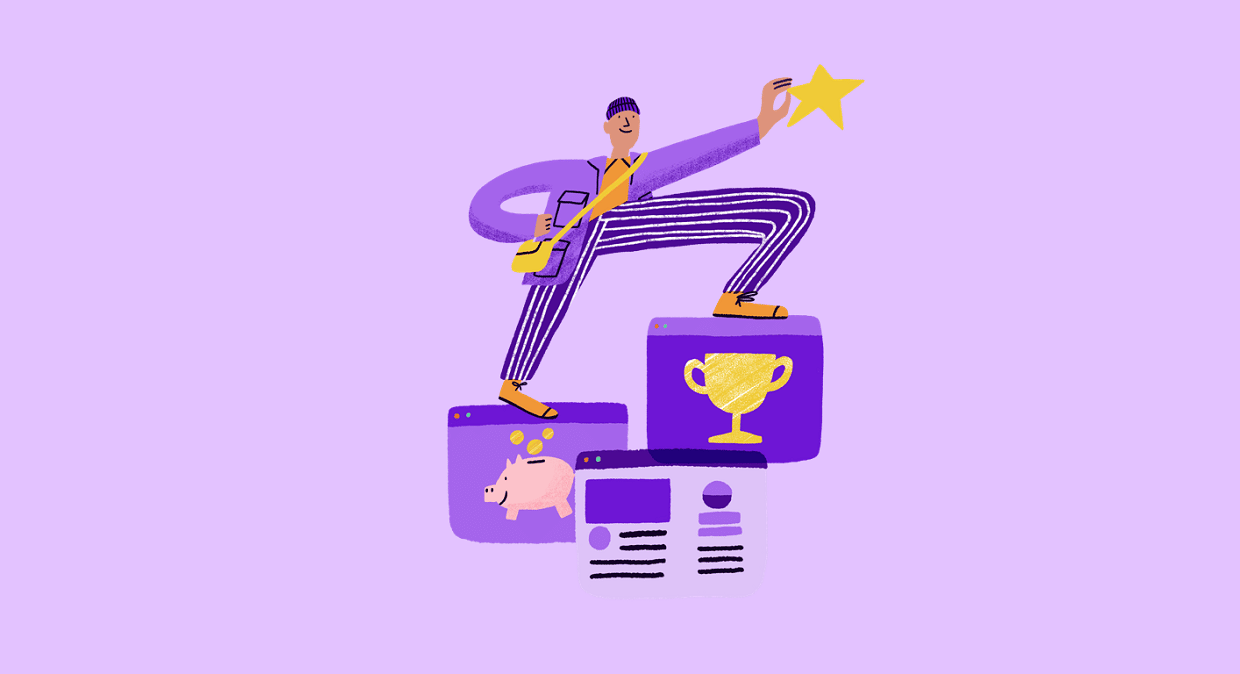 Another year, another incredible JustGiving Awards ceremony. Last Tuesday, we had the honour of celebrating the amazing stories of courage, generosity and hope of the JustGiving community.
There were tears, tissues and laughter, but most importantly there was inspiration by the bucket load. From 40,000 public nominations, down to 27 amazing finalists – it was a privilege to share and hear their stories. Together our finalists inspired over 45,000 donations from over 60 countries, raising a whopping £7 million in total!
But before we go on, we need to say a HUGE thank you to the thousands of people who took the time to nominate and vote too. In the end, it was down to you to choose our winners. So, without further ado, here they are…
Creative Fundraiser of the Year
Clare Young

Clare was diagnosed with PTSD, anxiety and depression after her husband died. When a psychologist recommended that she could try knitting to alleviate her symptoms, she began making some Christmas items to raise money for the hospice that cared for her husband. Pretty soon, word of her knitting had spread, and Clare was asked to yarn bomb a tree for the hospice. This year, Clare completed a full size, 13ft knitted garden which included a hospice bedroom to celebrate what would have been her husband's 50th birthday. You can watch her story here.

---
Young Fundraiser of the Year
Maddison Harris
Last November, seven-year-old Maddison was taken to hospital when she was unable to walk from a pain in her spine. Doctors discovered that her spine was fractured in two vertebra, and the cause of her spinal fracture was revealed to be leukaemia. She began two years of chemotherapy that resulted in hair loss. Maddison started her campaign Don't Stare, It's Only Hair. She encouraged close friends to shave their head or donate a "fine". She's raised over £40,000 for CLIC Sargent. You can watch Maddison's story here.
---
Change Maker of the Year
Maria and Stuart Grennan
During the toughest time of their lives, Maria and Stuart were put in the care of the Worcestershire Bereavement Suite. It was here that they were able to spend time making precious memories with their daughter, who was born sleeping. They never expected however, to have the trauma of listening to another baby being born in the room next door. They've now raised enough money to soundproof two delivery rooms and build a second suite – all to help other families like them. You can watch their story here.
---
Fundraising Team of the Year
Tŷ Hafan Dad's
Tŷ Hafan offer comfort, care and support to life-limited children and their families. They help families in Wales make the most of the time they have left together – like the Ty Hafan Dad's. In July this year, this group of dads who's children have been cared for by the hospice took on the #5in55 challenge. They climbed five mountains (Ben Nevis, Scafell Pike, Snowdon, Cadair Idris and Pen Y Fan) in 55 hours. Together they raised almost £27,000 to give back to the hospice. You can watch their story here.

---
Crowdfunder of the Year
Lisa Wells

Shortly after her youngest daughter was born, Lisa was diagnosed with Stage 4 Terminal Bowel and Liver cancer. She won't get to see her girls do the things most mothers will – picking out their wedding dresses, or getting the keys to their first home, but with the help of #LisasArmy, she will be leaving them a lasting legacy. Not filled with sadness, but with joy, laughter and love. You can watch Lisa's story here.
---
Celebrity Fundraiser of the Year
Josh Patterson
Last year, Made in Chelsea's JP welcomed a baby girl to the world. Shortly after, his friend Ben came to visit him and his new baby. On his way home, Ben was involved in a motorcycle accident, leaving him paralysed from the chest down. A few days later, Ben was told that he'd never walk again. This year Ben asked Josh not only to take part in the Berlin marathon with him, but to do it in a wheelchair. Together, they're fundraising for the Spinal Injuries Association. You can watch Josh's story here.
---
Charity of the Year
The British Hen Welfare Trust

The British Hen Welfare Trust is a national charity which has re-homed more than 600,000 hens to date. They help to educate the public about how they can make a difference to hen welfare and encourage support for the British egg industry. Watch their video here.

---
Endurance Fundraiser of the Year
Kevin Webber
Ever since Kevin was diagnosed with advanced prostate cancer in 2014, he's taken on huge endurance challenges for Prostate Cancer UK. This year were his most epic yet. Kevin ran 120 miles pulling a sledge across the Arctic in temperature below -30c. Then two weeks later, he ran another 156 miles, but this time in over 50c heat as he took on the Marathon Des Sables for the third time. He's raised over £200,000. Watch his incredible story here.
---
Outstanding Commitment
Lucy Lintott
When Lucy was just 19-years-old, she was diagnosed with Motor Neurone Disease, making her the youngest person in Scotland to have the disease. She decided to launch 'Lucy's Fight', a blog to share her experiences, tick things off her bucket list and raise money for MND Scotland. Five years later, she's inspired thousands of people with her bravery and honesty, raising over £170,000. You can watch Lucy's story here.
---
Special Recognition
This year, our Special Recognition Award was a little different to usual. We wanted to recognise something we have the privilege of seeing everyday in the JustGiving's offices – we celebrated the millions of people who give to the causes they care about with no expectation of recognition, and give anonymously. Thanks to a group of people known as the #CharityNinjas, more and more people have had their lives changed, overnight…
Get inspiration in your inbox!
Don't miss out on digital fundraising tips, tools and trends.
Sophie is Head of Brand at JustGiving. With over 7-years experience in the world of fundraising, she knows her stuff about building brand strategies and championing thoughtful marketing.