How can you help your local foodbank? There's an app for that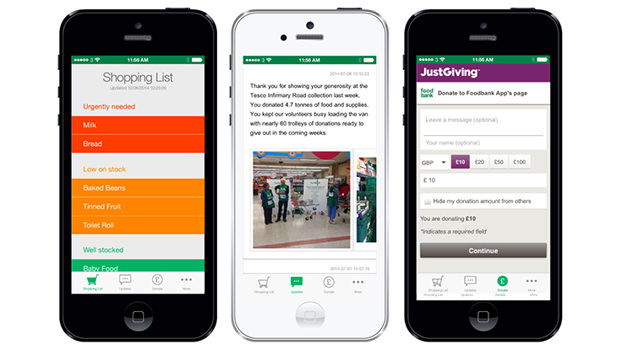 The internet has revolutionised pretty much everything about our lives. From online grocery orders to last minute holidays, the web has changed how we spend our money and time. Dave Cates, managing director at Redemption Media Ltd, shares how they launched a Foodbank app with an in-app donation function.
Online giving has revolutionised fundraising and had a huge impact on charity donations, but what's next for the digital fundraising revolution?
Mobile apps are increasingly popular
The rise of smartphones continues to be a significant development. Around 75% of UK adults are now smartphone users and more and more people are accessing the internet via their phone rather than on their desktops or laptops, resulting in a 'mobile first' approach to web strategy. Apps are becoming increasingly popular, and it's estimated that this year we'll spend 86% of our connected smartphone time on apps, rather than using the phone's browser.
How can charities use apps?
This is the story of how we created an app for the UK Foodbanks. It's the first native mobile application to allow users to give money from within the app, using JustGiving.
Here's how we did it:
Way back in 2012, we saw that our local Foodbank could benefit from having an app – something that would give supporters regular updates about what food items were needed as well as sharing information about the Foodbank and its operations. Along with the Sheffield S6 Foodbank and our friends at St Thomas Church, Philadelphia, we developed a prototype app and launched it in December 2012. The app had an instant impact on donations to the Foodbank as the 'traffic light' shopping list system allowed the Foodbank to communicate which items they required and how urgently. This means that supporters always have the Foodbank shopping list at their fingertips.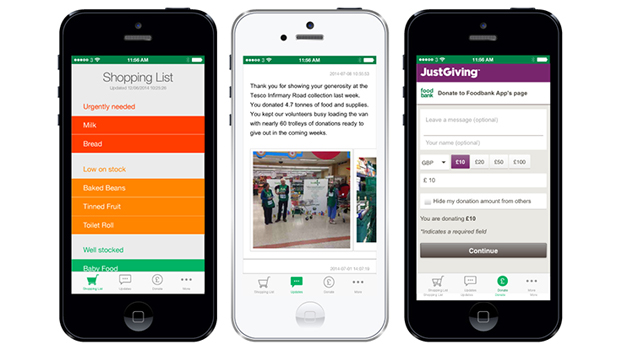 The app also enables supporters to set an alarm which reminds them to donate to their local Foodbank at the time when they normally do their weekly grocery shop. Not only did the app result in an increase in food donations; the S6 Foodbank also saw a better matching of what was needed to what was given.
National roll-out
After the success of our local app, we wanted to give other Foodbanks the opportunity to benefit from this excellent resource so we decided to roll out the app to the rest of the UK. After making some key improvements and adding a few new features, we launched the national app in March this year.
Within four months, over 40 Foodbanks had adopted the app, each with their own content management system and the ability to send instant push notifications and customised shopping lists to their supporters. We received plenty of media coverage and the app has already made a big impact. For example, the Canterbury Foodbank said "Within one month we have seen around 100% increase in donations due to our use of the Foodbank app".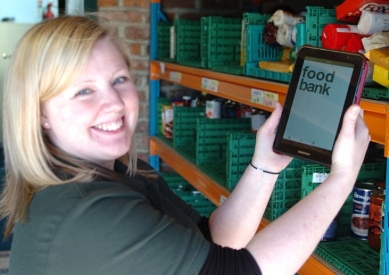 In-app donations through JustGiving
However, although the app helped to fill the store cupboards of Foodbanks up and down the country, many Foodbanks are strapped for cash and this has an impact on their ability to operate on a day-to-day basis. We began to wonder if we could use the app to enable supporters to make financial donations too.
This is where we got involved with JustGiving. They are the only online donation platform that has an API (application programming interface). We used this to create detailed reports tracking Foodbank donations within our CMS. JustGiving also offers a brilliantly simple donation process, which we've integrated so that people can give money directly to their local Foodbank through JustGiving, via the app.
The future of donations?
We are really proud of the finished Foodbank app and are hopeful that lots of people will now choose to give money seamlessly through in-app donations. We are also chuffed to be the first development company to use the JustGiving SDI and API within a native app. We're excited to see how other charities will be harnessing this technology for good.
Interested in building your own apps for good? We recommend the following articles and resources:
Get inspiration in your inbox!
Don't miss out on digital fundraising tips, tools and trends.
Dave is a technology entrepreneur who started coding aged 9. He now leads Redemption Media - an innovative award-winning multi-platform app development company. Dave loves how technology can be harnessed to assist businesses to grow and develop but also how it can bring revolutionary positive change and transformation to whole communities and many people's lives. Dave and his team are always looking for the next exciting project and the Foodbank App is one way in which Redemption Media has donated it's expertise and time for a charitable cause.