How charities used #BackToTheFuture Day on Twitter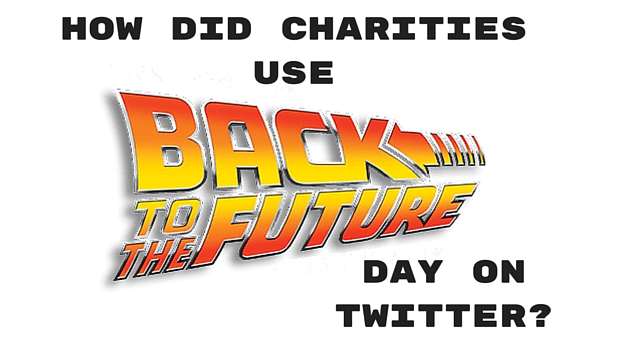 This Wednesday, 21st October 2015, was widely celebrated as "Back to the Future Day" – the day that Marty and the Doc time travelled to in "Back to the Future II". Twitter heaved under the weight of the hashtag #backtothefuture – and some charities jumped on the bandwagon. The hashtag was used in a variety of ways to promote a multitude of causes. Here's my run down on who hit the spot – and who missed the mark.
The Perfect Fit
The Michael J Fox Foundation are undoubtedly the champions of this hashtag. Founded by the star of the film trilogy, who was diagnosed with early-onset Parkinson's just a couple of years after the third film came out, they have tweaked the image to show their "birthday" and are using the hashtag to fundraise for the disease. It couldn't be more fitting.
Happy #BackToTheFuture day! Help us create a future without #Parkinsons disease: https://t.co/slcrXBarrE pic.twitter.com/30Fe7PugSG

— michaeljfox.org (@MichaelJFoxOrg) October 21, 2015
Parkinson's UK took a similar approach by launching a Campaign page (and JustGiving amplified this with similar tweets).
It's #BackToTheFuture day! Donate now & help make it a future without Parkinson's. https://t.co/Pr6wEhRUHW pic.twitter.com/gi4fqcoleR

— Parkinson's UK (@ParkinsonsUK) October 21, 2015
The "Pause to Reflect"-ers
The charity posted a simple image from the film and focused on how progress has been made in 30 years, linking to more info on their website about developments that have been made. They kept it simple and straight-up. It didn't generate much engagement, but it was a valiant effort at using the zeitgeist.
We've come a long way in 30 years. What will the future hold? #StopMS https://t.co/Jz6qS6wOcK #BackToTheFuture pic.twitter.com/EaJQjKY4JY — MS Society UK (@mssocietyuk) October 21, 2015
Action for Blind People
They took a similar approach – again, though, engagement was limited and they didn't include a link either, so perhaps didn't make as much of it as they could have.
Happy #BackToTheFuture day! If Marty had been blind or partially sighted, what differences would have he noticed? pic.twitter.com/LJmqCtrYNV

— Action4Blind People (@actionforblind) October 21, 2015
NSPCC
The charity also referenced how things had changed in 30 years – and created their own image to show what they meant. A bit more creative but again no link or call to action, it did generate some engagement from their followers so a shame to not have anywhere for them to go to do more.
Phones have changed a lot since the 80s – and so has how children contact ChildLine! #BackToTheFuture pic.twitter.com/nkvoxFPIC1 — NSPCC (@NSPCC) October 21, 2015
The "Made it Their Own"-ers
The British Heart Foundation
In my opinion, they nailed it. With a gif for added interest, they linked to a fascinating page all about how research is bringing to life technologies previously seen in sci-fi films. If I was being extra-fussy I'd have tried to add in a link at the end of the article, asking people to help fund more of these amazing developments – but fair play to them for sharing engaging content, and using the hashtag in a different and relevant way.
Find out how our research is making science fiction science fact: https://t.co/q0Dpk526Pw #BackToTheFuture pic.twitter.com/BWiEQfMyFE

— BHF (@TheBHF) October 21, 2015
Save the Children UK
I liked what Save the Children UK did here, taking a quote from the film and making it relevant to their work. It was a bit different, the tone felt light – which can be hard to carry off well, so kudos to them for that. They got a few retweets and favourites so clearly their audience liked it too – a donation link here may have been the icing on the cake.
Hoverboards? No ta! We need boats, planes & helicopters to get life-saving supplies to children #Backtothefuture pic.twitter.com/gXoSAfjTCm — Save the Children UK (@savechildrenuk) October 21, 2015
WWF UK
WWF UK took a still from the film of a giant 3D shark (from the film Jaws 19!) and juxtaposed the '80s vision of the future with the possibility that sharks may end up becoming extinct. While it didn't link to further info or a way to give, this was a specific thinking point and might have got people thinking a bit more about their work.
Will the only way we're able to see sharks in the future be at the movies? #BackToTheFuture #BTTF pic.twitter.com/3V3FeUjqGD — WWF UK (@wwf_uk) October 21, 2015
The "Not-Quite"-ers
Asthma UK
Whilst they had a go at joining in, with a series of tweets to share facts relating to the film, it felt a bit disjointed and not all that relevant, to be honest. And there were no images, which left the series feeling quite dry. From a technical point of view I would have posted subsequent messages in reply to the initial one so that if supporters saw one, the rest would appear in sequence. They did, though, share a link to their research work to try to bring it back to their cause. Fair play for trying something out though.
It's #BackToTheFuture day! So here's some asthma facts that relate to the film…

— Asthma UK (@asthmauk) October 21, 2015
In 1955, George Maison invented a pressurised metered dose inhaler. #BackToTheFuture

— Asthma UK (@asthmauk) October 21, 2015
In 1955, George Maison invented a pressurised metered dose inhaler. #BackToTheFuture — Asthma UK (@asthmauk) October 21, 2015
In 2015, we're investing millions into finding better treatments and a future cure for asthma. https://t.co/NVk2uSJrd1 #BackToTheFuture — Asthma UK (@asthmauk) October 21, 2015
Rethink Breast Cancer
They tried to join in, with a fundraising ask to hijack any Back to the Future parties to fundraise for them. It generated no likes, replies or retweets so I suspect their followers found it as odd as I did. No image, the ask felt like a strange leap, are Back to The Future parties really "a thing"…?
Throwing a #BackToTheFuture party tonight? Why not make it a #MyBoobyball party and raise some $ for Rethink? https://t.co/XrqjbHdvKi

— RethinkBreastCancer (@rethinktweet) October 21, 2015
Three top tips for newsjacking
The great thing with social media is the fact that – unless you do something hideously wrong – it's here today, gone tomorrow – so there's plenty of scope for trying new things out. If it doesn't work out you're rarely going to lose anything. But if you're going to jump on a hashtag remember to:
Keep it simple – if it's obvious why it works and what you want people to do then you're on to a winner
Make it relevant – if there's not a clear way it "fits" then perhaps sit this one out
Make the most of it – share links to more info or to prompt giving
Want to fundraise on social media? Download our free Friends with Money guide.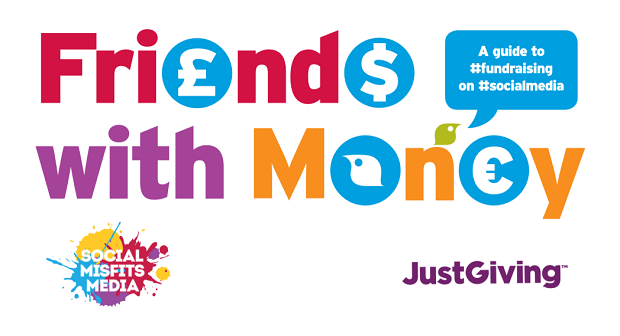 Get inspiration in your inbox!
Don't miss out on digital fundraising tips, tools and trends.