How small charities can get cut-through at Xmas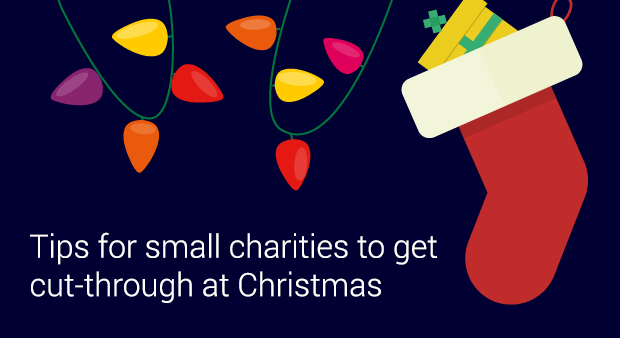 Ah, Christmas. Pigs in blankets, mulled wine, fairy lights. That persistent cover song that gets in your head after just one advert and doesn't leave until February. Buying stuff that no one needs, but will likely reward you with a big smile on at least one day of the year.
The season of giving – what's not to love?
Unfortunately it's when social media starts to resemble a very loud and crowded market – how can small charities make themselves heard over the other seasonal, creative and crafty holiday chatter? How can small charities cut through the noise? (Warning: holiday wordplay below)
What's the story?
With social media, one of the big worries is the constant need to come up with something compelling to say. Charities need case studies – people who can tell the stories of how a charity affected them, what happened, how it changed their lives – for many different aspects of marketing, and social media is no different. Focus your Christmas messages around a specific call to action, based partly, or if you like, entirely, on the service your charity gives to the community. Not only is this the kind of thing your supporters want to hear about, but it'll make the rest of your Christmas communications much easier with a theme to unite around.
'Tis a gift to be simple
So you've got a story, but what do you do with it? In short, anything and everything…with one caveat: make it simple for the intended audience to view and understand this on whatever platform you're sharing on. The best online communicators are the ones who take off their charity hats and put on their 'at home in their PJs browsing with Downton on in the background' hats. With your new hat on, does the tweet make sense? Does the Facebook post have impact? Are the photos and Vines enhancing the story? Does the email subject make you want to open it and read on? Is your website viewable (and pretty) on a mobile phone? There's a bit of ground work here, thinking about the best ways to frame your stories and put them out there in the big, wide world. But getting your materials together (photos, mini videos, phrases you like to use as quotes etc) will mean you're well equipped to put out a stellar campaign that all of your supporters will get on board with.
But… don't expect Christmas miracles
Can you compete with Coca Cola's Santa/trains/catchy tunes? The answer is, most likely, no. But let's face it, you don't really need to – your followers are yours because, well, they like you (even if they like Coca Cola too). So talk to them directly and tell your story with them in mind. Obscure campaign and appeal slogans and hashtags help no one (have a look at the #NoBraDay backlash for instance), so it's important that cleverness doesn't trump clarity; for example, an animal charity hashtag of #LoveNature might be more immediately applicable to their audience than say, #EndCoal – even if both make sense in relation to that charity's aims.
Another inane and misguided 'awareness' viral-wannabe campaign. I'm struggling to find a call to action or even who's behind it. #NoBraDay

— Simon (@ToastFundraiser) October 14, 2015
So, now that your hashtags and messages are in order…
Ask and ye shall receive
That's right. It's unavoidable. You must ask the question if you want something. Your call to action may not be to donate money – it could be to fill in a paperchain with a message of support, or to take a picture in front of your Christmas tree with a retweet, or to donate cat food, but whatever it is, you can't assume that your followers know it. Many small charities are hesitant to appear pushy or ask for money throughout the year. But if you don't ask, you will be very lucky to get. There are a couple of really handy (free) tools you could use to capitalise on the increased online traffic on your pages during this season. Facebook's 'Donate Now' button, which goes right next to your 'Like' button; this ensures that people who don't see your calls to action for whatever reason can be taken straight from FB to a donation portal of your choice (i.e. JustGiving or your own website). And, there's JustGiving's Donate Box, a simple plugin for your website which makes the donation process swift and easy for supporters with a JustGiving account.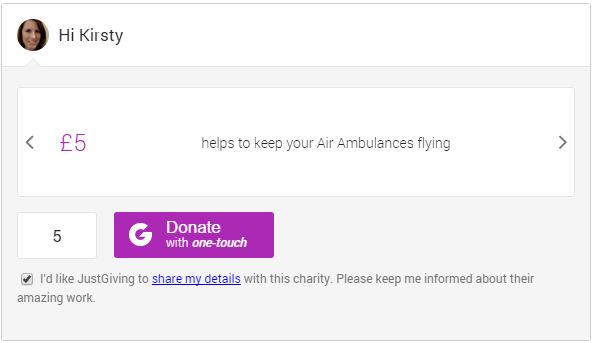 Home for the holidays
Conventional wisdom would suggest that many, many people don't work or go to school in the days leading up to Christmas, Boxing Day and New Year's Day. So what are they doing instead? Checking Facebook, Twitter, YouTube and Instagram perhaps? The truth is that more people give online in the week leading up to Christmas than at ANY OTHER TIME OF YEAR. This is because, while they're at home browsing Amazon or Game or [insert online retailer here] for seasonal gifts – they're also checking Facebook and Twitter. And, they're parting with pounds at the same time. Check out JustGiving's handy Christmas giving infographic for the proof (did I mention that more people give online to charities in the week leading up to Christmas than at ANY OTHER TIME OF YEAR?). And they could be giving to you, if you let them know you want their help. The infographic also gives insight about which days perform best and the average donation, if you're interested. Whatever your campaign plans this festive season, you can be sure that there will be more opportunities to interact with your supporters and learn about what makes them tick. Here's to a holly, jolly Christmas!
Get inspiration in your inbox!
Don't miss out on digital fundraising tips, tools and trends.
Amy is the Account Manager at Pebblebeach Fundraising in sunny Brighton. She loves data, DM and digital (in no particular order) and helping charities to make their voices heard. Follow Pebblebeach on Twitter @Pebblebeachbton