How to bring a quiet charity social feed to life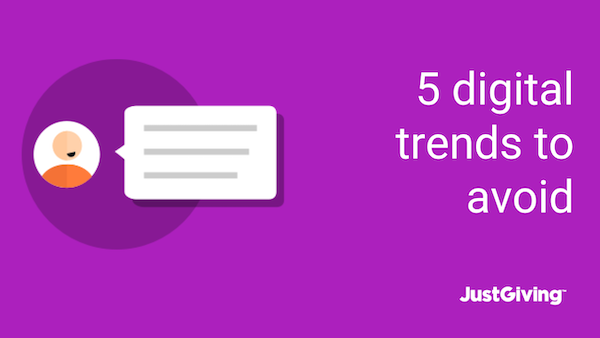 It's an interesting time to be on social media. 
Having such a publicly accessible platform can be a powerful tool for spreading your charity's message to a global audience and increase donations. The DonorDrives 2017 'State of Peer to Peer Fundraising' report shows that since 2012, donations through social media have increased by 81%.
But there's more to social than just posting regularly and asking for donations. 2016 and 2017 were huge years for fundraising – but in 2018, the sector struggled to keep its footing in the wake of the GDPR and Facebook's algorithmic changes. Almost every charity and business has a social media presence, and with data, privacy and social media increasingly under the microscope, it's getting harder to break through the noise.
Our learnings from last year show that increasing your investment in advertising spend doesn't translate to increased impressions or reach. If your Facebook page feels quiet, despite having tens of thousands of supporters, it's really quite normal – but it's not all bad news. The quality of your content still matters, and understanding how to lean into Facebook's algorithms goes a long way too.
The first step is to develop a stronger relationship with the supporters that you do have. Turn your social media feed from a charity soap box into a hub for cause-related engagement and communication.
If your social media is feeling unloved, here are some ways to engage your followers into commenting, liking or sharing your content.
Post more interactive content
Social media is such a great opportunity for experimentation, and if you're the sort to fill your feed with links but you're not getting a lot of traction, it's time to start thinking outside the box.
Explicit interactive content makes a direct ask for the viewer to engage with the content. These include Twitter polls, interactive quizzes, twitter chats and live Q&A Facebook sessions.
Stop what you're doing this is a BOOB POLL! If you received our text reminder yesterday, we want to know if you've checked your boobs since getting it, so speak the truth (please) 💖

Posted by CoppaFeel! on Monday, 3 September 2018
Non-explicit interactive content (or value-based content) can work really well to engage supporters and build reach, too. People don't necessarily like being asked to do things explicitly – but they do like things like talking about themselves, inside jokes, and tagging friends in funny posts.
A common mistake that charities make is to assume that because someone follows you on social media, they're engaged enough to share your content. But 'page likes' are quickly falling down the quality rankings – the number of followers you have is not a measure of engagement or relationship with your charity! And that's even if they see your content in the first place (scroll down to see our numbers on how many followers your organic content actually reaches).
Facebook users aren't in the mindset of taking action on ads or even paying attention to them when they're just thumbing passively through their feeds. So you need to be disruptive. Put yourself in that mindset: you could be on the train or maybe waiting for a mate at the pub. You have no charity affiliations or other motives.
What would you share with your friends or engage with? What grabs your attention? What do you stop to look at?
This thumb-stopping content is designed to be disruptive. They demonstrate an understanding of why a person would support a cause. They speak from the point of view of a supporter, and are designed to be used to connect with their friends or to make 'value statements' about themselves.
These pieces build on cultural trends like a universal love for coffee, hatred of Mondays, or a belief in empowerment… but they speak to (or for!) their supporters in a relatable, value based or emotionally driven way designed for sharing.
Boost what's working well
Maybe you've noticed a decline in your Facebook reach recently. Or you've published a Facebook post or video that's getting loads of attention – maybe people are tagging their friends or sharing it, and you think it could be worth getting it out to the masses.
It's pretty common for organic content to only reach between 1 and 5% of your followers on their news feeds. So if something's working well, try boosting it so you can reach people beyond your followers and their friends. You can narrow your audience down to specific demographics and interests, too – for example, women in the UK aged 30-35 who are interested in dogs. So don't be afraid to get creative and do some testing!
Get followers to share their own content
Encourage people to get involved with a campaign by asking them to share their own stories on social media. For instance, you can ask them to tweet a picture of them in their fundraising outfit or share a video of themselves talking about their story. Then re-share their stories on your own feed to give them a bit of a boost – your attention will motivate more people to share stories as well.
Here's a post that Make A Wish retweeted featuring someone the charity has helped:
As we enter into our 3rd year of support for @MakeAWishUK we are thrilled to receive yet another incredible wish story! ✨ Connie's wish was to visit @DisneyParis_EN with her family, a wish that came true in April 2018! ‍♂️https://t.co/UqX2DBMGHEpic.twitter.com/HihXlCbCmS

— Kentown Wizard (@KentownWizard) 16 January 2019
Worried that supporters won't share their own stories? Make it easy for them to talk about the issue. The #ItsOkayToTalk campaign, run by Andy's Man's Club and the Campaign Against Living Miserably, set out to call attention to the high rates of suicide and mental illness in men.
It supplied pre-written messages and data so that supporters could either write their own posts or use something that had already been written for them. The built-in 'nominate a friend' ask gave the campaign a viral, shareable edge.
Use images – or even better, videos
A tweet with an image is three times more engaging than a tweet without, so make sure you've got a bank of images handy to add to all your text-based content. Not sure what the link you're posting will look like as a tweet? Run it through the Twitter Card validator.
Don't be scared to inject some humour into your post images. Provided it stays within your brand and messaging guidelines, being conversational and authentic is a great way to establish a sense of identity and foster engagement with your supporters outside the immediate boundaries of your cause.
— The Museum of English Rural Life (@TheMERL) February 24, 2019
But by far the most engaging form of content is video. Facebook's algorithm prioritises video above all other types of content – so the next time your charity runs an event, goes on a field visit or interviews a beneficiary, plan what you want your video content to look like before you go.
There are loads of ways that Facebook measures video quality – but the first 3 and 10 seconds of viewership are the most crucial, so keep your video short and sweet, and make sure the imagery and copy you're using makes a splash immediately.
WaterAid uses videos to showcase its case studies, and have used a customised hashtag #TheWaterEffect to drive awareness of their campaign:
Share posts from big publishers
Facebook prioritises content from big, trusted publishers over small ones with little organic reach. If you're a small charity, the struggle to break through this noise might seem impossibly daunting – but it's not all doom and gloom.
Instead of only posting offsite links on your page, you can piggyback off this by sharing existing posts on Facebook from big publishers. This method will tap into Facebook's algorithm and help you build your organic reach – while making it look like your charity always has your finger on the pulse.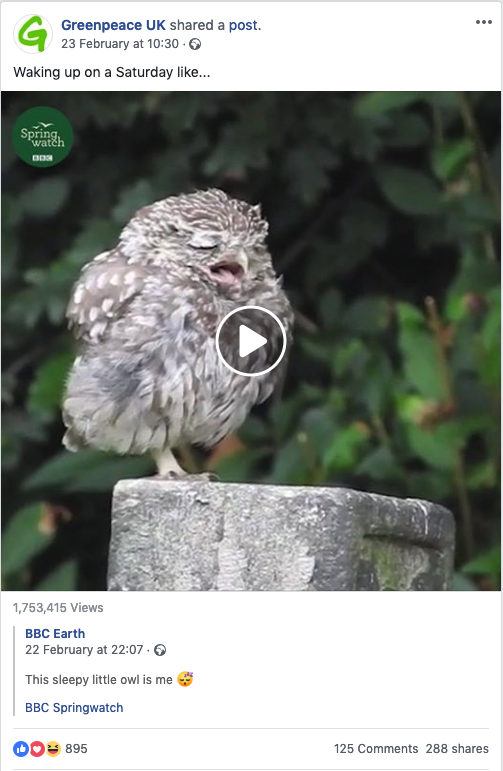 Maintain a good mix of value and conversion pieces on your feed. For every post asking people to convert or undertake an action, there should be four that give your supporters value – like fun, interesting content to share with their friends.
Thank your supporters
People like feeling valued. And supporters who feel valued are not only more likely to talk about it – they're more likely to hang around, and they're more likely to get their friends involved. This video from Movember thanks their fundraisers, demonstrates the tangible impact that their support has, and helps them to feel as though they're part of a movement.
Movember's also great at showcasing and recognizing the efforts of its community of fundraisers, reposting images and highlighting their profiles as standout participants:
Use data to see what works for you
To maintain engagement on social media, it's important to understand what type of posts work and which don't. This means looking at the how your previous posts have performed. It might help to keep a spreadsheet that tells you what campaign each post is for, what type of post it is (like a video, image or text post) and how much engagement and reach it got. Then you'll be able to work out what types of content your supporters respond to well: maybe they like post with animals in them, but not so much of humans. Maybe they like happy images, but not sad ones.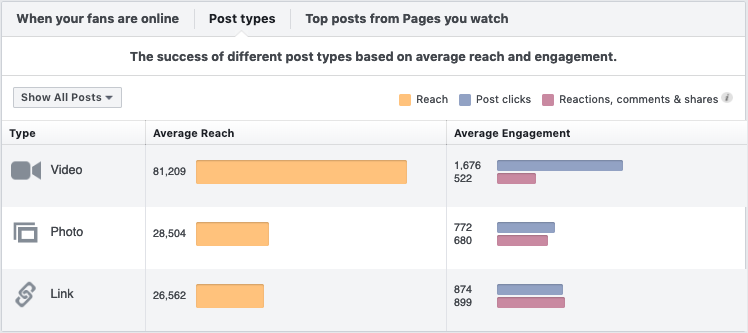 Check your Twitter and Facebook dashboards – or if you're really into your data, you can use reporting tools like SuperMetrics or NinjaCat. More commonly used scheduling tools like Hootsuite and Buffer also provide engagement reports.
Use those findings to hone in on producing and delivering the type content that connects the best with your followers.
Respond to messages quickly
Remember – social is a two-way street.
Make it easy for people to get in touch with you directly through your social channels and let them know when they can expect to receive a response.
Facebook now rates pages on how quick they are to respond to messages. It's great if you can get your response rate to within a day or even a few hours – it's a show of reliability for your supporters.
It's helpful to have on hand an internal guide listing responses to your most commonly asked questions – that means that whoever is running your social media feed will always be equipped to handle most of the questions that come your way, and they'll be equipped to do it fast!
For any questions that come out of left field, make sure they know who to go to to get a response.
Does your charity do any of these already, or do they spark any bright ideas? Let us know in the comments!
Get inspiration in your inbox!
Don't miss out on digital fundraising tips, tools and trends.