How to Create a London Marathon Event Landing Page on JustGiving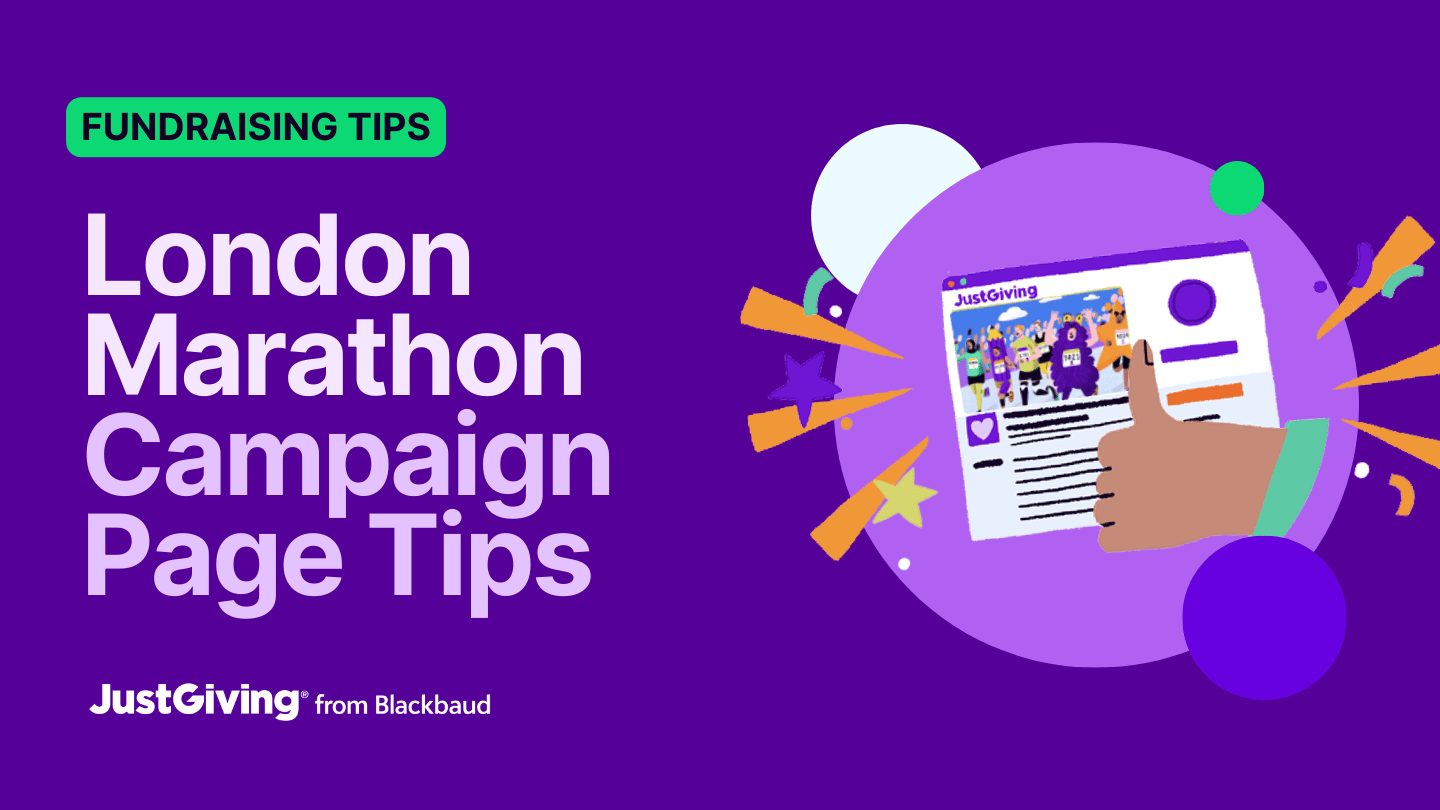 Editor's note: This post was originally published in 2017 | Updated in February 2023 for comprehensiveness and accuracy.
So, your charity has some VIFs (Very Important Fundraisers) participating in London Marathon. Congratulations!
In 2022, over 20,000 JustGiving fundraisers raised £40 million for great causes in London Marathon. It's big.
Whether you're just getting started in 2023 or prepping for 2024, this article will show you how to make JustGiving Campaign Pages work for your London Marathon fundraising.
The best ways to use Campaign Pages for London Marathon
Build your community and supporter spirit
It's motivating simply knowing you're not the only one with aching knees and blisters…
A Campaign Page groups your runners together as part of something bigger; part of a team. Your community can see other runners' training and fundraising milestones. People love this!
This also means all donations made directly to your Campaign Page and your supporters' connected Fundraising Pages are added to the combined total in real-time.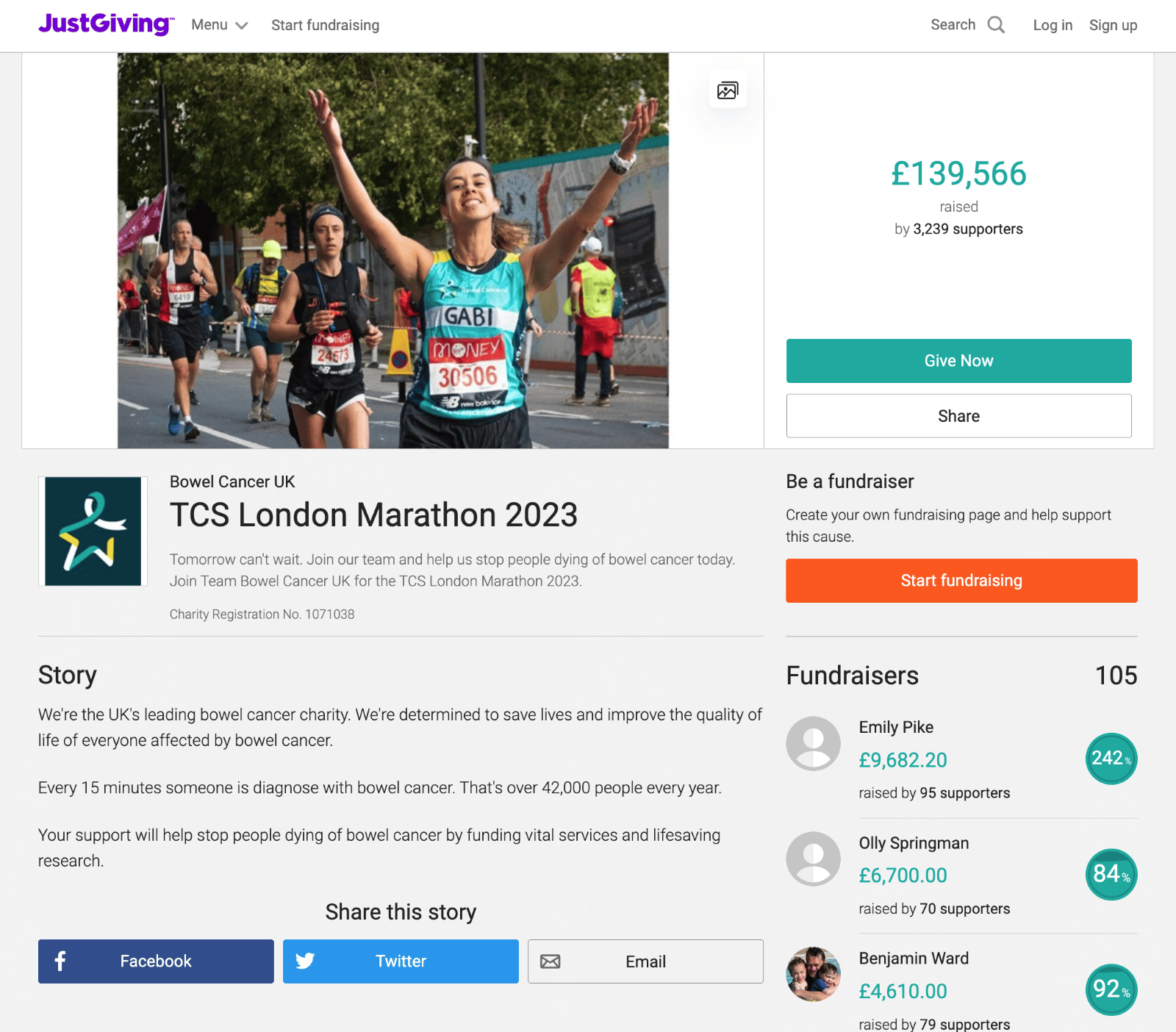 Bowel Cancer UK's London Marathon fundraising page
Inspire healthy fundraising competition
People are inspired by other people. When runners see others reaching their fundraising target, they want to do more to hit theirs!
Your Campaign Page leaderboard shows how much your runners have raised in order of the amount they've raised online. Your supporters will love striving for those top spots!
With a leaderboard, you also can see at-a-glance who has or hasn't hit a milestone in their fundraising yet. Use this knowledge to improve your fundraiser stewardship and reach out to those who need a bit of extra guidance.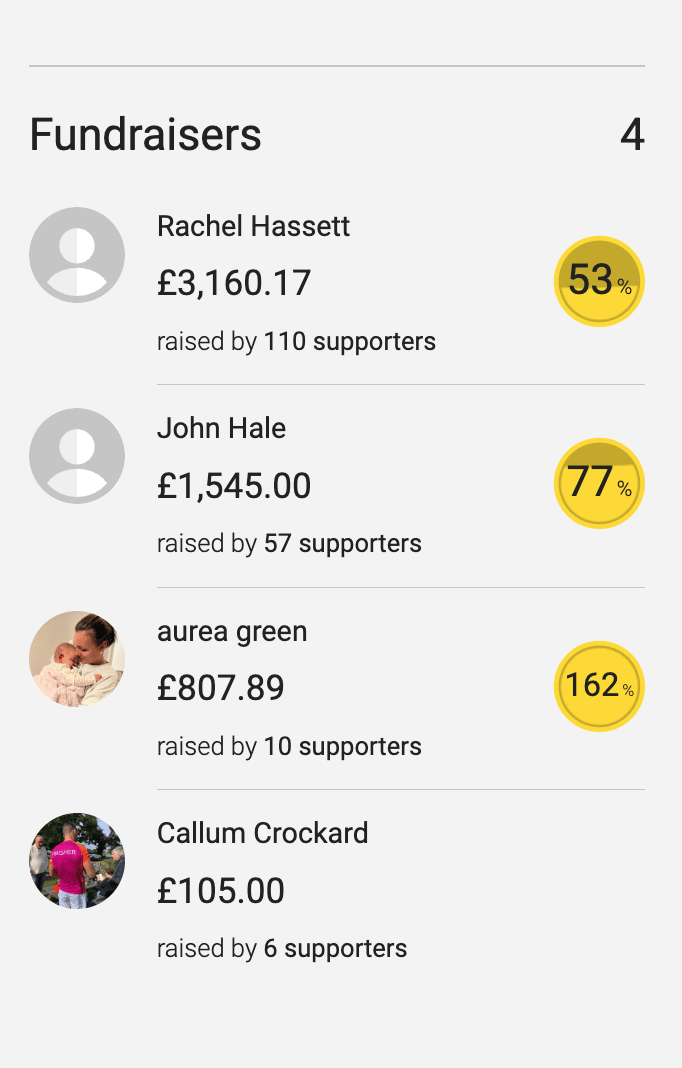 An example of a fundraising leaderboard on SHINE's London Marathon Campaign Page
Update your supporters instantly
Come Mile 16, your runners will need extra motivation to push on, and your updates and support could give them the boost they need.
Use your Campaign Page's story section to motivate your runners even further.
Cheer people on, say congrats, and remind them of the difference they're making.
Add pictures of your charity's work or your supporters to proudly show off their stories and inspire people that visit the page.
Embed YouTube videos to share more about your campaign and your mission
Use our Quote Text feature to highlight the most important parts of your story
Integrate fitness apps
This one is especially helpful for London Marathon! Your supporters can automatically share their fitness tracking, training pics, miles, and maps to keep their network updated on their progress.
See how our Strava integration works or learn more about Fundraising Page integration with Fitbit.
Made a Strava Club for your London Marathon team? Add a link to it in your story section, social media bios, and website to encourage fundraisers to join and link their fundraising pages too!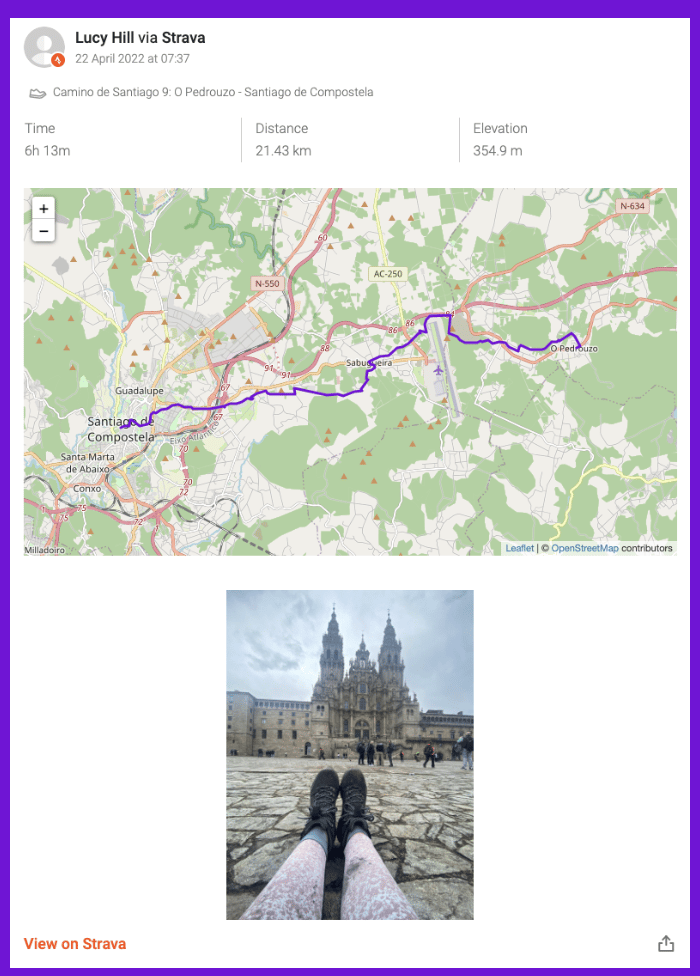 Save time with quick and easy reporting
Our simple fundraising reporting makes it easier than ever to keep track of the performance of your London Marathon campaign.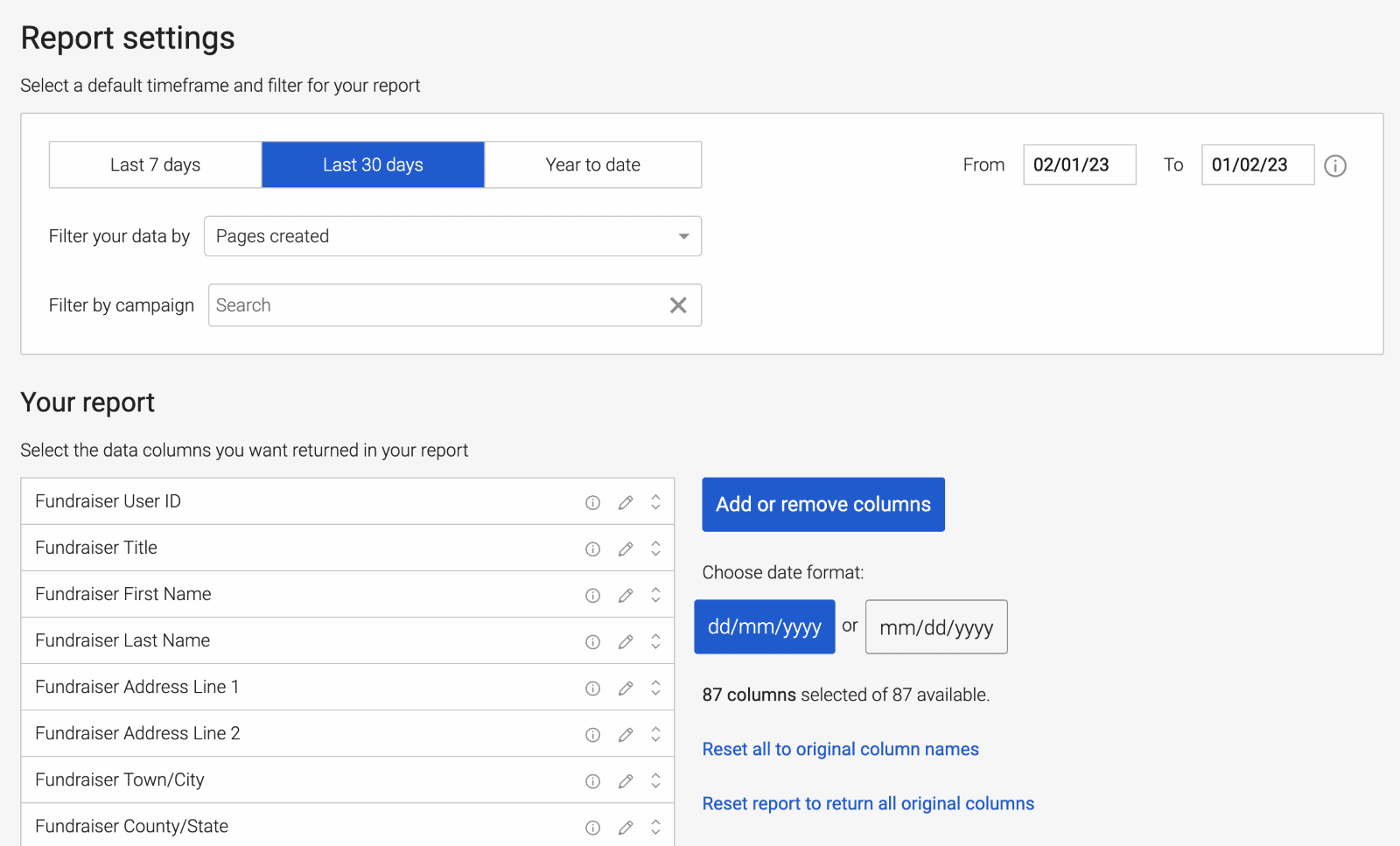 We also just added Regular Giving to Campaign Pages! This means people can set up recurring donations directly to your campaign page. They can even choose for them to continue past the campaign's end date.
Share and celebrate your runners
Share your team's progress with your network by sharing a link to your Campaign Page on social media and via email. You can also promote your Campaign on your website by using our fundraising toolkit:
Use your Donate link to drop supporters directly into the journey to quickly and easily donate to your Campaign 
Create a QR code to use on your website and in the real world. Simply add /qrcode to the end of your Campaign's URL to get the code that leads supporters straight to your page. 
"Creating a campaign page through JustGiving for London Marathon helped us build a sense of team for the runners from day one and JustGiving gave us tips on the best times to share pages for maximum impact.

– Missing People
How to set up a simple Event Landing Page for London Marathon
When you create a Campaign Page for London Marathon and share it with your community, people can start creating their own fundraising pages to raise money for you.
Log in to your JustGiving account
Add London Marathon 2023 to your charity's Events list
Click on "Events & Widgets" at the top of the page, then click Add an Event.





Type London Marathon in the Name of Event* field, then add the Event's start date (04/23/2023). Scroll down and you can add the official London Marathon 2023 Event to your account.

Adding the Event allows you to access it when creating your Campaign Page so that you can link your Campaign to it and contribute to the total raised during the Event.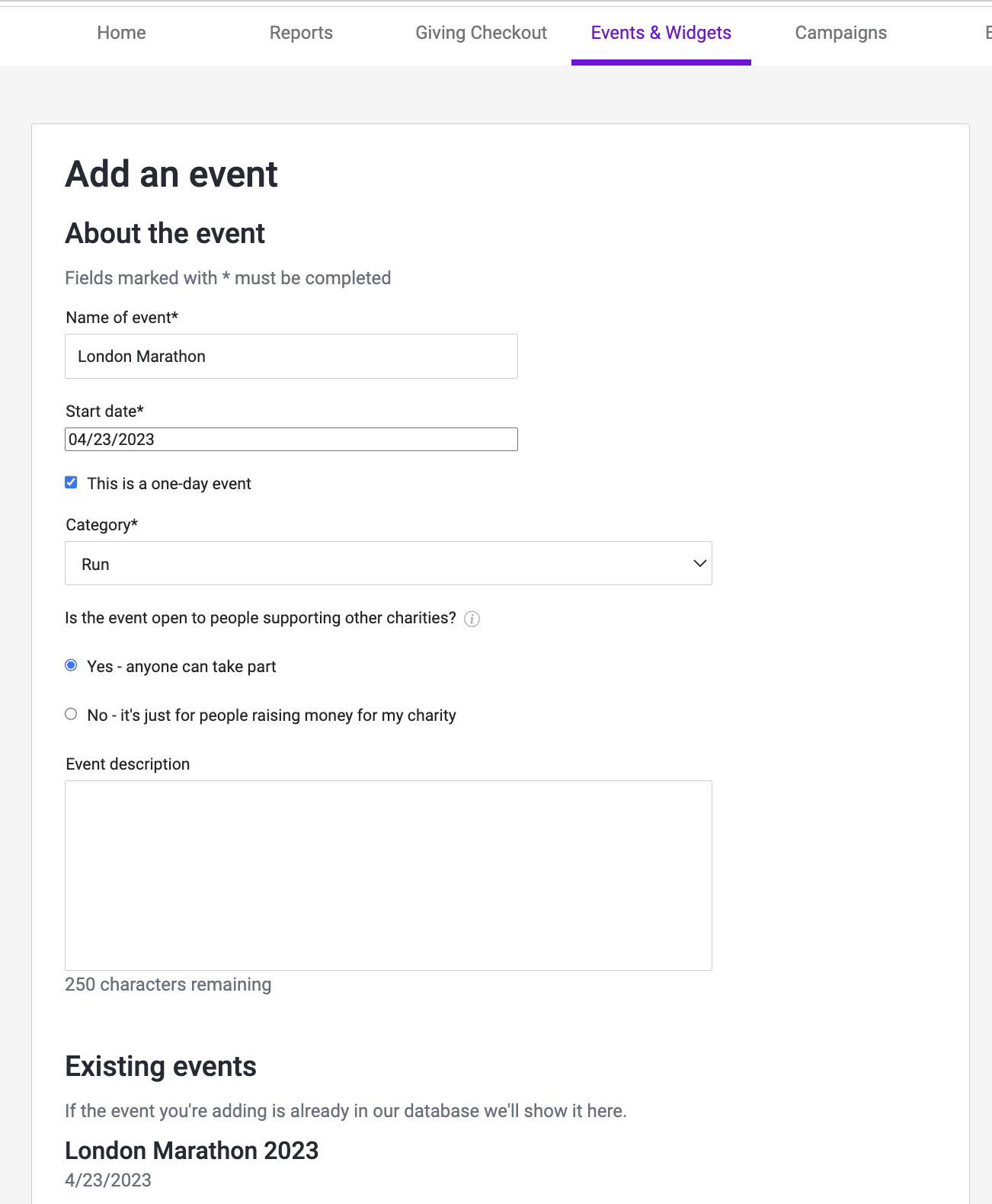 Create your Campaign
Bring your supporters together, see real-time progress in one place, and inspire more fundraising.

Click "Campaigns" at the top of the page, then create and customise your page for London Marathon.

Create a Campaign now | See our Campaign Page best practices



Connect your Campaign to the London Marathon Event
Here's where you choose the Event you added in Step 2!

Search for London Marathon and you can connect your Campaign Page to build your community and add to the event's success.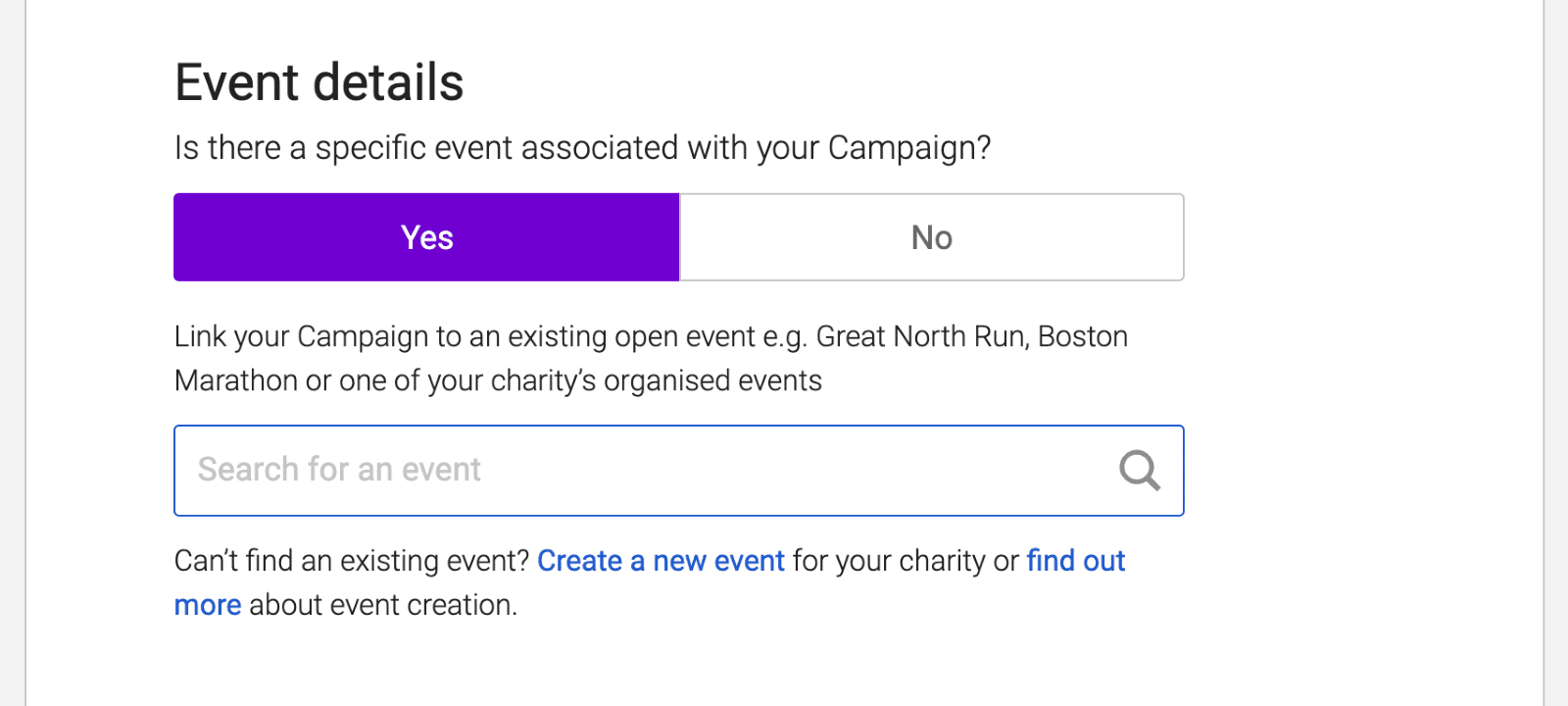 Need help creating your Campaign Page or connecting it to the London Marathon Event? Contact our Support team and we'll be happy to help!
Build your London Marathon Campaign Page
Creating a Page takes just a few minutes! Log in to your JustGiving account to create a Campaign Page for your London Marathon.
Create your London Marathon Campaign Page
Learn more in our Ultimate Guide to London Marathon
Our Ultimate Guide to London Marathon Fundraising for Charities has everything you need to know to get started making the best campaign possible.
Get inspiration in your inbox!
Don't miss out on digital fundraising tips, tools and trends.