How to Create a Simple and Effective Event Fundraising Landing Page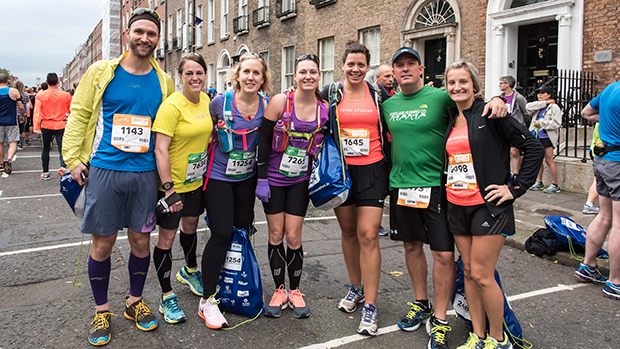 Editor's note: This post was originally published in 2016 | Updated in April 2023 for comprehensiveness and accuracy.
JustGiving Campaign Pages are the simplest way to bring together all your fundraising for a specific event.
Once your page is set up, people can then set up their own fundraising pages to help you raise even more. They'll ask their entire network for help: friends, family, colleagues, and even strangers!
Whether it's a big community run, dedicated event for your charity, bake sale, concert, or beyond, every event has the power to make a real impact.
You can leverage Campaign Pages for any type of event.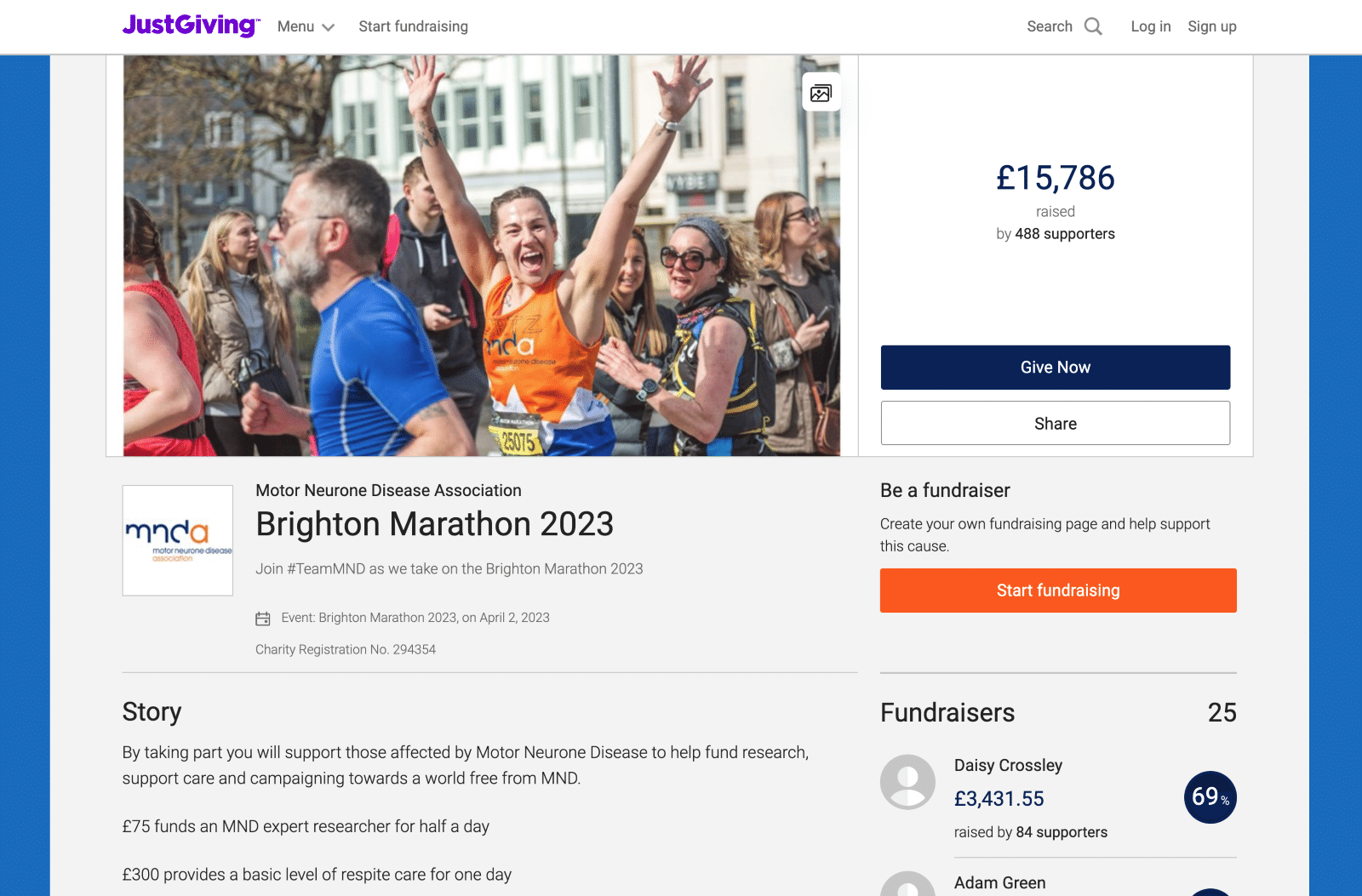 Your own signature charity in-person fundraising event
These are events charities create and host themselves, where all the money raised goes toward their own cause.

Example: Macmillan's Macmillan Race Day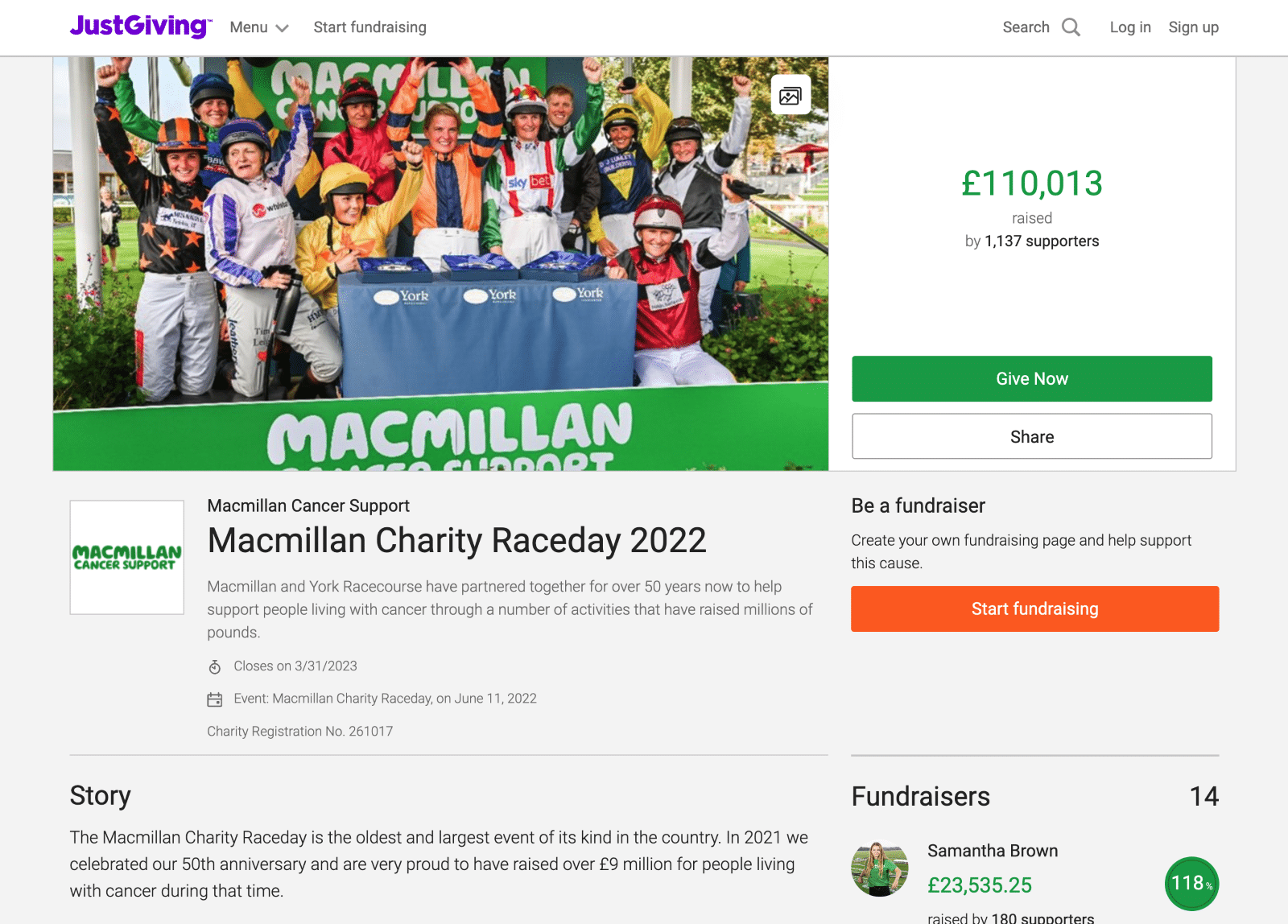 Virtual fundraising events

Virtual events can involve multiple charities or just your own, but the difference is that supporters can participate from anywhere and log their fundraising online!

Example: Muscular Dystrophy Association of New Zealand's Roll1KforMDA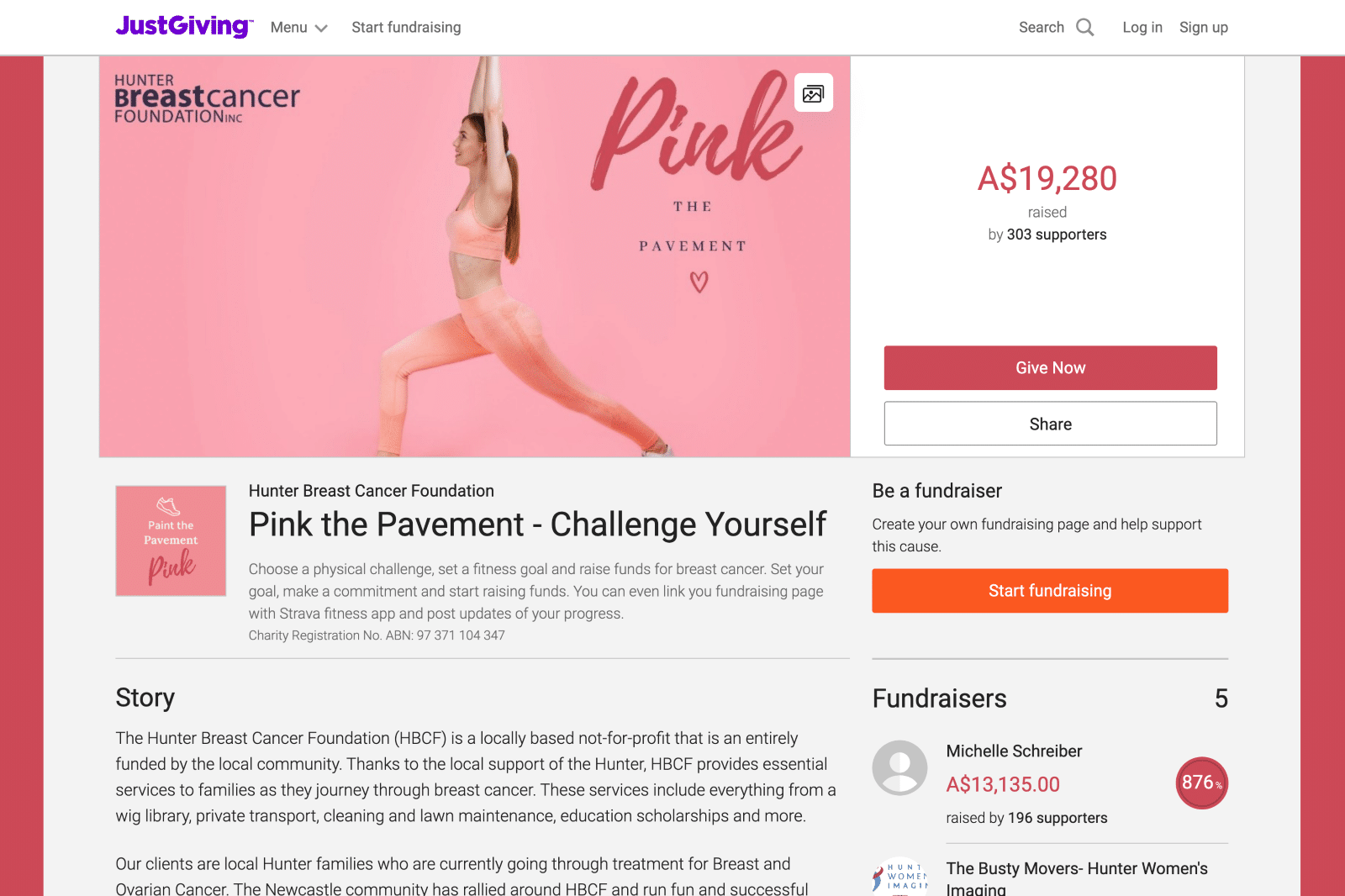 Local events or appeals

Local fundraising events or appeals involve raising money for something in the local community. These events may not involve doing an activity, but simply making a donation online (or offline!).

Example: Trinity Theatre & Arts Centre's Save the Trinity Theatre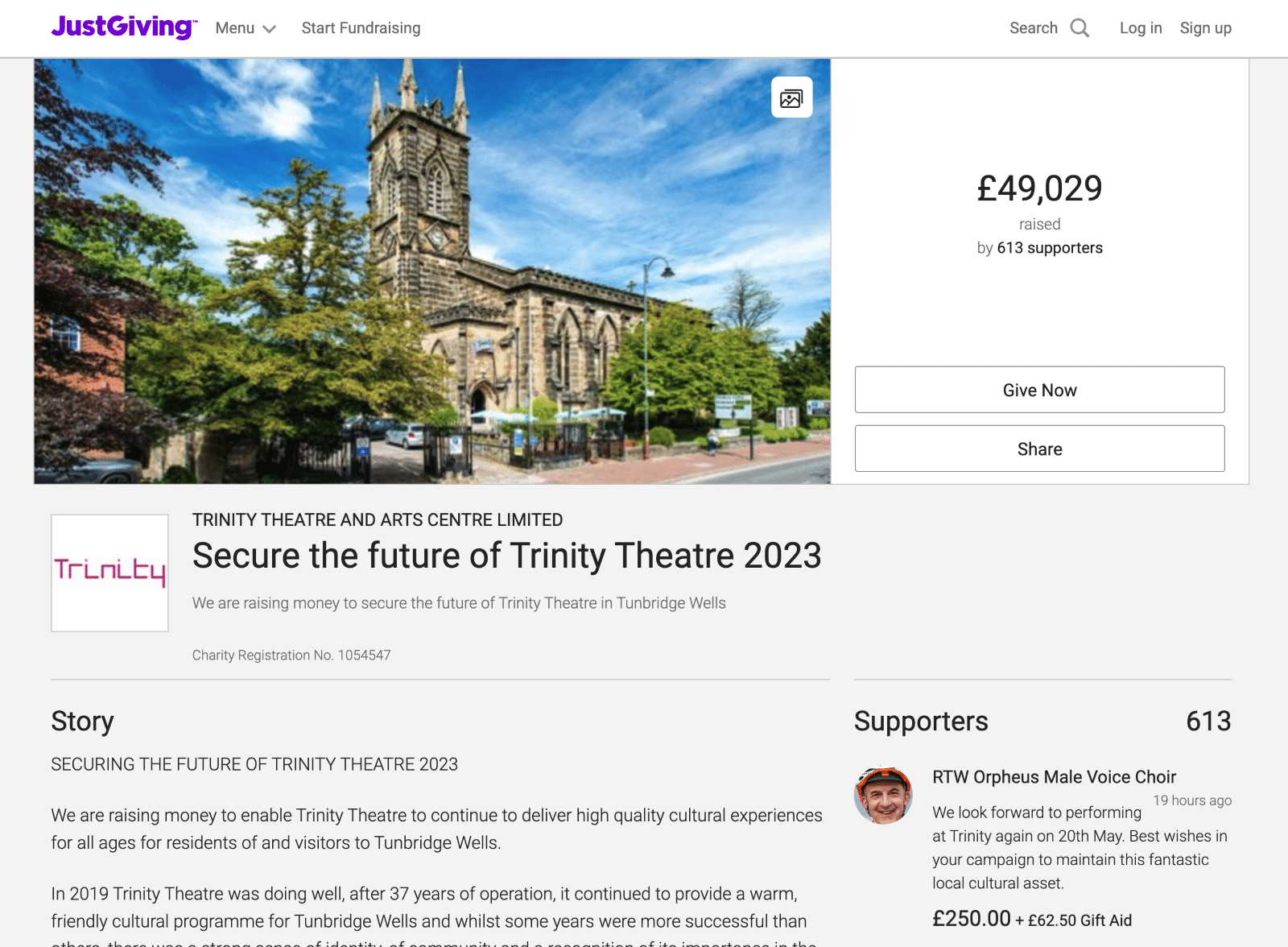 The possibilities are endless. Plus, you can customise your page to show your logo, your colours, and your Story!
How can I receive donations on my Campaign Page?
Direct donations
People who want to support you can simply visit your Campaign Page and make an online donation.

Fundraisers
People can also set up their own fundraising pages to support your campaign further. These passionate supporters leverage their own network and ask for donations on your behalf. This can turn your campaign into a big collective goal (and a friendly competition of who can raise the most)!

Regular giving
New! Now supporters can set up recurring donations for your campaign or a connected fundraising page. This means they can choose to automatically donate a chosen amount via direct debit each month. Learn more about Regular Giving on Campaign Pages and Fundraising Pages.
The fundraising total on your page accounts for all the above, showing how much everyone has raised together, as one big team.
Here's a few more examples of charity event fundraising pages on JustGiving. 
MS-UK fundraising in London Marathon 
MS-UK created a JustGiving Campaign Page to support its London Marathon fundraising.
The charity gained more than £129,000 in donations to support its mission of helping people with multiple sclerosis live healthier and happier lives.
See MS-UK's London Marathon Campaign Page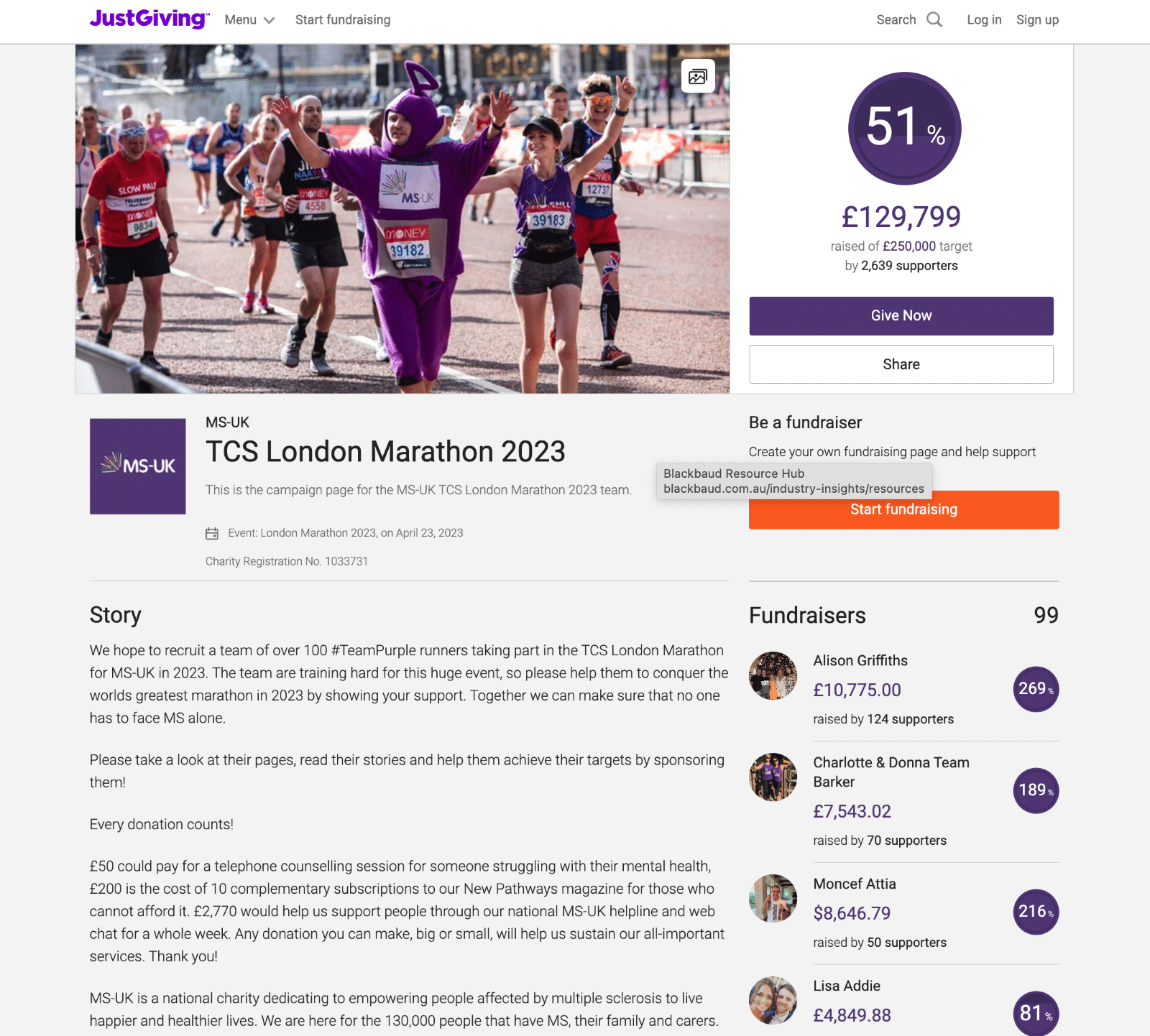 UN Women National Committee Australia – Trek for Rights 2023 
UN Women Australia created a JustGiving Campaign Page to support its annual Trek for Rights fundraising campaign, helping give women and girls in Afghanistan access to life-saving services.
The event takes fundraising participants on an incredible trek through Australian scenery as part of their journey to support the charity. The campaign has raised nearly $30,000 so far from 19 fundraisers and 197 supporters.
See UN Women Australia's Trek for Rights 2023 Campaign Page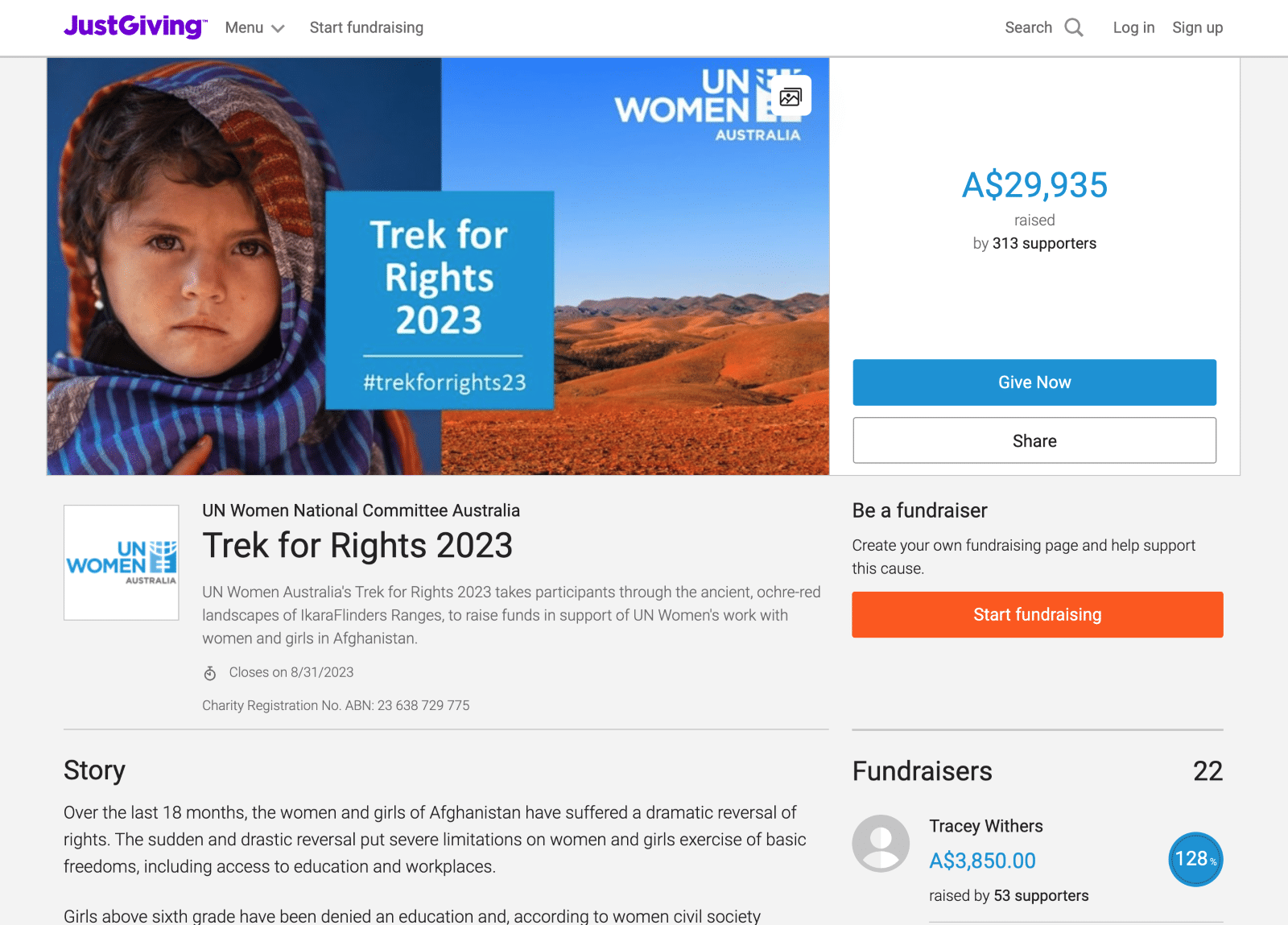 Looking for campaign page inspiration? We've got you covered. Check out 11 Inspiring Campaign Page Examples (and Why They Work) to see how charities nailed the basics and beyond to creative a memorable and impactful campaign. 
Build a Campaign Page for your next fundraising event
Creating a Campaign Page is easy and only takes a few minutes. Log in to your JustGiving account to create a page for your next event.
Get inspiration in your inbox!
Don't miss out on digital fundraising tips, tools and trends.
Sally Falvey has worked in online fundraising for over 10 years, and is the Head of B2B Marketing at JustGiving. She's passionate about helping all charities use the latest technology to be more efficient and raise more money.