How to get more organic traffic and visibility to your charity website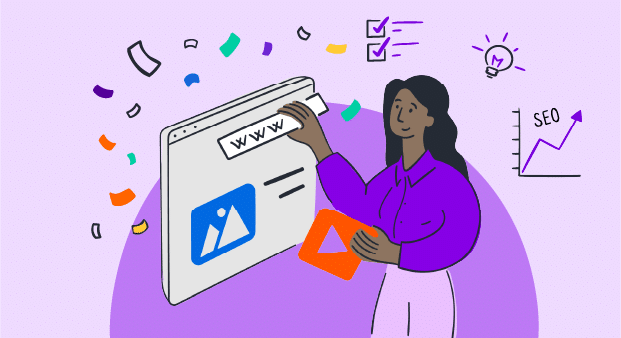 Want to know how to get your charity more visibility? We've put together our top tips on getting more online traffic to your website.  
Many charities manage their paid digital marketing and social media in-house, with a few who outsource it to an agency. However, far fewer have someone or a team dedicated to their SEO.
But what is SEO?
 Short for 'search engine optimisation', it's the process of boosting your website's visibility to make it rank higher on search engine results pages, like Google. The higher a page ranks, the more clicks and visits your website gets. This is known as organic traffic, and usually accounts for more than 50% of the total traffic (or visits) made to a website.
Why is it important?
In the long term, SEO often provides far greater and more cost-effective traffic when compared to other online marketing activities, such as paid advertising. Our own analysis of 25 charity websites revealed that over 83% of them had more traffic coming in from organic search when compared to paid traffic!
Optimising your charity's website by implementing some basic SEO techniques will help drive organic traffic to your website, helping you raise both awareness and boost donations to your cause. 
Without further ado, here are some changes you can make today to improve your charity website's organic traffic: 
Make use of search data and SEO tools
To make informed decisions on how to improve your website's traffic, it's important to know what's already working well (and not so well), so you can make necessary changes.
First, you need the right tools in your SEO toolkit. Both Google Analytics and Google Search Console are free and typically take no longer than 10 minutes to install on your website. With both these tools in your box, you can track your search data effectively.
There are also third-party tools that work alongside the above and can give you additional insight into your website's search engine ranking as well as detailed information on your competitors.
We recommend the following: 
Conduct keyword research
Once you have these tools at the ready, you'll need to identify which keywords and pages you already have ranked on Google. Then, you need to find out what your main competitors are ranking for. From there, you can identify any keywords that aren't currently being used by your competitors and use them to inspire new content for your own website. This is an excellent opportunity to create charity content for your website that stands out from the crowd.
Conducting a thorough keyword research for your charity is one of the highest leverage activities you can do and is the linchpin to your website's success.  
Google loves websites which focus on a specific subject and cover the subject in as much detail as possible. With detailed keyword research, you'll be able to build a robust content plan for the next few months, covering as many relevant keyword phrases as possible. 
Not sure how to conduct keyword research? Start by analysing your competitors.
First, look at what keywords your website is already ranking for – then, using search marketing tools like SEMrush, find your competitors. You should look for websites that are ranking for similar search terms to your website. From there, you can see if they are also ranking for keywords that you're not ranking for. This can inspire new keywords and content for your charity website. 
Try to identify any top-level "seed keywords" (these are usually one-two word phrases relevant to your charity) that people often search for. For example, 'animal charity' or 'cancer support'. You can then look for longer phrases, that are less competitive but still 'googled' regularly. Mapping out all related terms to your charity and your potential donors is a great starting point. You'll be able to see how much traffic these specific topics get and how competitive they are for building content around. 
Hit the top spots on Google's results page
Once you know what keywords you are already ranking for and their current search position, you can re-optimise these pages to boost their position on the Google results page. If your website appears higher up on Google's results page, you're more likely to attract more visitors to your site. 
If your website features in the top 20 results (the first two pages of Google's results page), Google already believes your page is relevant and just needs a little tweaking to rank in the top spots. With just a few changes, you could see massive results in just a few days. 
Being in the top three results makes a huge difference. Although data varies, it's reported that the number one spot on Google gets about 39.6% of the search traffic for each specific keyword phrase. Number two gets around 18.4%, and number three gets about 10.1%. Being in those top spots will drive huge amounts of traffic to your website.  
Here's how to get your website up there with the best…
Include keywords 
To rank highly, your website must regularly feature your specific keywords. To check what keywords your website is ranking for, head to SEMrush.
In SEMrush, and underneath Organic Research, click on "view details" to view the top Organic Keywords: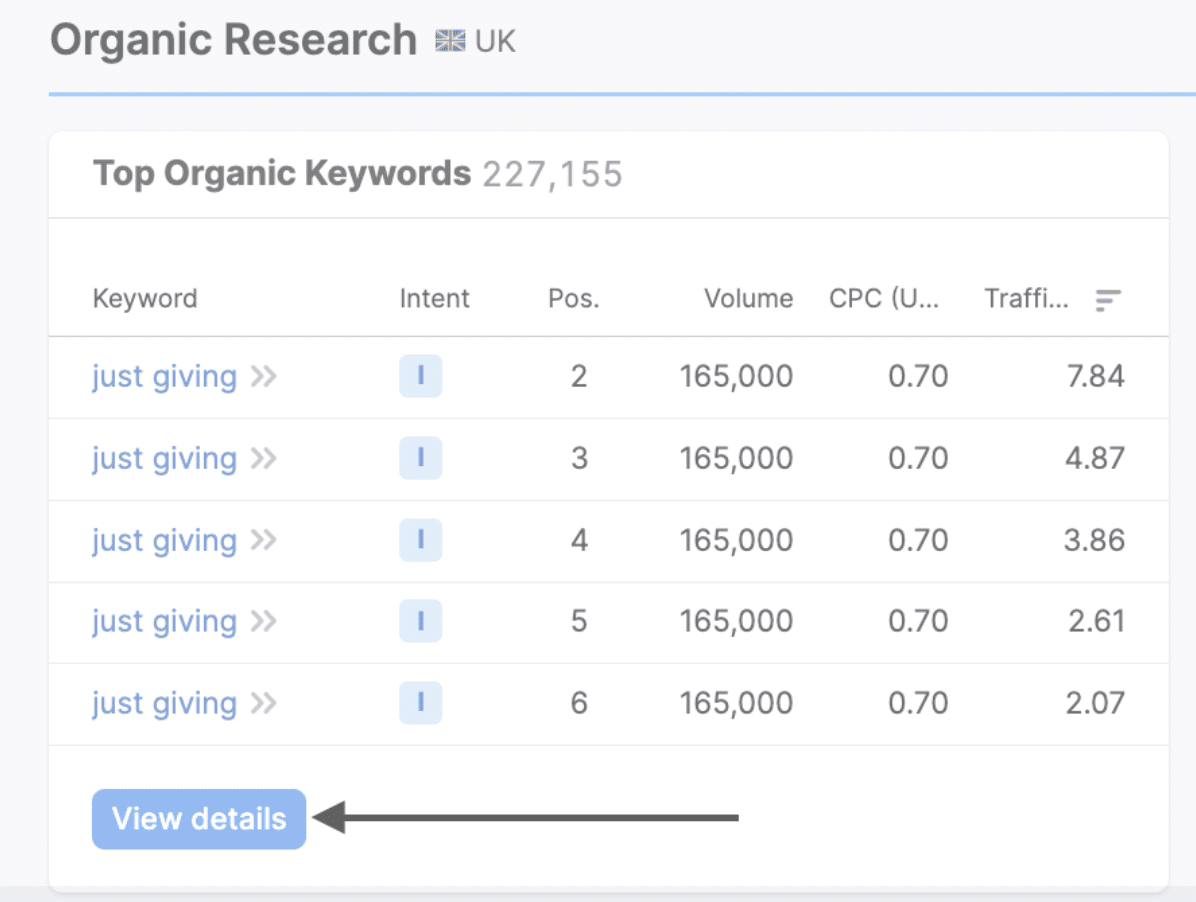 Next, click on "Positions" and enter the "Custom range" 2 to 20. Then click the blue button "Apply". This will now show you what your website is ranking for.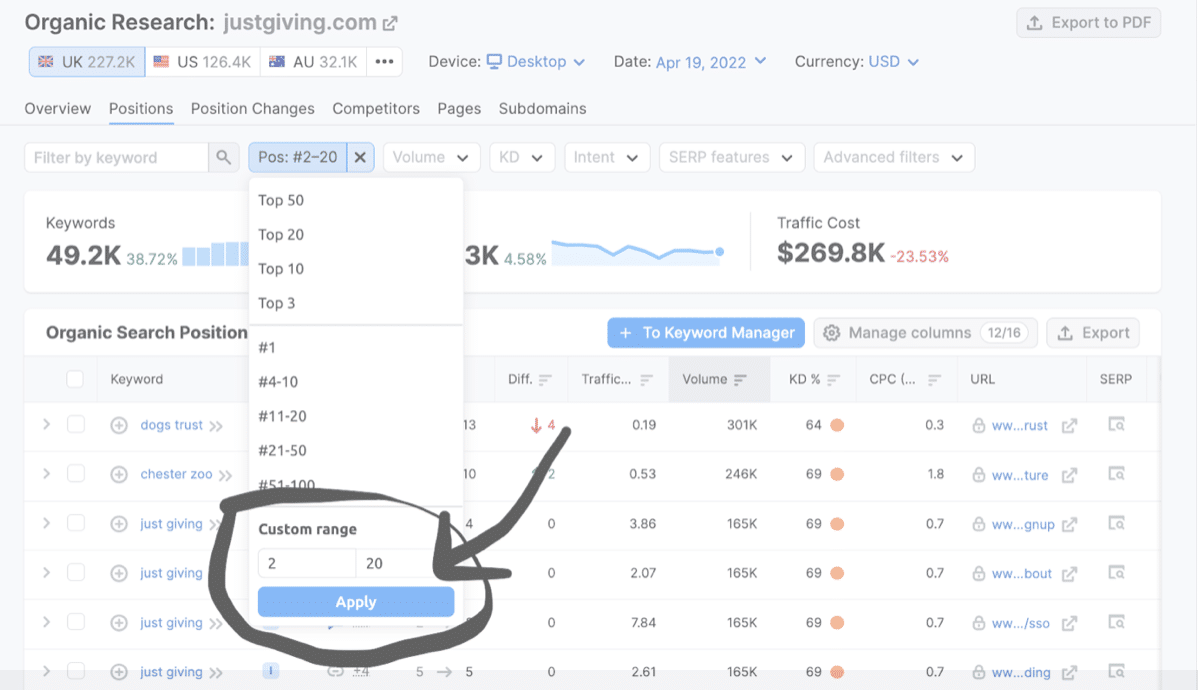 Once optimised, the URLs shown here will rank higher for your keyword phrases than they were previously. Work your way through the list of keywords and optimise the pages for the specific keyword. You can do this using Frase.io. Using advanced A.I allows you to work out what terms need to be included on the page and the average word count of the top 20 competing results. Ensuring the inclusion of keywords will help boost your website ranking on Google's results page.
Feature internal links and seek out back links 
Another way to boost your charity websites search engine ranking is through links. Your website needs to have internal links – these are links that direct visitors to different pages on your website. Make sure the anchor text is engaging and relevant to the page – avoid generic terms like "click here".  
Once satisfied with your internal links, you should seek out quality backlinks from 3rd party websites (possibly via an outreach campaign). This will draw in a wider audience from other websites. In theory, if you have more high quality and relevant links than your competitors, your website will rank higher than competitors'.
Create high-quality, unique website content
Typically, the more content your website has, the greater your website will rank online. It is a best practice to create as much content as possible on your subject matter. You want Google (and the other search engines) to see your website as a leading authority and hold your website in high regard. 
However, as ever, quality is just as important as quantity. Your website content must be unique – anything duplicated can damage your charity website's rankings. Use Grammarly.com, Copyscape.com or Siteliner.com to identify duplicate content and prioritise putting your own spin on it and making it your own. 
It's also best practice to ensure your titles, H1 tags, meta descriptions and internal links are all unique. The more unique your content is, the better Google rewards you. 
Separate your content into pages
Consider breaking up your content. Have separate pages dedicated to things your audience regularly searches for, rather than trying to combine everything onto a single page. Often, the more pages you have, the better. Larger websites frequently outrank smaller, content light websites.  
Consider creating content clusters and content hubs (E.g. a FAQs page) where you cover specific topics and then have particular articles that explain each of those topics in more detail.
Keep your content up-to-date 
Don't forget to regularly update your content. Keep track of each piece of content you produce, especially anything that may become outdated or is time sensitive. Regularly update your pages and add further information to them over time – Google will reward fresh and up-to-date content. Tip: where possible, put a reminder in your calendar to review and update existing pages every few months. 
Get featured on Featured snippets 
Sometimes, when you 'Google' a question (usually beginning with "how", "why" or "when"…), a specific answer will pop up in a highlighted box of text, right at the top of the results page. These are known as 'Featured snippets', and feature above the rest of the results. This is known as 'Position 0' – and featuring here can often drive more traffic to your website.
Want your website to appear in that top spot?
Tools like SEMrush and ahrefs.com can tell you which keywords are likely to generate these search snippets. You can then plan content that answers these regularly 'googled' questions. If Google feels your website answers a specific question well, your site might just end up in 'Position 0'.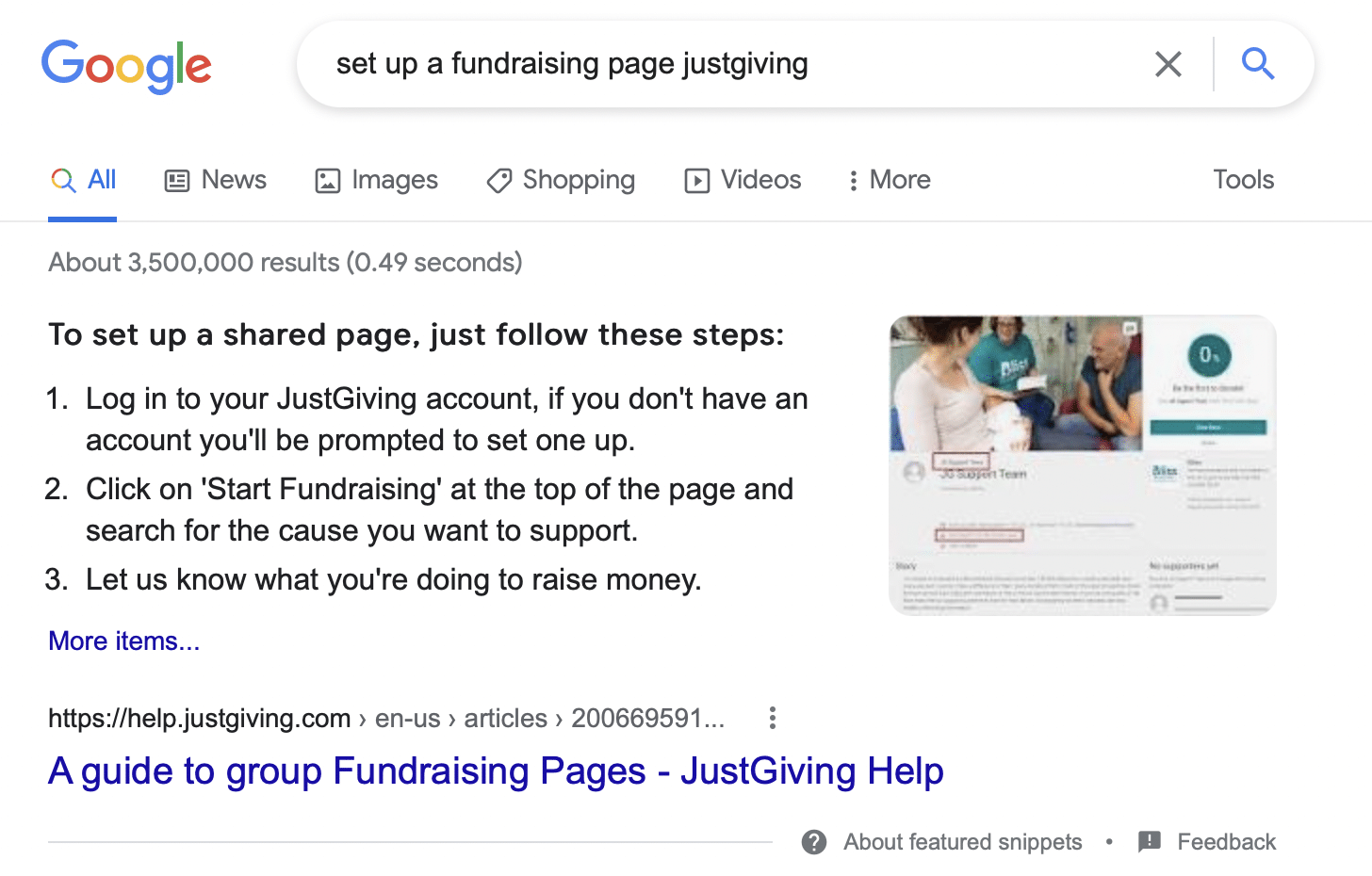 One of the best ways to do this is by featuring an FAQ page – with answers to specific questions related to your charity that people often search for. This is one of the quickest ways to get more visibility and traffic from Google.
10. Check your website's structure and performance
Run your website through a tool like Screaming Frog SEO Spider to get an overview of how well your website is structured. Look out for broken links, duplicate titles, and link errors, all of which are particularly important to fix if you want Google to see your website as a trusted resource and promote it effectively. The data you'll receive from this tool will be invaluable and allow you to make informed changes to your site.
Google also rewards faster websites that provide an enjoyable, pain-free user experience. Slow websites that don't load correctly will drive visitors away from your website. Most websites now get their traffic from mobile – so ensure your website runs effectively on mobile devices. Google's free PageSpeed Insights is an excellent tool for this. 
Once you have set up Google Search Console on your website, review your Core Web Vitals data to keep on top of the health of your website and ensure you are doing everything within your power to rank well online.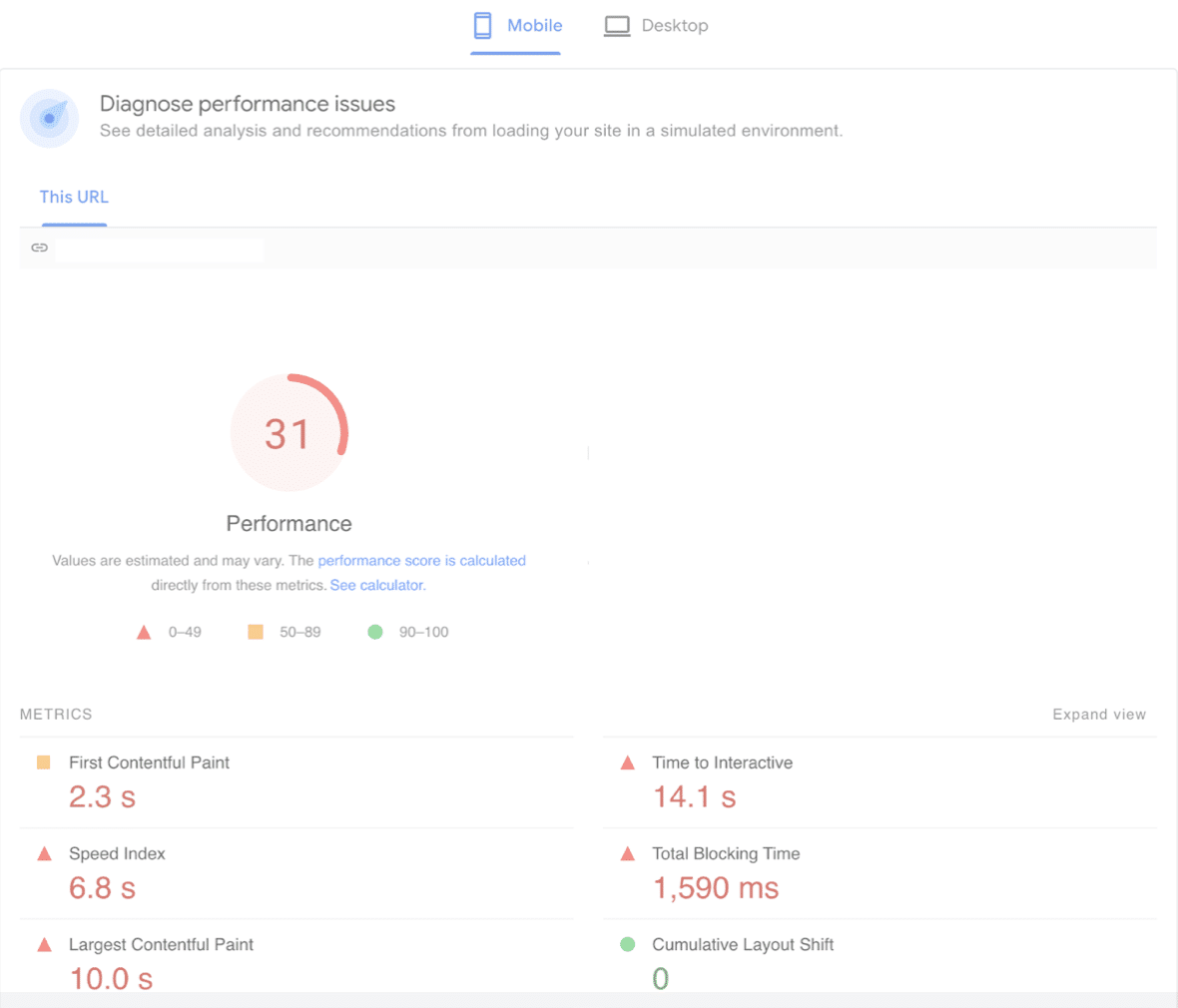 Bonus tip!
Google Ad Grants is a site where you can be awarded up to $10k per month. Whilst SEO can take some time to build and get working, paid search can be an incredible way first to identify keywords and confirm they convert well for you before you spend a lot of energy and resources optimising them for SEO. If used effectively, paid search can really add to the content creation process and allow you to build traffic in the short term and ongoing in partnership with your SEO efforts.  
We hope you learned something from our top 10 tips for optimising your website's SEO and driving more organic traffic to your charity website and have inspired you to review your website and make those all-important changes to drive visitors and donors to your website.
Get inspiration in your inbox!
Don't miss out on digital fundraising tips, tools and trends.