How to make contactless work for you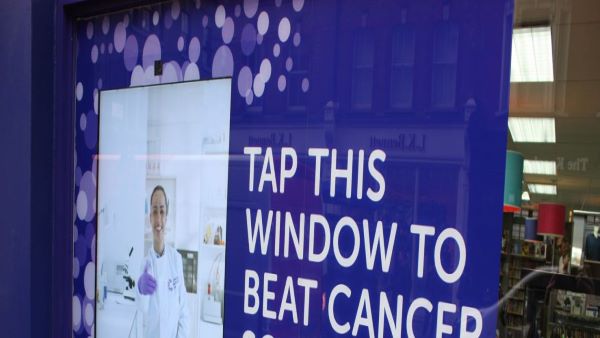 Face to face donations through street fundraisers is one of the most popular ways to give. It provides donors with instant gratification, without them having to take any time out of their busy day. But as the UK goes increasingly cashless, it becomes trickier to solicit spontaneous donations. 
The average donation on a contactless transaction is much higher than cash. 54% of the public agrees that contactless giving would make it easier for them to donate – yet, with only 4% of all charities having implemented the technology, Barclaycard estimates that charities are losing out on £80 million in potential donations per year.
Going contactless clearly represents huge opportunities – so here are our top tips for integrating contactless into your supporter journey.
Be present
The easiest way to implement contactless is alongside your offline supporter experience.
The beauty of contactless is that for most people it's a one-time donation that they can give without the pressure of long-term commitment. Someone doesn't need to be an existing supporter in order to make a one-off donation, they just have to be presented with the opportunity at the right time. 
Blue Cross found an inventive way to do this by turning some of their doggie ambassadors into wagging contactless touch-points. If someone walking past feels compelled to stop, give a stroke and tell the dog that they're a good boy, then they're also presented with a clear opportunity to give £2 via the contactless terminal on the dog's vest. 
Attach it to events
Events are prime-time to capture potential donations both from existing supporters and people being introduced to your cause for the first time. Whether it's a fun run, gala, or even a silent disco, people are immersed in the moment and feeling warm towards your cause. Plus, if it's a challenge event then participants will often bring along extra family and friends who might normally have direct contact with your charity. You can have your event team carry contactless terminals around or install a terminal at touchpoints, like merchandise or check-in desks.
Bristol Children's Hospital ran a Wallace and Gromit themed art trail last summer, accompanied by fun events like mass yoga. Using 17 contactless donation points throughout the trail, the event raised over 300% more than previous years!
Attach it to everyday transactions
One of the easiest ways to solicit ongoing support is to attach them to everyday transactions – places where people are already spending money, and might not miss a few pennies here or there.
Implementing these usually involve partnering with payment providers and might take a little longer to roll out. There can be huge benefits to this method. The World Food Programme partnered with MasterCard and Transport for London on a contactless campaign where for every transaction made at TFL with a MasterCard, or a MasterCard digital wallet, MasterCard donated one school meal (the equivalent of 20p). In 2017, the WFP and MasterCard's partnership initiatives helped to fund over 8 million school meals.
Make it interactive
Making a donation experience interactive helps to draw people in to your charity's story and mission. You can create an emotional connection that makes them more likely to support you.
In 2015, Cancer Research transformed their shop windows and created a window into the world of a scientist working in the fight to end cancer. It showed a scientist working and then invited people to tap to make a £2 donation.
Start your contactless journey
The good news is that here at JustGiving, we've partnered with LibertyPay, a payment solutions company specialising in contactless giving. Their contactless devices are available to charities to buy or rent, fully branded or plain, and they link to your existing JustGiving account.
Get inspiration in your inbox!
Don't miss out on digital fundraising tips, tools and trends.
Toni Gregory is a Content Marketing Specialist and B2B copywriter.