How to raise more with simple online A/B testing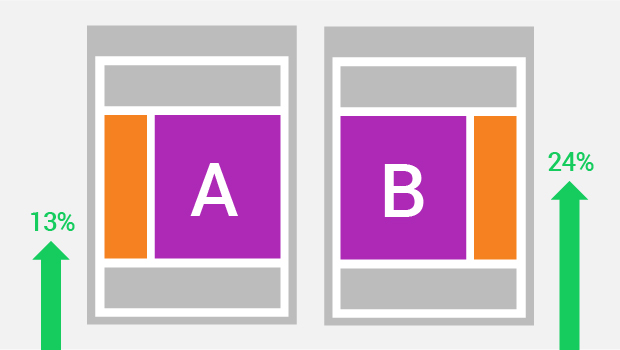 This post first appeared on the Optimizely blog.
Ever since we worked out that a Facebook like was worth an average of £5 in extra donations way back in 2010 (so long ago, it's in the internet archive), we've been on a mission to encourage more people to share the fundraising and crowdfunding pages on JustGiving.com. Because, for JustGiving, sharing is not just caring — it's raising cold hard cash. Fact.
The product team at JustGiving, has done a lot of work over the years to increase social sharing: we've added more social sharing functionality and made it easier to share.
Testing the post-donation sharing dialogue
In January this year, we decided to run our first test to see if we could increase post-donation sharing by appealing to different motivations. So we designed a simple A/B test on the copy to see if a different message would increase the proportion of people who shared news about their donation with their social network. Given the volume of donations we process, a small change could have a massive impact.
The original copy
The original text that prompted people to share after donating was…
Inspire more people to give – Share your donation:
…which was ok, but we thought it could be improved.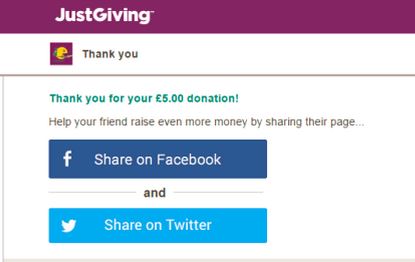 In brainstorming new copy for this test, we focused on three assumptions we'd made about why people share:
to present themselves in a positive light
to help raise more money for that cause
to get more friends involved in fundraising
The variation copy
We wanted to understand which one of these motivations was most compelling in driving a donor to click share, and we ended up testing five variations that corresponded to those assumed motivations:
Variation 1: You're an amazing person. Share your donation.
Variation 2: Want to get more people involved? Share your donation.
Variation 3: Share your donation to raise even more for this cause.
Variation 4: Help your friend raise even more money by sharing their page…
Variation 5: Think your friends might care about this too?
Based on a sample size of over half a million donors, we found that helping a friend raise more money was the most compelling reason for JustGiving donors to share.
The winning copy
Out of the five messages we tested, the winning variation was,
Help your friend raise even more money by sharing their page…
This change in messaging increased the proportion of donors who shared by 28%.
We were able to show that by connecting the initial act of support ("help your friend") to its outcome ("raise even more"), more people were inclined to act ("by sharing their page") for the greater good. But wait, there's more…
Testing the social sharing buttons
Following this test, we thought we could do even better as the proportion of people sharing was still fairly low – roughly 5%. And by looking at the data from the previous test, we could see that if people were sharing, they were sharing to Facebook. Some shared to Twitter, whereas pretty much no one shared on LinkedIn or Google+.
So we also reduced the options people had to choose from, removing the sharing options no one used and we decided to test one of the internet's truisms – do bigger buttons actually produce more clicks?
We tested two new variations, one with big buttons and another with, er, huge buttons.
Big buttons variation: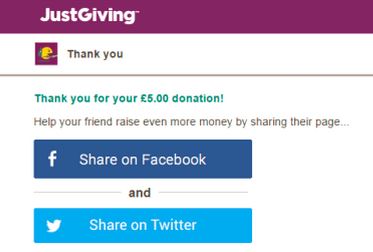 The big button variation JustGiving tested with the goal to increase shares.
Huge buttons variation: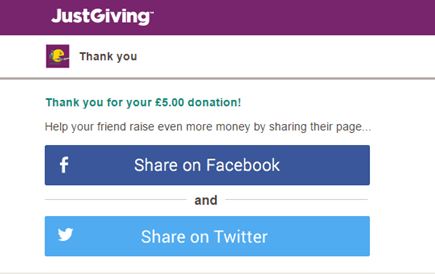 The huge button variation JustGiving tested with the goal to increase shares.
We ran the test with Optimizely over a full week cycle, but it was obvious after only 2 hours there would be a clear winner and had reached statistical significance (the time at which point you've got enough data to rule out chance causing a variation to win). This is ridiculously quick, but we get a lot of traffic and the new variations performed so much better than what we had previously that it was obvious straight away that they were both winning. And there was very little difference between Huge and Big buttons.
The test results
This increase in sharing meant almost £1 million ($1.5m) more was raised on the JustGiving website for our charity partners.
By comparing donations from post sponsor shares in the last 3 months to the same 3 month period in 2014, donation volume and value has tripled. And the growth has mainly come from mobile, where we've seen an incredible 386% growth. In fact, we saw bigger gains for mobile users in every single test we ran – and now mobile sharing far exceeds desktop sharing.
Applying this increase over the rest of the year, we estimate these two A/B tests will generate an extra £3 million ($4.5 m) for charities on JustGiving.
Lessons learned
Our starting point for this test was not tech or any specific new insight, but assumptions that were generated by getting a group of people in a room to talk about motivations for sharing. We made a bunch of assumptions and then designed a test to see which ones were right. But the real learning is to never be satisfied and always look for data from one test to inform further improvements.
By removing options that no one used in the first test and increasing visibility of the sharing options they actually did click, we had an even bigger impact on the numbers we were trying to move. And the end result is the charities we support will have millions of dollars more to do the important work they do.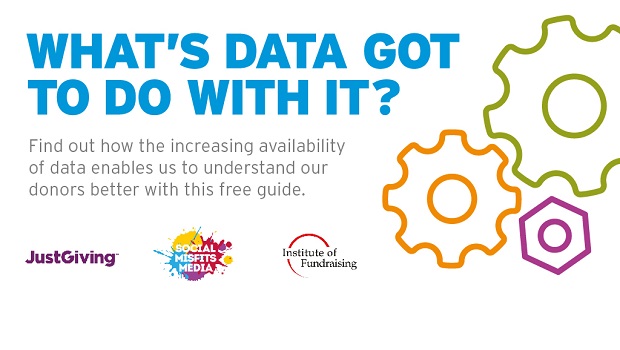 Get inspiration in your inbox!
Don't miss out on digital fundraising tips, tools and trends.
Jonathan is the social and labs product manager at JustGiving, specialising in social media integration, digital strategy and online fundraising. He's fascinated by how the social web has revolutionised the way people interact with each other and how charities can use the internet to create enormous value for them and their supporters.