How to run your own virtual community fundraising event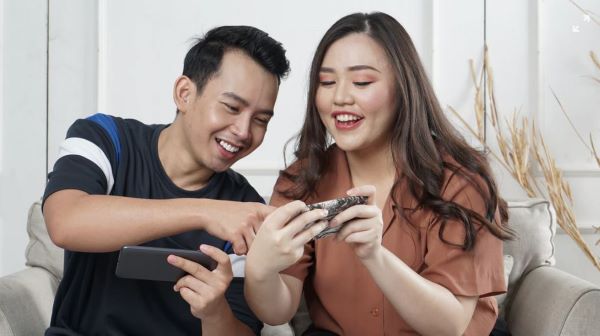 Following the COVID-19 lockdown, digital, legacies and trusts were at the forefront of fundraising conversations. But for community fundraisers whose jobs and events rely heavily on face to face interaction there weren't as many ideas, opportunities or threads on the subject. Community fundraisers I spoke to through my work said they felt forgotten or that they weren't, "earning their keep".
But we can find an opportunity in the current crisis and the charities that recognise the potential of community networks and are able to respond and pivot quickly will see the rewards – not only during the pandemic but once we come out of the other side too. Community fundraising networks are crucial for getting through tough spots – and is exactly what we need right now and beyond. Following an article I wrote in March about digital community fundraising ideas we've seen an increase in online events. But with the increased noise and limited digital skills how can you set up and stand out with your own digital event? Read on to find out how to set up your own virtual event from scratch.
Where is Your Audience?
If you have a big Facebook following and your Twitter interaction is lacking it doesn't make sense to run a live event through Periscope when Facebook Live would get you more viewers.  If you don't have a large social media presence then you may wish to livestream directly onto a JustGiving Fundraising Page or of course, at an Everywhere+ event to take advantage of our new JustGiving integrations. We want to connect and engage with supporters on a platform that they're comfortable with so think about the type of event you'll run, where those supporters already are, and reach out to existing donors in advance to help you shape and promote the event.
I'm not a huge fan of Zoom community fundraisers because I associate them with webinars and corporate activity – but if you have a huge corporate audience this can work for you! If you have the know-how why not broadcast to your website and have a regular online space where people can connect and chat between events? At Fundraising Everywhere we have free virtual co-working on the site at all times plus regular TV, training, social, and conference events for people to come together for a purpose.
Bonus tip: multiple broadcast platforms like StreamYard enable you to stream to more than one social media account. It takes some getting used to and you'll need someone with experience to get the most out of the features on offer until you find your feet.
What is Familiar For Your Supporters?
Now isn't the time for setting up weeks of planning and sign-off for a brand new event that you're not sure will work. The more you think about it the less it gets done!
Have a look at what campaigns and activities your supporters have previously engaged with that you can repackage as a virtual event and test the response online. You can push it out quickly, reuse collateral, and there is a sense of familiarity with supporters that they're more likely to connect with it. My community fundraising success mantra is to support donors to 'do good with what they do well' and that applies to you too.
Be Creative
With so many quizzes and Zoom meetings happening online I imagine we'll be bored of these by the time this article goes live. As with any great community fundraising event, think about what aligns with your charity's mission and why supporters engage with your cause to cut through the noise and catch people's attention. If you're an art gallery, think about virtual tours or meet the artist live streams. Re-homing centres can fundraise and campaign simultaneously by running 'how to look after your animal' sessions through the week (as a parent I love these virtual events because I view them as learning experiences too!). Marie Curie ran a virtual collection bucket using just a social media account and a community fundraiser with lots of community fundraising enthusiasm!
There are some more virtual community fundraising ideas here for you, plus JustGiving have shared some tips and ideas for livestreaming fundraising here.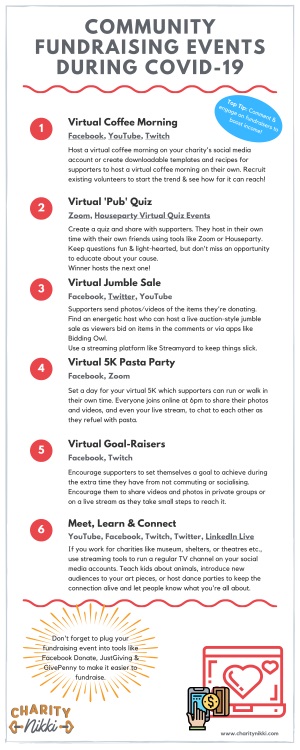 Make Sure They Know When to Join You
If you were planning a community fundraising event in normal times you'd tell people when it is – and it's no different with your virtual fundraisers.
To save precious copy space in your adverts make sure it's obvious on your graphics or videos when you'll go live and promote within the week before your event. At a time of uncertainty when it's hard to know what will happen from one day to the next coupled with our expectation of instant gratification with online events, any longer than that and it's hard to capture their curiosity and pledge to be involved.
The peak points for subscribing to virtual events is the 48-hours beforehand so don't worry if there isn't a huge take-up immediately. Run an ad, email your list, post in online community groups, and pick up the phone to invite people – the same way you'd invite anyone to a normal community fundraiser.
Remember, it takes more time and money to fundraise from new supporters than it does to look after the ones who already care about you. So don't forget about your key supporters and get carried away with the vast potentials you could reach online – and end up spending more money than you raise trying to reach them. And when planning the length of your event think about how it needs to be whilst being mindful of the fact our online attention spans aren't forgiving. For concerts or immersive experiences take your time and build the excitement. For a quiz, coffee morning or learning event try to keep it short and sweet.
Live Hosting and Guests
The difference between a great virtual community fundraising event and something you could just watch on YouTube is the host. The beauty of community fundraising is that people in those roles tend to love engaging with people and are vibrant and enthusiastic – perfect qualities for your online host and amazing for making your community fundraisers feel like they're still involved in your work. Your host should make the viewer feel part of the event. Mention viewers' names, read out their comments, react to the photos they're sharing – you can even invite them to be involved in your live stream!
Try to mix up your live event with guests and preloaded videos. It's nice for the viewer to see and hear something different and helps pass the time. An hour on a live stream can feel a lot longer than a normal hour of chatting! And make sure you have another member of your team online during the live stream to chat with people in the comments and post links and updates to what you reference. It's too much for you to do solo, plus it looks seamless and polished to anyone watching with you.
Bonus tip: working with online influencers can extend your reach and online community a lot faster than building something from scratch. Is there someone you can work with who has a large audience and social media skills to help you get your event up and running?
Call to Action and Giving Platforms
As with any great community fundraising event it needs to be clear there is a way and need for giving so make sure you ask for donations during your event! With virtual community fundraising events I've run during the pandemic, supporters are given the option of giving platforms that they can donate through rather than committing them to one method.
You wouldn't tell supporters at a traditional community fundraising event that they couldn't give cash because you only accept contactless so don't try to control them online either. The benefit of this is you can catch them in the moment and convert to quicker donations.
Be sure to post the donate link on your live stream comments, get the host to mention, and even use banners and buttons to bring it to their attention. If your charity is registered on JustGiving you can add your stream straight on to a Fundraising Page where viewers have the option of donating right in front of them. Thank donors by name and mention totals as the stream happens to utilise social proofing and other behavioural science methods. Your colleague helping you can send these to you privately to help you keep up to speed with what's happening on the supporter's side.
Create Tools to Extend Your Reach
Community fundraising is about finding the people who care about your cause and can carry on the event and campaign into their own network. Your live event is intended as a showcase of how fun and simple community fundraising can be online, but the ultimate goal is to empower viewers to run their own on their own personal pages and continue the campaign.
Share graphics, GIFs and links to make it as easy as possible and react as quickly as you can to anyone posting on your page hinting that they'd love to do this with their friends. Host a microsite where everything can be downloaded quickly and easily with a short 'how to' guide for starting their own online event – feel free to use parts of this article if it makes it quicker for you!
Be Authentic
With an increase in online use there are always companies and promoters who will try to sell you all the bells and whistles to make your online events sleek and perfect. You really don't need this and thinking you do will stop you from starting anything. Get online, start a conversation and be you.
Let people know this is new to you and you'd love to know what they think, help them meet and get to know you and other members of your team, and above all else start that key community relationship that you'll be able to continue offline when we're able to get back to normal. As a community fundraising specialist who runs a live streaming platform for the charity sector, I'm excited about the opportunities this current situation can do to reshape how we do community fundraising beyond COVID-19.
If we jump on this current wave of increased online interaction with something relevant for our cause we're creating another medium of communication with our supporters for post-pandemic that was previously reserved for more personal relationships.
Pick up your phone, find some good lighting, and hit 'Go Live' – you'll wonder why you never did before.
Discover more great insights from Nikki
Nikki has created a session for this year's IOF Fundraising Convention 2020 called How to community fundraise during and following a pandemic. This year's convention is all online, meaning you can watch lots of great talks, workshops and panel discussions both live and through their on-demand programme. Nikki's session is available on-demand now, to find out more visit the convention website here. 
Get inspiration in your inbox!
Don't miss out on digital fundraising tips, tools and trends.
Nikki is the co-founder of Fundraising Everywhere and Everywhere+, featured in 2021's Digital Womxn to Watch, and an international speaker about building innovative and inclusive teams.