How we used data to improve our fundraiser email journey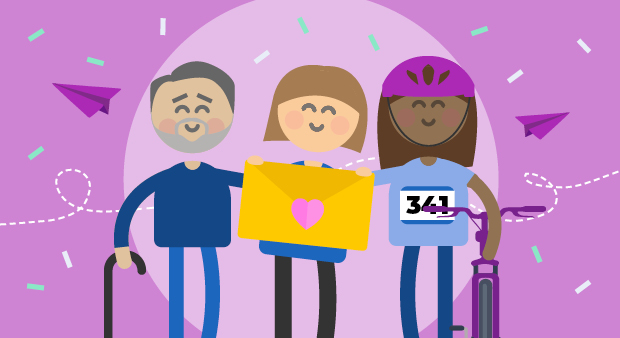 Back in September you may remember that we introduced you to our awesome new fundraiser email journey. The email journey uses a combination of 59 fresh, personalised and segmented email variants that are designed to help supporters smash their fundraising goals by sending them tips that are tailored to their individual timeline and event type. An example of some of the recommendations that we share with fundraisers is that they can raise up to 36% more by adding a story to their Fundraising Page, or up to 23% more if they add a profile picture. We created the new email journey with two key goals in mind: to increase the number of people receiving that all-important first donation to their Fundraising Page (known as an 'activated' Fundraising Page) and to increase the number of donations people receive to their Fundraising Page.
We've now been testing the new email journey for just over four months and so far, we've seen that people who receive the new emails raise 16% more, the number of people activating their Fundraising Page is 8% higher, and email engagement has increased by 5% compared to our old email journey!
As the fundraiser email journey is currently having such a great response from supporters, we wanted to give you a detailed look at some of the stats and theories we used when creating the journey, as well as extra insights into the direct impact that our email campaigns have had on donations made on the JustGiving platform.
Email trends
When our CRM team (customer relationship management) first begin creating new emails we look at any current email market trends as these often indict public preferences and habits. Three stats that we found useful when creating the fundraiser email journey were:
1. People scan an email in 1.1 seconds before deciding to read or ignore.
If they choose to read on, they will only spend about 10-15 seconds scanning the content before deciding whether to take an action.
2. iPhone and Gmail are the two most popular platforms used to read emails.
When we had a look at our own database, we found that the largest email domain our fundraisers used was Gmail, so this trend reflected the habits of JustGiving fundraisers. How did this help us to build better emails? It drove home the point that a growing number of people are reading our emails on a mobile device – around 52% of people will view our campaigns on mobile phone or tablet.
3. 70% of people feel frustrated when the content of an email isn't relevant to them.
82% of people now expect you to know who they are and what they are doing, so sending personalised and segmented emails has become an expectation as opposed to a 'nice to have'.
How we used email trends to improve our email stewardship
One of the reasons that we created 59 different email variants is because we know there are a lot of different JustGiving features and we don't want new fundraisers to feel overwhelmed, we also don't want to tell people about tools that may not be relevant to their choice of fundraising activity. Our new journey recognises the type of activity someone is doing and makes suggestions specific to that, for example someone doing a running challenge may receive an email explaining how to connect their Fundraising Page to their Strava fitness app.
All of our new emails have all been designed to be responsive, this means that the format will automatically adjust depending on if the email is being read on a laptop, mobile phone or even a tablet device. Plus, to make the content easy to see when being scanned we've divided the email into simple chunks, with each chunk sharing one clear and concise point. People tend to remember the first piece of information in a section, so we have made sure that our emails have a hierarchy and feature the most popular tools or tips at the top.
What was the outcome?
By making these subtle changes we've seen a 5% increase in our email click through rate compared to our old email designs – which is really great considering every trend we've applied was available online and free to use!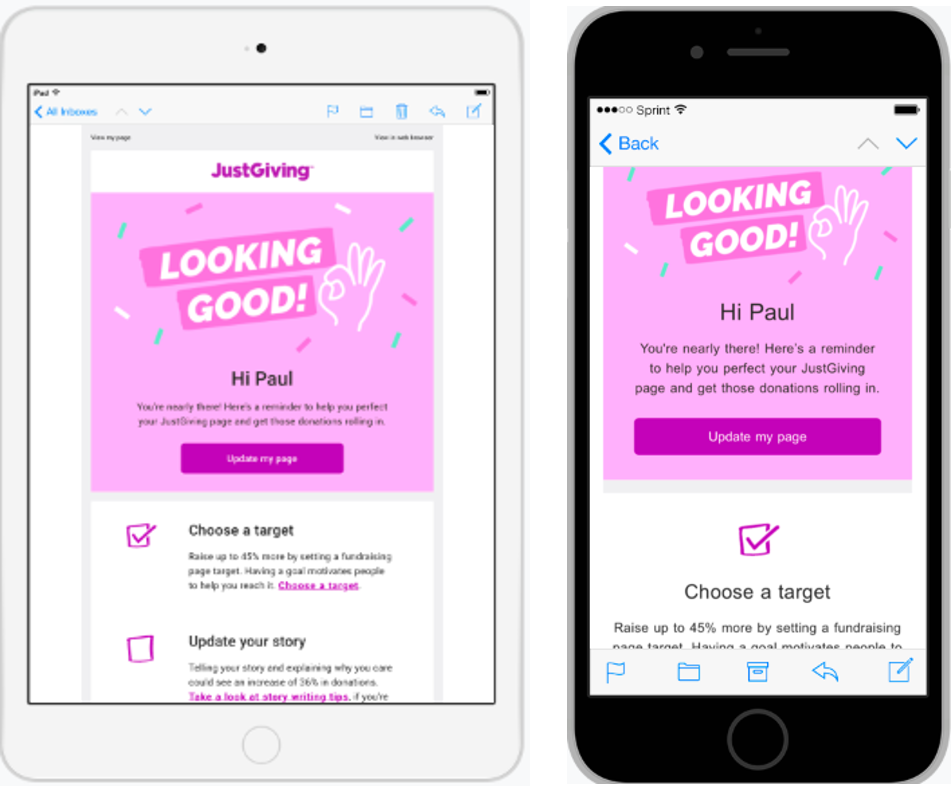 Using day-to-day behaviours to shape emails
There are several key factors that have been found to influence how people make decisions, known as behavioural economics, and they include:
FOMO (Fear of Missing Out): The theory behind FOMO is that people have an innate fear of missing out on what others are experiencing, we're highly social and often follow what others do so we feel included.
Choice overload: This is the idea that too many choices can lead to unhappiness and decision fatigue. The average person makes around 35,000 decisions a day(!), so it's understandable that we're naturally drawn to solutions that use as little mental effort as possible. We've found through email testing that the more choices we give people in an email, the more inertia it creates.
Nudge: Nudge marketing refers to when a choice has been designed to seem easier, more efficient and appeal to the person making the decision. As we mentioned, we're making new decisions constantly so subconsciously we gravitate towards the paths that make our lives a little easier. Day-to-day examples of this would be looking at online reviews to choose the best product or opting for the discounted product option in a supermarket.
When creating our fundraiser email journey, we made sure that we factored in these behaviours. For example, we know that if a fundraiser hasn't had a donation within the first week of creating their page, they're less likely to start fundraising. Our new emails are created to recognise when similar pages are receiving donations and to then let the fundraiser know this by using language such as 'pages that like yours are receiving donations' – tapping into FOMO. We then nudge them towards a next step through recommending an action that will help them to be more successful, '30% of people donate to their own page and when they do, they raise on average 47% more'.
As we mentioned at the start, by making these small changes the number of fundraisers getting that first donation has increased by 8% over the last four months, meaning that more people are successfully raising more money for charity. If you're in the process of reviewing your charity's communications, or perhaps you have an objective to increase engagement this year, then remember to keep it simple, place data at the heart of your improvements, and to ustilise any free, online resources that are available to you.
If you would like to hear me talk more about our new fundraiser email journey, then you can watch our on-demand webinar.
Get inspiration in your inbox!
Don't miss out on digital fundraising tips, tools and trends.
Amy is the Head of CRM at JustGiving, leading a small but highly skilled team. Under Amy's guidance, the team's mission is to automate and scale the CRM – which is one of the JustGiving's most vital marketing channels.