How to harness livestreaming's fundraising power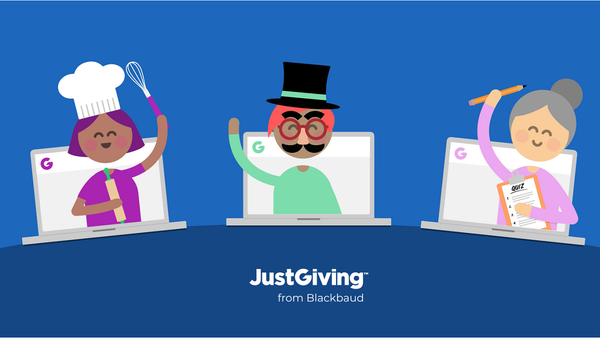 Lights, camera, livestream! We recently shared the very exciting news that your supporters can now easily and quickly livestream their activities on their JustGiving Fundraising Pages. As great as that is, you might be thinking…but what about charities? How can we use this new function to engage directly with supporters and fundraisers? We've got the answers to your questions, plus some ideas and examples of you can use livestreaming in future campaigns.
Livestreaming refresh
In case you missed our livestream launch blog, let's have a quick recap.
Livestreaming is when a video is shared online in real time using platforms such as YouTube, Twitch or Mixer. This means that viewers are watching the content as it's happening rather than it being pre-recorded. Think Joe Wicks' daily PE lessons or one-off virtual events like Women's Health UK's Live.
Ok, live broadcasts, got it. How does this work with JustGiving? Livestream videos still need to be set up on an external platform as they would be normally, except now they can also be connected straight to a JustGiving Fundraising Page by following a few extra steps. This means that when the livestream begins it will show at the top of a Fundraising Page, conveniently next to the donation button.
We've created a clear how to guide and FAQ page which shows how to get started.
How your charity can benefit from livestreaming
It's low cost
These days 99.999% of us own at least one android or Apple mobile device with a built-in camera. Combine your device with a free YouTube channel and your JustGiving account, and hey presto! You're ready to start streaming!
It simplifies the donor journey
Adding a livestream to a JustGiving Fundraising Page means that viewers are being directed to one page which contains everything you want them to see and so, such as your charity details, the fundraising story and a clear donation button. Livestreaming on a website such as YouTube is great, but you can only add your JustGiving link  in the description,which relies on people remembering to click and donate when they've finished watching. Livestreaming on a JustGiving Fundraising Page means people are more likely to give as the donate button is there on a website they know and trust for online giving
Videos add personality to your charity
Sharing videos which include your team members or behind the scenes details is a great way to strengthen your bond with supporters as they'll feel as though they know you even better
Diversify your event portfolio
Livestreaming opens your charity up to a whole new range of potential fundraising activities and events. Virtual events are essential for raising funds during lockdown, but they may also be great long term additions too
Livestreaming can help your charity to be more inclusive
We all absorb information in different ways and for some of us visual tools help to make a greater connection. You may have supporters that would prefer to see how someone is fundraising or to learn something through hearing it rather than reading it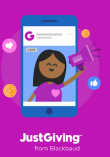 Livestreaming ideas
We mentioned that at the moment livestreaming is available on Fundraising Pages, but that doesn't mean that your charity can't also use it as part of a new campaign or to boost engagement. One option is to set up your own Fundraising Page. Take a look at how Nordoff Robbins, CALM and Chester Zoo have managed this.
Alternatively, you can launch a peer-to-peer fundraising challenge which would naturally complement using livestreaming. For example lots of the London marathon 2020 runners chose to still go the distance in their gardens whilst livestreaming to their Fundraising Pages. This allowed their friends and family to still be involved, showed their progress and it gave people a great incentive to donate more.
Whether you decide to set up your own page or ask fundraisers to get involved, we've come up with some potential livestreaming ideas that your supporters will love.
Behind the scenes tours
If you run an organisation which normally opens to the public, such as a National Trust garden or zoo, then this is a great opportunity to show supporters what happens behind the scenes and share exclusive details. Chester Zoo recently did exactly this by holding an endangered species day live. Zoo keepers livestreamed from within the zoo and visited a new enclosure every hour, sharing educational facts and explaining how their conservation work helps the animal on camera.
As Julie Platt, Fundraising Manager at Chester Zoo, says:
"Nothing replaces the persuasive power of people expressing themselves, their personalities and their passions. The video aspect of this fundraising tool really brings this to life."
[iframe id="https://www.youtube.com/embed/i2FvLtzYs8o" align="center" mode="thumbnail" autoplay="no"]
Live animal cameras
If you run an animal sanctuary, then why not consider setting up a livestream inside one of your pens. This would allow animal lovers to see what their furry friends get up to when left alone. The Guide Dogs for the Blind Association explored this idea a few years ago when they launched Puppy Cam (and yes, it was just as cute as it sounds).
Read along
This is a family friendly idea which could be especially appealing to any supporters with young children at home who need entertaining. CBeebies host bedtime stories for younger children, which is a simple but fun format that your charity could easily replicate. Here's an example of one of their readings from Tom Hardy (we promise that we chose this example at random…).
In occasion giving
One form of DIY Fundraising is in occasion giving where supporters ask for donations rather than gifts for their birthday, wedding, etc. You can ask your fundraisers to take this idea one step further by livestreaming a party. They can still ask for donations but also share their day of celebration live with friends and family who aren't able to currently join them
Gaming marathon
Twitch, a popular streaming platform, has helped gamers to raise over $115million for charities worldwide and it's a great way to get younger generations engaged with fundraising. You can run gaming marathons which ask viewers to donate in exchange for watching, asking to also play or every time they want to make a gaming suggestions to the player.
Be inspired by the 2.6 challenges!
If you need fresh fundraising ideas then look no further than The 2.6 challenge! We saw livestreamed workouts, quizzes, olive eating… Fundraisers truly thought outside the box to create challenges in a short period of time, so if you need inspiration then check out some of the unique 2.6 Challenge ideas we saw on JustGiving. 
Learn more about livestreaming
If you'd like more examples of you can use livestreaming, plus some practical set up tips, then register for our latest webinar: 'Learn more about livestream fundraising on JustGiving'. 
Get inspiration in your inbox!
Don't miss out on digital fundraising tips, tools and trends.
Toni Gregory is a Content Marketing Specialist and B2B copywriter.