Interview: Chris Hosker, The Children's Society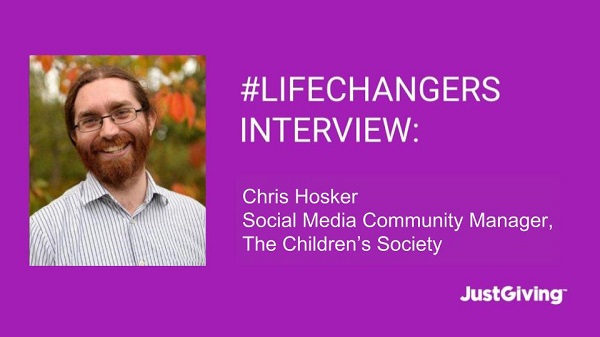 Hi Chris! Tell me, what does a charity Social Media Community Manager actually do? 

Social media – it's all memes, selfie-obsessed people and trash news articles, right? Well, sometimes. A lot of my time goes into skilling up my colleagues on how best to navigate the confusing ways of social media marketing, and how they can make it work for them. A good chunk more is dedicated to discovering social media successes of my charity peers, as well as learning from social fails…
Give us your potted history.
I grew up in the well-heeled St. Albans, and left school as many other idealist dreamers do. I wanted to change the world, and I knew the answer would be in charity work. After finishing my undergrad in Anthropology and Politics, I tried on as many charity hats as I could find. Volunteering took me to some interesting places, like the streets of a small town south of the Moroccan Atlas mountains alongside social workers helping young people addicted to glue. My early claim to fame was getting spotted in the Mail pictured beside Jeremy Corbyn on the steps of Gaza University. I spent a week with him and other MPs visiting aid projects and UN buildings amidst the bombed wreckage of the city in 2012.
I settled on comms and specialised in social media first with Action for Children. Then in 2015 I landed my current role and have been leading social for the charity since.
Take us through your typical working day.
As with most charity jobs, there's a lot of plate spinning involved. Our social content strategy covers social advertising, editorial and influencer work, so when my team aren't creating content, we're likely to be discussing ideas with our media, policy, campaigns, fundraising, or children's services colleagues. As social media touches many parts of the charity, there's never a dull moment!
Why do you work for The Children's Society?
I was really drawn to the new, hard-hitting brand. The issues that we're working with – from child sexual exploitation through to unaccompanied migrant and refugee children and mental health – are incredibly important to highlight. There are some powerful stories to tell, and where there's success – like this young person getting leave to remain after our campaign with the Guardian raised awareness of unaccompanied refugee and migrant children – then I feel all the more proud to work for the charity.
What is the main digital challenge in your role and how do you deal with it?
One of the biggest challenges for my team is carving out production time outside of our planned content schedule. We often find ourselves prioritising content needs from other teams, and there's always fundraising or campaigning activity around the corner. I'd also love to be more active on Instagram – we only recently opened our Instagram, and there never seems to be enough time to curate regular Stories. This year I'll be enlisting help from other teams so we can run more Stories at events.
Which digital tools could you simply not do your job without and why?
I think I'd be a bit lost without our analytics tools, and also the creative suite. I'm always curious to find out how our audiences are interacting with us, and what we could be doing better for them. And without creative tools like Premiere, After Effects and Photoshop available, getting together the visuals needed to make our social feed pop would take a whole lot longer!
What's your favourite charity social media campaign you've seen in the last year?
War Child's Escape Robot campaign video was on point this year. The film was well-crafted, and its social, web and email journey tied in well. I also liked Dave's behind-the-scenes explainer blog on CharityComms
Which other charities are doing social media well and why?
I'm loving Amnesty UK and UNICEF UK's content strategy right now. Both have shifted to video-first, powerful and authentic content that's tailored to their audiences. They've also done some work to bring their branding front and centre of their content, so you know when you're viewing a piece from Amnesty or UNICEF.
Which brands or people from outside the sector inspire you?
BBC Three and VICE have been busy with some excellent gritty docs recently, and I've loved seeing how their social teams are using clips to get people interested and talking about them on social. I especially like BBC Three's Instagram right now, I've taken a pointer or two from their Stories feed.
Which one Twitter account / blog / email newsletter do you think every social media manager should follow?
CharityComms of course! Every charity social bod should be following these guys. They've saved my bacon many a time, and calmed my nerves on certain recent newsfeed changes…
What's your top tip for someone new to working with social media?
Don't be fazed by the sheer volume of social content out there. If you've never used a content management tool like Tweetdeck, Hootsuite or other monitoring tool, the hashtag column view can look daunting. Even Facebook's layout, especially Ads Manager, can seem confusing at a glance. Because everyone is creating and publishing all of the time, you can't hope to make an impact on everyone. Instead, finding your audience and what they respond to is a good place to start.
Get inspiration in your inbox!
Don't miss out on digital fundraising tips, tools and trends.