Interview: Joe Freeman, Breast Cancer Now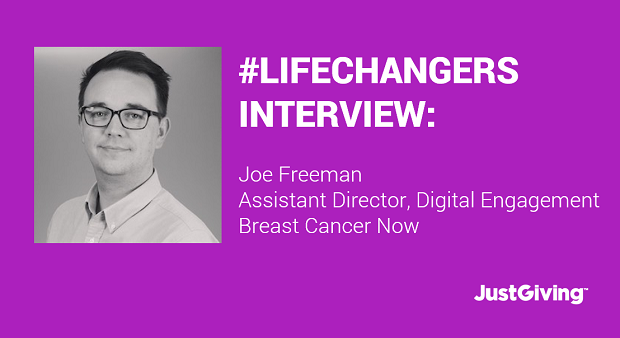 Here's the latest in our charity #lifechangers interview series, featuring the shining stars in the sector talking about what they do and who they admire. 
Think there's a question we should add to the interview? Anyone you'd really like us to interview? Tweet us @JGcauses or post a comment below.
We caught up with Joe Freeman, the Assistant Director, Digital Engagement at Breast Cancer Now.
Hi Joe! Tell me, what does an Assistant Director of Digital Engagement actually do?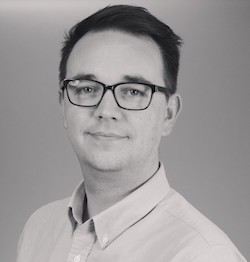 I oversee the digital team at Breast Cancer Now. That includes digital marketing, our website, digital products and social media.
My wonderful team and I support the rest of the organisation to best use digital to meet our aims whilst across the board. We want to make sure we're making the most of opportunities for digital to enhance what we do.

Give us your potted history.

I had two failed attempts at university. Moved to London in 2004, got a job in the supporter services team at Diabetes UK and never looked back.
I've worked there in membership marketing and as a legacy fundraiser before I got caught being on Facebook one too many times. That led to the suggestion I apply for a digital communities exec role at the charity. From there, it was all social media and online communities.
I moved to wider digital engagement, project management and transformation work at Sue Ryder for a few years, before this role at Breast Cancer Now came up. As well as being a great cause, the role fitted perfectly with what I'd learnt and what I wanted to be doing.

Take us through your typical working day.

I like to be in by 8am before most people are in the office.
My day has a bit of everything. I work very closely with many other teams to ensure their digital needs are being met and that we're spotting opportunities to be better.
I'll also support and guide my team where needed. I love they are such experts – it lets me learn from them while shaping what they deliver with the rest of the team and the wider organisation's work.
There are meetings of course. And emails.

In the evening, I keep an eye on emails and social media to see how content's performing. If there's something I know needs immediate attention, I'll get on to that.

What do you love most about your job? And what's your number one challenge?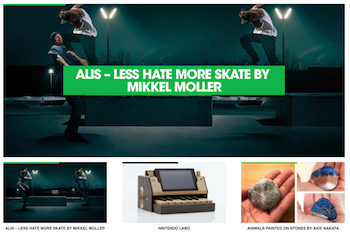 I love the variety of work, for sure. And working with some truly talented people makes every day a school day. I also like being able to influence digital direction and lead on how we best meet the challenges that digital can present.

My biggest challenge? "Imposter Syndrome" is a term that I've recently become familiar with. From time to time, I believe that I lack the skills or ability to do what I do – why would anyone listen to me?! This is my first "Head Of…" type role, so I guess these feelings are natural. Over time and with more experience, those feelings will dissipate.

What digital tools could you simply not live without and why?

I'm working very hard to be more organised, so I use Trello to help manage my own work. I'm now looking to explore how it can work for the team as a whole.
I'm only at the start of this journey, so any tips are appreciated!

Which other charities are doing digital well?

There's lots of wonderful stuff happening in our sector at the moment – it's a challenge to keep up with it all!

What brands or people from outside the sector inspire you?

I think the BBC are doing some great experiments with digital content. This messenger bot in an article about banking stands out as a recent example.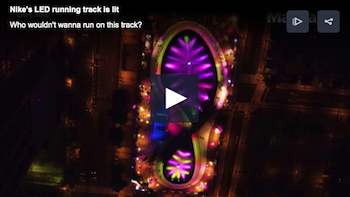 Nike constantly produce ground-breaking stuff that I love watching. How cool is this LED running track?.

Organisations of all sizes can learn a lot from how huge brands like these use digital.

What one Twitter account / blog / email newsletter do you think everyone should follow?

The Inspiration is a weekly(ish) newsletter that shares creative, design-lead campaigns. I love it. Everyone should subscribe to it.
Get inspiration in your inbox!
Don't miss out on digital fundraising tips, tools and trends.
Matt Collins is managing director at digital marketing agency, Platypus Digital, and tweets @charitychap