Interview: Macmillan's new event fundraising app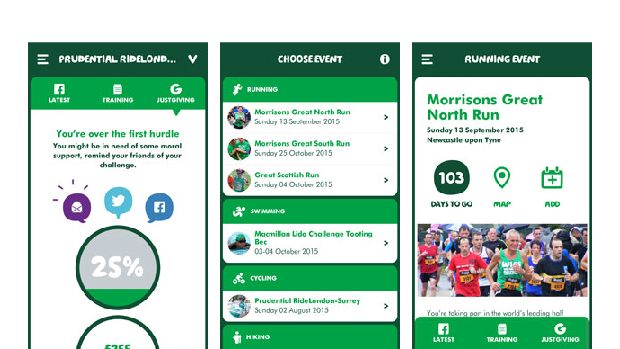 Kirsty Marrins, content and community manager at JustGiving, interviews Miranda Marcus, digital project manager at Macmillan Cancer Support, on why they developed an app for event fundraising, challenges they've faced and how they will measure its success. 
Why did you decide to develop an app for your events?
If you're doing a challenge event with Macmillan, you'll have an amazing on the day experience. But we realised we wanted to be able to support people taking part in an event from the moment they sign up. We felt that it was important to give the users something that could bring together all elements of the Team Macmillan community from event information to training guides, facebook feeds and JustGiving tools. The objectives for the app are to help event fundraisers raise more money, increase the satisfaction of event fundraisers and improve their overall experience and increase repeat fundraising. After speaking to our runners, cyclists, hikers, triathletes and swimmers, making some prototypes and looking at our analytics data, we realised this was best served in an app as opposed to a website.
In terms of your supporter journey, does it all happen within the app?
No, the app is an addition to the supporter journey. It brings training, fundraising and social tips together into one place, enriching but not replacing the supporter journey. Previously all supporters have had access to the social feeds, the training guides and the other content, but this streamlines the experience and allows them to have control over their journey. It also gives them a direct line of contact to the relevant team with the 'Contact your team' button, and a countdown to their event in their pocket giving them a sense of anticipation as well as the wider community.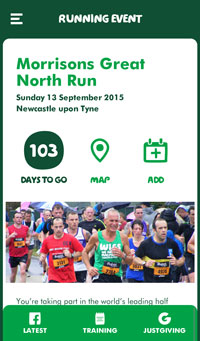 Have there been any challenges or obstacles you've had to overcome to launch the app?
One challenging moment was when Facebook changed their permissions halfway through the build meaning we couldn't display the event feeds, only the feeds that showed content for the sport or discipline such as running, swimming or cycling which is still important but not quite as relevant. This was a little challenging, but we have overcome it in the short term by designing an additional page with a link out to facebook, and we have a long term fix scoped and ready to go.
Why did you decide to use JustGiving's APIs and what has it enabled you to do?
A huge amount of our supporters fundraise online using JustGiving, so we wanted to pull-in some of that experience into the app. The JustGiving API enables our app to speak to the JustGiving platform and pull data into it. For example, we can show the fundraising target they set themselves and the amount they have raised so far. We have also been able to use it to personalise notifications and messages that people can then share to promote their Fundraising Page and raise more money. We have different messages depending on what stage they're at in the supporter journey. If they're half way to their target they receive a notification saying:
Almost half way! You're smashing it. If there are still some people who haven't sponsored you, now's the time to remind them.
And it then suggests a social media message for them to share to get more supporters:

I'm nearly half way towards my fundraising target with @JustGiving for @teammacmillan help push me towards the 50% mark by sponsoring me here https://justgiving.com/firstname-lastname #TeamMacmillan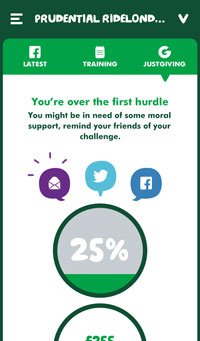 You have training guides and links to your Facebook event pages in the app. Do you have any other plans for additional supporter tools?
The current version of the app is a test, bringing together all of the existing channels and pieces of information that the supporter already gets into a single, handy place. If it goes down well we'll look to roll it out to a wider user group and see what other supporter tools and opportunities it offers! We have loads of ideas and we'll be talking to the users to see what will make their experience that bit better.
Did you develop the app in-house or work with an agency?
All of the preliminary 'Discovery' work was done in house. We ran several workshops to find out what we thought the users wanted, asked the users what they thought and did some internal prototyping. From there we worked with an agency on taking the design and the build forward.
How long did it take to develop the app and which team was responsible for developing it?
The app was built in 12 weeks. Before that we had a four week period of internal investigation and discovery. The project is a collaboration between the Challenge Event team and the Digital team. The Challenge event team are really involved in steering the direction and content of the app, representing their supporters, and the digital team help deliver the best possible product in the quickest and most cost effective way.
How many downloads are you aiming for?
As many as possible! We've been overwhelmed so far with the response to the app and we really hope that people are finding it useful.
What are the results so far and how will you track the performance of the app?
We do a weekly review of the app's technical performance, number of downloads, the number of users and the money raised by users. It's too early to share numbers, but we're really encouraged by the performance so far and we'll soon be talking to users of the app to hear what they think. We've released the app to six events in our portfolio, but the ambition is to roll out across all our events if the results remain positive.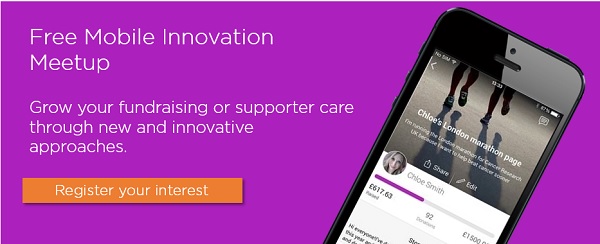 Get inspiration in your inbox!
Don't miss out on digital fundraising tips, tools and trends.
Miranda is a Digital Project Manager at Macmillan Cancer Support. Miranda has been worked in digital at Macmillan for the past nine months and has worked on a range of digital fundraising projects from Tribute Funds to Brave the Shave. Her background is in graphic design and she previously worked in theatre.