Interview: Stephen O'Shea, Sightsavers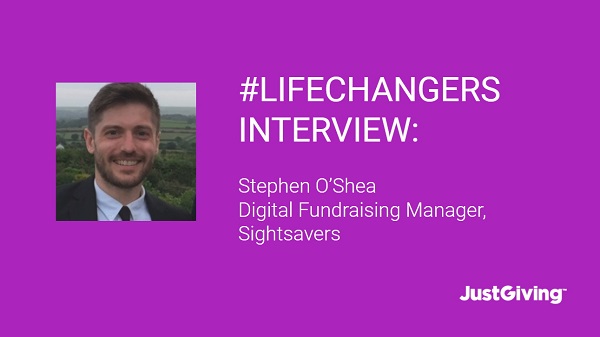 Hi Stephen! Tell me, what does a Digital Fundraising Manager actually do?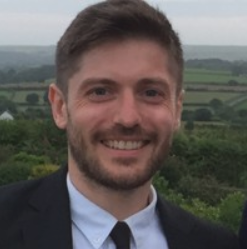 Pretty much what it says on the tin! My team are responsible for any digital activity that brings income to the organisation. This covers email, social, pay-per-click, social, looking after the fundraising pages on our website, as well as lots of other random stuff we seem to pick up along the way.
The majority of our work is supporting offline campaigns managed by the Individual Giving team. We have a global remit, which means we also feed into our fundraising in Ireland, Scandinavia, Italy and the US.
We're very lucky to have a dedicated digital fundraising function at Sightsavers. It's not something I've seen very often in the sector, but I'm totally convinced of the value it adds to our fundraising.
Give us your potted history.
I started off in direct marketing and have worked in various individual giving teams for about ten years now. I've done a bit of mass participation events too, and then made the switch over into digital last year and never looked back.
Take us through your typical working day.
Well, as I'm a fundraiser the first thing I do is check on Google Analytics to see how much money we've raised online.
Apart from that it could be anything from reviewing creative for email journeys and landing pages, to working on new display adverts for our Scandinavian fundraising operations. And, of course, lots of meetings. We're in the charity sector, after all.
Why do you work for Sightsavers?
I started off in international development and took a detour via a disability and a health charity, before finding my way back into development again, which has always been a passion of mine.
Sightsavers really do change lives for some of the most disadvantaged people in the world – preventing avoidable blindness and restoring sight is one of the most effective ways to alleviate poverty. I've been lucky enough to visit our programmes and see the work we do and the impact it has, it's incredibly inspiring, and the country staff are extraordinarily dedicated people working in very tough circumstances.

Being a bit of a nerd, I love working in digital – it's such a fast-paced environment that's always changing, so there's always something new to get your head around, learn, and then test.
What is the main digital challenge in your role and how do you deal with it?
It's a bit clichéd, but one of the biggest challenges we face is getting everyone to 'think digitally'. That doesn't mean just a landing page and an email for a campaign, but actually how can we utilise digital to create a fully integrated appeal that encourages donors to take an action online, and offers engaging content and added value to the overall experience and journey.
We're getting there, and it's taken a lot of work across teams to improve the way we collaborate together. Coming from a direct marketing background has been a real benefit as I understand the objectives of these campaigns, and how digital fits together with everything.
Which digital tools could you simply not do your job without and why?
It might sound obvious, but it's Google Analytics. I have a proper love/hate relationship with it, but I keep coming back for more… I just love the data and insight it provides!
What are your top tips for people/charities who are just starting out with digital fundraising?
Give it time and don't expect to be an expert overnight. There's a lot of jargon and technical things when you start, which can seem overwhelming, and you might not have the confidence to ask what they mean. Just make a note of things you don't understand and Google it later!
Also, charities have been trying to adjust to the new 'digital landscape' for several years. I don't think any one specific charity has properly cracked it yet. It's definitely a work in progress for the sector, so try not to be too disheartened when things don't go according to plan. We're all still learning!
Which charities are doing digital fundraising well? Do you have a favourite fundraising campaign?
I think Greenpeace do some really good stuff on social, and they've also launched a VR product. I admire them for taking the risk with it and trying to be an early adopter of new tech that's emerging.
My favourite fundraising campaign is tricky… I actually think some of the best fundraising just happens organically. Campaigns like no makeup selfie, the ice bucket challenge and, most recently, Richard Herring's brilliant Twitter effort on International Women's Day. I admire the fundraising teams who react quickly when these things start to trend and have the bravery and agility to own them when they do happen.
Which brands or people from outside the sector inspire you?
Nike, just because they can turn their hand to anything and succeed. And Vans, because they've been on the skating scene from the start and have managed to continually reinvent themselves and stay relevant.
Which one Twitter account / blog / email newsletter do you think every digital fundraiser should follow?
I get the DigiDay e-news every day. Although it has a commercial focus, it does keep me up to date with a lot of stuff happening in the wider digital sphere.
Paul De Gregorio is also very entertaining on Twitter, and he knows a lot about digital and the charity sector in general. He's a fellow west-country boy, so I'm obligated to give him a shout out.
Get inspiration in your inbox!
Don't miss out on digital fundraising tips, tools and trends.