Interview: Susheila Juggapah, CharityComms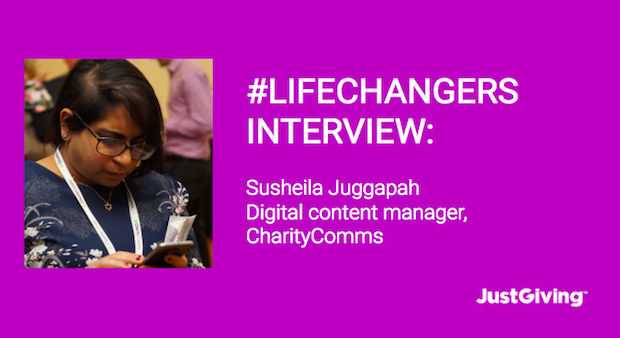 Hi Sushi! Tell me, what does a digital content manager actually do?
I'm the Digital Content Manager at CharityComms, a membership network for charity communicators. I'm responsible for giving our members a fantastic online experience.
We want to give communicators the tools, resources and success stories to make the case for better comms in their organisations, so my digital assistant and I are always hunting for stories of success, resources to share and examples of best practice in action.  
Give us your potted history.
I've only worked in the charity sector, so I don't know what it's like in the real world.
I'm joking.  I spent a lot of time volunteering for charities and for not-for-profits, campaigning with organisations like 38 Degrees and Maternity Action. Once I got a taste for digital communications I realised it was time to hang up my social Justice warrior hat and head into roles with a solid focus on digital.
I jumped between roles at Concern Worldwide (UK), Breast Cancer Care and The ONE Campaign, mainly in short-term contracts, before settling at CharityComms. I've been here now for over two years.
Take us through your typical working day.
Mostly I spend my time searching for and publishing things I think our community will find interesting, useful or make their jobs easier, as well as thinking about how best to communicate with our members.  
CharityComms is a small charity, so you do what needs doing in the way you would a most small charities. Sometimes I help run events, sometimes I create resources and sometimes I host our bi-annual pub quiz. There's a lot of juggling, but it's often a lot of fun.
What do you love most about your job? And what's your number one challenge?
I love talking to people about the cool stuff they're doing. Charities have to be resourceful, responsive and innovative. Even if my peers in the sector are sometimes frustrated by the day-to-day, the internal politics or something that just seems really silly in their organisations, I get to take a step back and witness the amazing campaigns they're creating and the imaginative projects they're working on.
My biggest challenge is trying to meet the needs of our diverse, ever-growing and ever-changing network with limited resources. CharityComms HQ is made up of a handful of people and we're really dependent on the generosity of our members who volunteer their time to help support our work, but we can always be doing more to make sure our members get what they need from us.
What digital tools could you simply not live without and why?
I'm a big Google fan, so I build most tools using Google apps.
However, since hiring a highly-organised digital assistant, we've migrated to Trello and Slack. These tools make a lot of sense and help us to log, plan and organise our workload.
Which other charities are doing digital well?
I'm a sucker for small charities. FoodCycle is a national charity tackling food poverty in the UK and is smashing it. The team empower their network of dedicated volunteers to run programmes, take ownership of its hubs and create and market its own local comms. It also has an easy-going tone of voice, which makes its content fun and accessible.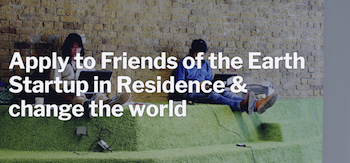 I've also been impressed with innovations from these organisations:
Friends of the Earth

, who hosted two start-ups in their office to build and nurture links with the UK's entrepreneurial community

Oxfam

, who published an app allowing users to track the impact of their contributions

NCVO

, who published an open source Learning Lab for the sector to help build internal digital skills
What charity (or person working in the sector) do you most admire and why?
Jo Wolfe has done a lot to progress the conversation around digital capability in the third sector. We need champions like her to challenge us to do better and facilitate the evolution.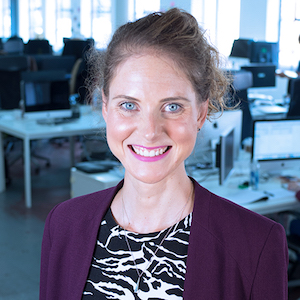 What brands or people from outside the sector inspire you?
The Great British Bake Off social team had my heart last year. Their content was witty and responsive, definitely something to aspire to.
What one Twitter account / blog / email newsletter do you think everyone should follow?
CharityComms eNews, obviously! I also like the Think Grow Create digital blog from Macmillan, the CRUK digital team's blog and the GDS digital blog. One's just not enough!
Get inspiration in your inbox!
Don't miss out on digital fundraising tips, tools and trends.
Matt Collins is managing director at digital marketing agency, Platypus Digital, and tweets @charitychap