Interview: Victoria Hancock Fell, Team Kenya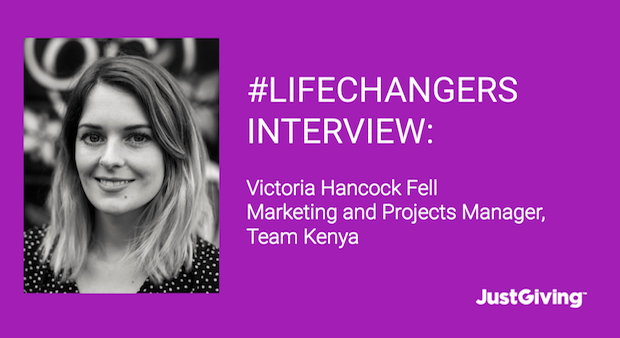 In our latest #lifechangers interview, we caught up with Victoria Hancock Fell from a small charity called Team Kenya. She talked about being involved with her own charity from the age of 11, answering emails while her daughter naps, and her most admired person in the sector. 
Hi Vic! Tell me, what does a Marketing and Projects Manager actually do?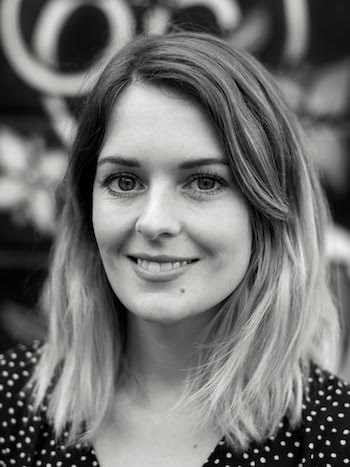 I'm one of only two members of staff at Team Kenya. When you work in a small charity you really become a Jack-of-all-trades!
I manage all things to do with marketing and communications. This covers social media, email communications, website management, writing blogs, creation of printed marketing materials and working with graphic designers and videographers to create snazzy content to share with our supporters.
I support our projects in Kenya with project management, capacity building of our in-country team and monitoring, evaluation and learning.
I also manage volunteers, contribute to overall organisational strategic planning, policy creation and fundraising.
Give us your potted history.
I studied Philosophy at Lancaster University (which was actually very useful despite what people generally say about Philosophy degrees!), and then founded Team Kenya with my mother. I volunteered there from then on.
I did a PGCE in Religion and Ethics, followed by a year of teaching Religious Studies and Philosophy at a secondary school in Manchester. I'm an atheist though, which my students always found very confusing!
Then I moved to Brighton and worked in international education, and studied part-time for my Masters in NGO Management. And when I finished, I became Team Kenya's first member of staff – a dream come true!
In April 2017, I welcomed my daughter Josie and took a few months off for maternity leave and I've just started back at Team Kenya. I work as Marketing and Projects Manager alongside Ben, our new Development Manger.
It has by no means been a straightforward journey and when I was teaching back in 2009, I had no idea this is where I'd be almost ten years on.
Take us through your typical working day.
I work from home, so a typical day for me involves juggling caring for my daughter and getting my work done (mostly over Skype and email).
I usually start by responding to emails when she takes her morning nap. I then take a look at my calendar which I use as my to-do list and I prioritise what needs to be actioned first.
There's usually a combination of working with our social media volunteer to schedule the week's posts, write email copy, update our website or writing a new blog and ensure the projects I manage in Kenya are all running smoothly.
Sometimes we have campaigns running or reports to funders due – they ramp up the intensity of work. So I've roped the grandparents in for babysitting duty – that helps me really get down to business!
What do you love most about your job? And what's your number one challenge?
I love that Team Kenya have such a long-standing, genuine relationship with the community we support. I'm very confident that the work we are doing is creating genuine lasting change.
My number one challenge, as a small charity, is time and resources. We have a list of ideas for new activities or projects as long as my arm, for new fundraising activities or projects we'd like to do in Kenya,
But we don't have enough time, people or money to make this all happen. However, we're slowly but steadily growing whilst ensuring the quality of our work, so I know we will get there soon.
What person working in the sector do you most admire and why?
This may be corny, but I admire my mother so much as a woman working in the charity sector.
She has almost single-handedly made Team Kenya what it is today. She has volunteered as CEO for 10 years, she has sat up until 1am working on grant applications, and she has invested her time and money to support the community in Ndhiwa. She epitomises what it means to work in a small charity.
What digital tools could you simply not live without and why?
I've dabbled using different social media management tools like Hootsuite and Babble, but in honesty I actually prefer to manage our social media accounts using the platforms themselves.
Although some of our content is pre-scheduled, I like going to take a look at what is happening on our platforms, posting things and engaging with our supporters there and then.
I absolutely could not live without our CRM system, eTapestry. We used to have dozens of complicated spreadsheets and no automated systems for donations, communications etc. Getting a CRM system set up has revolutionised the way we work!
Which other charities are doing digital well?
There are some amazing small charities doing great digital with (most probably) no budget whatsoever.
Kids Club Kampala are one of the only small charities I've seen making use of Facebook and Instagram Live features. Their Co-Founders Corrie and Olivia often do project or campaign update videos and their Live videos from Uganda. They always put a smile on my face and make me think, "Why aren't we doing this!?"
T1International have a fantastic website with some great tools like their Global Type 1 Map. Their #insulin4all campaign is truly global, which for a small organisation, essentially run by one determined woman, is quite something!
Get inspiration in your inbox!
Don't miss out on digital fundraising tips, tools and trends.
Matt Collins is managing director at digital marketing agency, Platypus Digital, and tweets @charitychap