Introducing livestream fundraising on JustGiving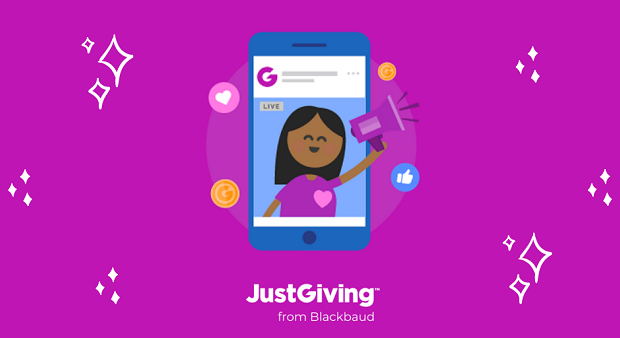 The fundraising landscape has completely changed over the past few months in response to COVID-19, and now more than ever we need to find ways to bring together our communities virtually and embrace new ways to raise money online. Over the last few weeks we've been so inspired by the creativity shown by charities and their supporters. There's been an unstoppable determination to adapt and carry on fundraising, despite the current circumstances that we're all living and working in.
That's why we're excited to share the news today that your supporters can now quickly and easily livestream their fundraising activities on JustGiving! Whether they want to broadcast a head shave, pub quiz or a run in their garden, it's simple for them to share a live video of their fundraising activity – all on their Fundraising Page on JustGiving.
And what's more – your charity can use it too! Simply set-up a Fundraising Page and add a video livestream to connect with your supporters. For example, our friends at the charity Chester Zoo recently went live on JustGiving to give people a behind the scenes look at the zoo during lockdown.
What is livestreaming? (asking for a friend…)
Livestreaming can be best described as the broadcasting of live video to an audience over the internet. One of the most well-known examples of livestreaming right now is Joe Wicks' daily PE lessons, which are streamed live on Wicks' YouTube channel at 9am each day.
To livestream a video people use websites or platforms, such as YouTube, Twitch or Mixer to broadcast what they are doing in real-time.
Livestream fundraising: how does it work on JustGiving?
In just a few simple steps, your supporters can add a YouTube, Twitch or Mixer livestream to their Fundraising Page on JustGiving, so their family and friends can watch their fundraising activity and make a donation all in one place.
Share our livestreaming step-by-step guide with your supporters to help them get started.
Inspiring examples of livestream fundraising
[iframe id="https://www.youtube.com/embed/YSmDZ5x8uaA" align="center" mode="thumbnail" autoplay="no"]
Jay Flynn has become the ultimate quiz master during lockdown, creating and hosting two live general knowledge quizzes each week and one specialist subject quiz. The YouTube quizzes are streamed directly onto his Fundraising Page, where people can donate whilst playing along. He has also added his JustGiving donation link to his page on YouTube and asks people to donate throughout each quiz. Currently the viewing figures are in the hundreds of thousands, just like Jay's current donation total.
Haroon Mota had originally planned to run four marathons in 2020, so when the events were cancelled he decided to find a new way to fundraise using the 2.6 challenge. He set himself the challenge of running 260km across 26 days, all whilst fasting during Ramandan. Not only was each run livestreamed onto his Fundraising Page, but he also added updates underneath and an explanation of how others participating in Ramadan could support him through Zakat donations.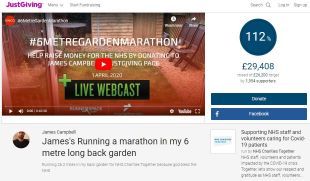 James Campbell ran a marathon to raise money for NHS Charities Together. The twist? It took place in his six meter garden. He set the camera up so that supporters could watch from start to finish, and he even managed to chat to the viewers as he ran. The experience made people feel personally involved in his journey, which led to him receiving nearly 2,000 donations.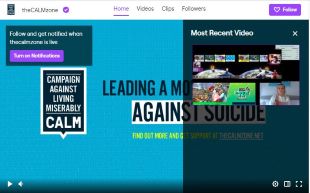 No livestreaming list is complete without an example of gaming for good. CALM's Fundraising Manager created a JustGiving Fundraising Page so that the charity could livestream their latest event series – celebrities battling it out live on Twitch and Instagram Live to beat their opponent on Mario Kart via Nintendo Switch. Streaming the games directly onto JustGiving made it easier for the charity to convert celebrity fans into charitable supporters as people could donate without having to click away from their favourite personalities.
Share our livestreaming ideas guide with your supporters to get their creative juices flowing.
Promote livestream fundraising in four simple steps
Add a page to your website explaining how your supporters can do livestream fundraising. Here's a great example from the charity St. John's Ambulance
Update your community fundraising packs with information about livestream fundraising, and make it available to download from your website
Refresh your email comms with examples of livestream fundraising and share our free livestream resources to help your supporters on their way
Inspire your supporters on social media with examples and ideas
Webinar: Learn more about livestream fundraising on JustGiving
Livestreaming offers so many exciting possibilities for both you and your fundraisers, and we want to make it simple for you to get started. Watch our free, on-demand webinar to learn how to set up a livestream on JustGiving, see examples of how other charities are making the most of livestreaming and hear ideas on how to inspire your fundraisers.
[ON-DEMAND WEBINAR] Learn more about Livestream Fundraising on JustGiving
Get inspiration in your inbox!
Don't miss out on digital fundraising tips, tools and trends.
Sally Falvey has worked in online fundraising for over 10 years, and is the Head of Growth Marketing at JustGiving. She's passionate about helping all charities use the latest technology to be more efficient and raise more money.