Introducing new and improved Team Fundraising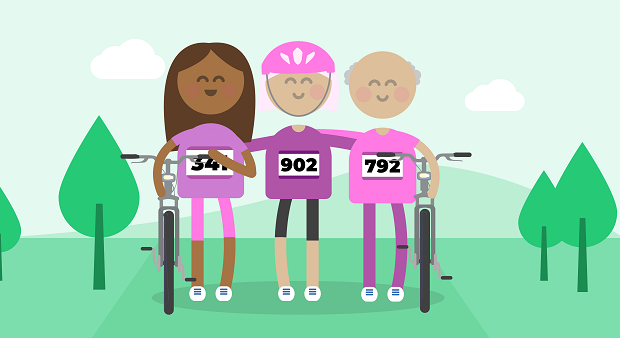 Today, we're excited to share that we've upgraded the Team Fundraising experience on JustGiving.
When someone joins a team, powerful things start to happen. They feel more confident, they feel supported and they raise more money – our stats show that on average, being part of a team helps EVERY team member raise an extra £36 each! This shows there is huge power in uniting people to grow your income.
"JustGiving has launched a new and improved Team fundraising experience. Check it out!"
Click to tweet
A new way to fundraise together
Designed for people that want to fundraise together, your supporters get all the same benefits of fundraising on JustGiving – simple set-up, expert advice and 0% platform fees – plus everything they need to collaborate and connect their fundraising for more impact. Here's the key features:
Mobile-friendly – NEW!
Creating and managing a team is now even easier for your supporters on their phones
Branded – NEW!
Your charity (or campaign) colours and logo will appear any time a supporter creates a Team Page
Leadership – NEW!
Every team has a Team Captain so you can help them encourage the rest of the team
Motivating – NEW!
Encourage friendly competition with team leaderboards on your campaigns and team targets set by the Captain
Open
Sports clubs, colleagues at work or a group of mates – anyone can create a team!
Flexible
Every team member can choose their own charity and event – and still all be part of one team.
Here's some examples: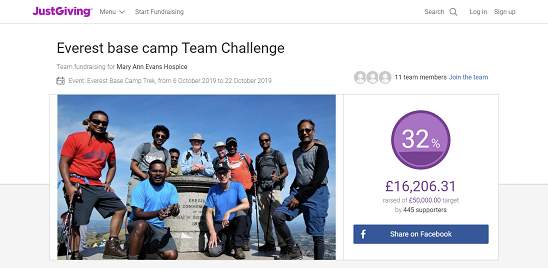 A team of 20 Trekkers including 15 medics from across the UK have teamed up to support Mary Ann Evans Hospice. On their Team Page you can see the event they are doing together – "Everest Base Camp Trek", their team target and visit each of their individual Fundraising Pages.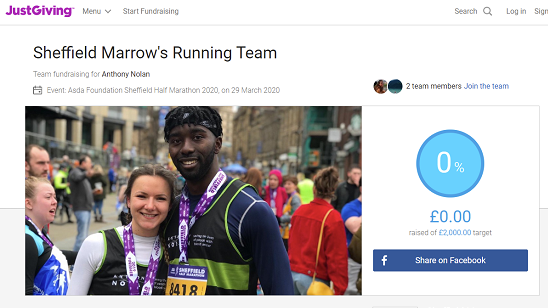 In this example, the Team Page is for a team of people running the Asda Foundation Sheffield Half Marathon in 2020. It's great to see their Fundraising Pages set-up well in advance of the event as this will help them raise more money. The Team Page is connected to a Campaign Page created by Anthony Nolan that will bring together all the fundraising of Sheffield Marrow – a network of lifesaving students who work with the blood cancer charity!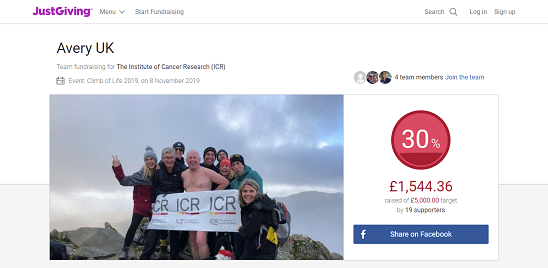 In this example, a group of colleagues are fundraising together by climbing some of the toughest mountains in the Lake District. Check-out their Team Page.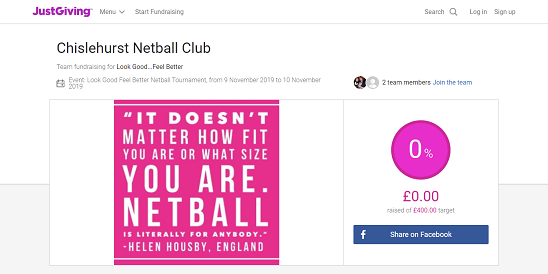 This example shows how sports teams can come together to fundraise for your cause with a Team Page. Chislehurst Netball Club recently set-up their page and we love how they've personalised the page with an awesome cover photo.
Don't miss out on our top tips for team fundraising
ON-DEMAND WEBINAR: How teams can enhance your next fundraising campaign
What you can expect:
Get a guided tour of our new Team Fundraising experience
Learn why it's valuable to encourage people to fundraise as a team
Get some practical tips for teams to help you enhance their supporter experience and raise more money
And check out this help article about Team Pages and see how it works for your supporters.
Get inspiration in your inbox!
Don't miss out on digital fundraising tips, tools and trends.
Sally Falvey has worked in online fundraising for over 10 years, and is the Head of B2B Marketing at JustGiving. She's passionate about helping all charities use the latest technology to be more efficient and raise more money.