Introducing the JustGiving Integration for Raiser's Edge NXT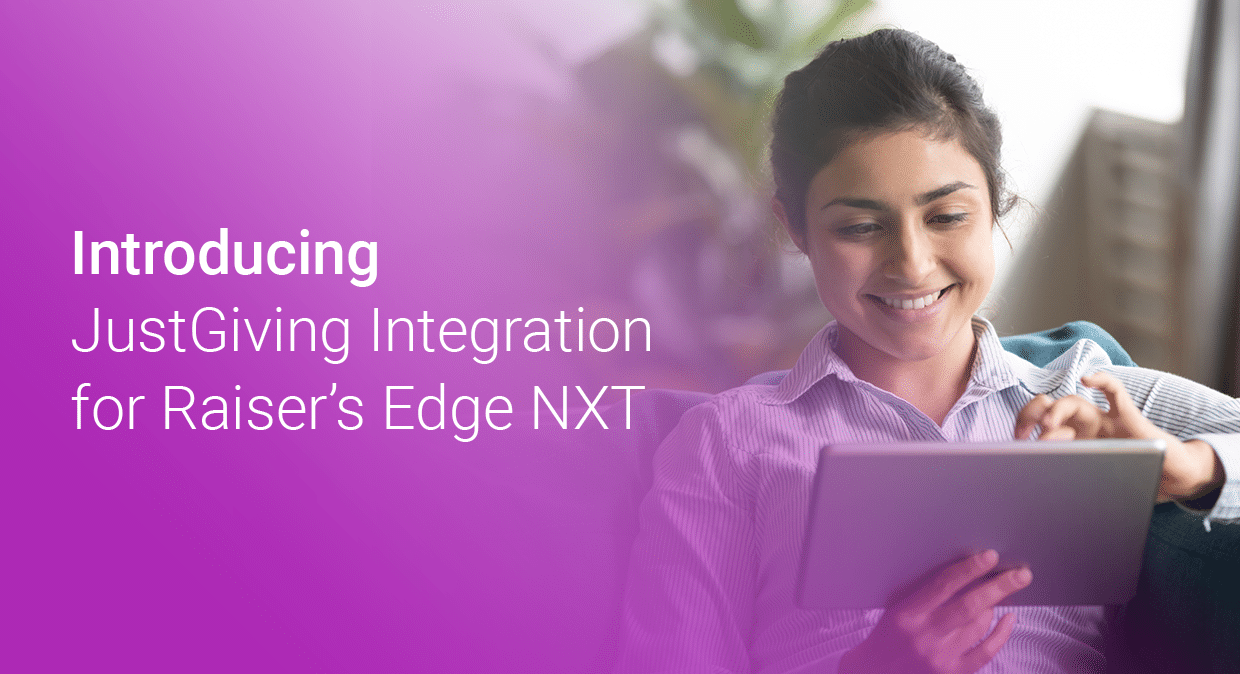 Consumer expectations are higher than ever, In fact, one in three people would stop using a brand after just one bad experience. But give your supporters a great experience, and they'll donate more, be more loyal and share their experience with friends.
But what truly makes for a good experience?
Speed. Simplicity. Consistency. Personalisation. The right technology combined with real-time, automated data feeds makes this possible. It reduces friction, human error and maximises efficiency for your team – enabling them to create deeper, more meaningful connections with your supporters.
That's why we're so excited to share that our colleagues at Blackbaud have launched the JustGiving Integration for Raiser's Edge NXT. It's available today to all UK charities working with JustGiving and Blackbaud, and it gives you instant access to your online fundraising data on JustGiving from within Raiser's Edge NXT, so you can spend less time on manual data imports, and more on what's really important – creating amazing supporter experiences! All while being more efficient and saving time.
"We launched a campaign on JustGiving, which integrated with both Strava and Raiser's Edge NXT, and it was incredible to do all reporting from one place. We were able to see which marketing streams were the most profitable and use Raiser's Edge NXT's email marketing tools to send automated, personalised messages to participants. We want participants to feel part of the community and encouraged to raise more, to share their story, share our appeal, and take on the world!"

Mark Stevens, Head of fundraising at Wales Air Ambulance
Read more about how Wales Air Ambulance have been using the JustGiving Integration for Raiser's Edge NXT.
What does the integration mean for your supporters?
The integration pulls real-time fundraising and donation data from JustGiving into Blackbaud Raiser's Edge NXT, providing you with a more complete picture of your supporters. With this 360-degree view of your supporters' fundraising and giving activity, you can acknowledge, segment and target them with insight-driven stewardship programs, using a single platform and Raiser's Edge NXT's in-built analytics and email marketing tools.
Whether you want to thank a donor in real-time or send a digital medal to a virtual event participant, the JustGiving integration means you can give your supporters, better, in-the-moment experiences.
How does the integration help your organisation?
With the JustGiving integration you'll save time with everything in one place and be able to say goodbye to manual import processes. You'll never miss out on a new supporter to build a relationship with as you can grow and consolidate your stewardship audience by bringing all your JustGiving fundraiser data into Raiser's Edge NXT and keep it up to date in real-time.
Fundraisers and donors are automatically matched to existing constituents, or a new record is created, reducing manual entry, while duplicate management and batch gift processing gives you control, giving you the best of both world's – automation with control.
And with more people than ever giving and fundraising online, you'll never miss an opportunity to add new contacts into your stewardship programmes and turn one-off donors into lifelong supporters.
Ready to learn more?
Get inspiration in your inbox!
Don't miss out on digital fundraising tips, tools and trends.
Haya Barlas is Head of Product Marketing at JustGiving. She's passionate about bringing people and teams together to launch new products that help charities raise more for their causes.