Introducing the Virtual Fundraising Monitor 2020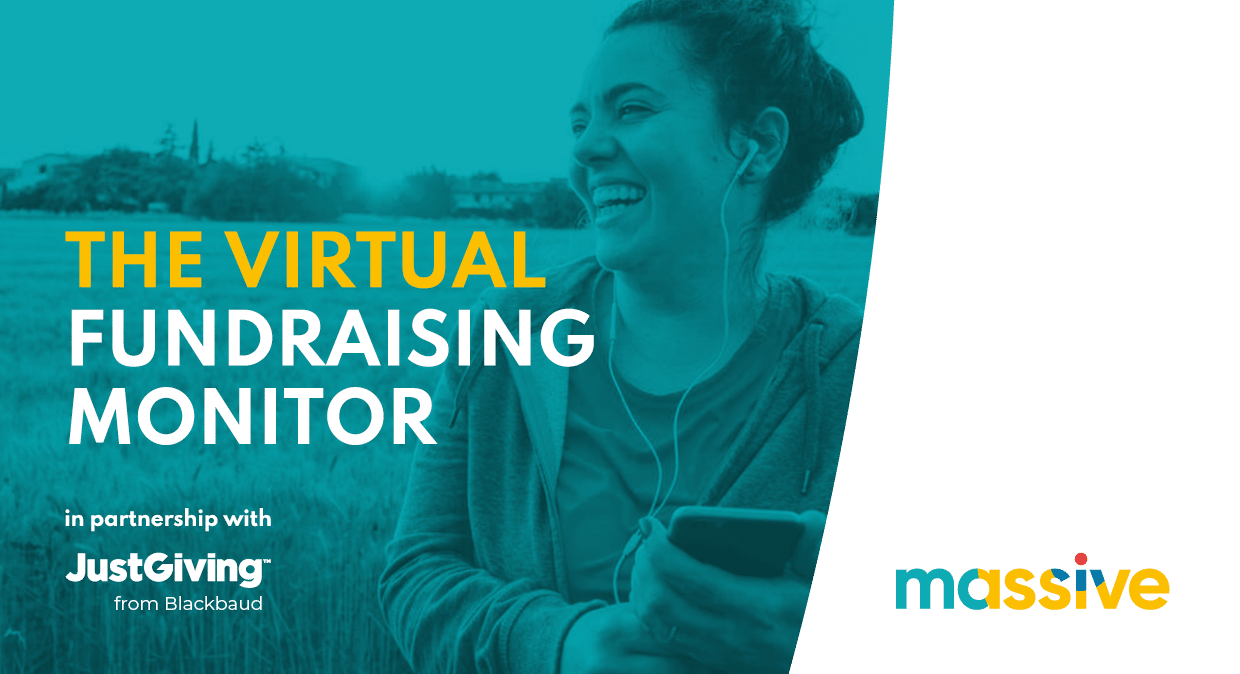 Today, we're excited to share a new report hot off the press all about virtual event fundraising. It's called the Virtual Fundraising Monitor 2020 and has been created in partnership with massive, an agency who work closely with charities and brands to develop and deliver mass participation events. It's packed with stats and stories from charities who have launched virtual events during the last nine months, sharing how COVID-19 has altered their approach to digital fundraising, and the differences they're seeing in hosting virtual vs real-life events.
The survey received over 300 responses and reveals detailed insights from 150 virtual campaigns that had all been delivered since the first nationwide lockdown went into effect. The full report shares insights on:
The most successful type of virtual events and their common denominators
Which event formats were the most popular amongst charities
A breakdown of how much virtual events generate vs in-person events
The challenges of pivoting to virtual
You'll also find case studies and quotes from several charities, including The Alzheimer's Society, ABF The Soldiers' Charity and Edinburgh Children's Hospital Charity who have all kindly shared their experiences of running virtual events and their key learnings.
The full report can be downloaded here. We've pulled out a few fascinating snippets from the report to share with you.
There are virtual opportunities for charities of all sizes
Whilst there have been a few virtual campaigns that have stolen the headlines over the past few months (we're looking at you Captain Tom), there have also been lots of events taking place across the sector from charities of all sizes. Seven of the 150 campaigns raised more than £1million, however the median figure raised was actually £33K.
Regardless of your charity's size the report revealed that there are some key elements that you need to incorporate if you hope to have a highly successful virtual campaign.
Clear ask: having a clear and direct ask is a must.
Connect the event to your cause: those events which stood out were those that connected the concept to the cause.
Take the time to create a marketing plan: the most successful campaigns invested either time, resource, or marketing spend (or all three) into their event. The top 10 most successful all invested their budget into media marketing.
1:1 communication is an engagement essential: charities investing in more 1:1 communication channels such as email, Twitter and paid ads on Facebook are seeing returns between 2% and 5%.
Charities are testing different types of virtual events
Whilst the most popular activity is running events, 24% of charities have organised a 'pick your own activity' campaign.
And for sporting challenges, the report also reveals what proportion of charity virtual events are giving participants a choice of activity or distance.
36% allowed participants to pick their own distance
25% offered a limited choice
39% set a specific challenge
The events that raised the most? The toughest ones! Overall, it was the most demanding physical challenges which proved to generate the highest average amount raised.
Read the full report
We're so excited to share with you the full report and it's insights on virtual fundraising! We hope that the report findings help you to plan your charity's events and campaigns for the year ahead, and test new activities.
Click here to download your copy of the Virtual Fundraising Monitor 2020.
Get inspiration in your inbox!
Don't miss out on digital fundraising tips, tools and trends.
Toni Gregory is a Content Marketing Specialist and B2B copywriter.