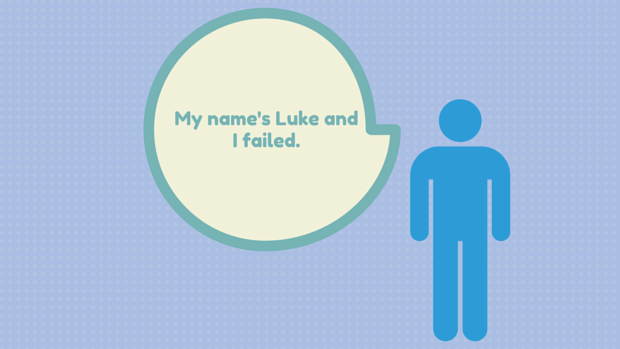 "My name's Luke and I failed."
We need to talk about failure. We really do. It's an important part of growing as a person to be able to acknowledge and learn from your failures.
Even better to share them with others. But how can you do that in your professional life, where failure is often something to be hidden, fixed or just avoided at all costs?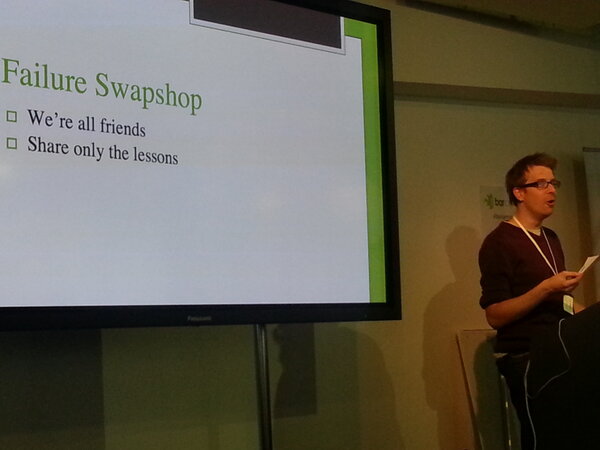 How can you create a safe environment that encourages people to talk about failure?
What would happen if you created a culture that was open to sharing failures, more willing to try things and to learn from each other?
Let me introduce you to Failure Swapshop – a workshop session first dreamed up at Barcamp Bournemouth a few years ago.
The idea came from the simple desire to encourage a room full of people to talk about their failures in an open way, sharing lessons learned and hopefully changing attitudes to failure.
There are only two simple rules:
 We're all friends, that celebrate together
 You only share the lessons learned outside the room
By celebrating failure it encourages others to share and to enjoy, what might otherwise be a difficult thing to talk about. Having run many sessions, of varying sizes and audiences, the most common thing I hear afterwards is that it felt empowering to be able to share.
The format is as follows:
Introduce yourself in this way: "Hi my name's X and I failed"
EVERYONE CHEERS and CLAPS
 Explain the failure (personal or professional)
 Summarise the lesson learned in a few words
Everyone cheers and claps again
Probably the most important job of a Failure Swapshop facilitator is to make sure everyone cheers and claps, as that simple act changes how people feel about failure.
You also need to take along your own failure to share with the group to get things started, ensure that everyone who wants to share their failure gets to, thank those that shared theirs and at the end repeat all of the lessons learned to the group as a summary.
The lessons learned from a Failure Swapshop run at Barcamp Nonprofits in London are below. I'm sure we can all relate to many of these – I know I can!
• Take a step back
• Understand your sector
• Don't go it alone
• Listen first
• Proof read it twice
• Research first
• Don't be afraid to speak up
• Check processes before you leap
• Trust your team
• Don't do what you're told
• Understand the people you work for
• Be considerate
• Don't be arrogant
• You always have a duty of care
• Don't trust the tech
• Be prepared
• Don't underestimate internal politics
• Don't use old resources
• Plan time to check
• Journalists are not always your friends
• Don't assume your processes are correct
• Triple check the project
• Take it slow
• Read the T+C's
• Fail well and lie convincingly
• Order more coffee!
If you're thinking about running one at your place of work, I have one top tip:
Get a couple of people primed to share their failures before the session, if they're a manager even better, as it can sometimes take a couple of failures shared before the ball really starts rolling in a work place… but once it starts you'll quickly find everyone wants to get involved.
I've run sessions for between 10 and 50 people, I think that's about the size to aim for as too small a group and it doesn't have the same positive feedback effect, too large and they may not bond as a group.
Should you run one, please do tweet at me with a link to your lessons learned; I'd love to hear from you!
Get inspiration in your inbox!
Don't miss out on digital fundraising tips, tools and trends.
Luke works in the Communications team at the RNLI, was project lead on the RNLI accepting donations in Bitcoin and loves talking about failure, gadgets and Lego. You can find him on twitter @alukeonlife