Are you our Charity of the Year 2019?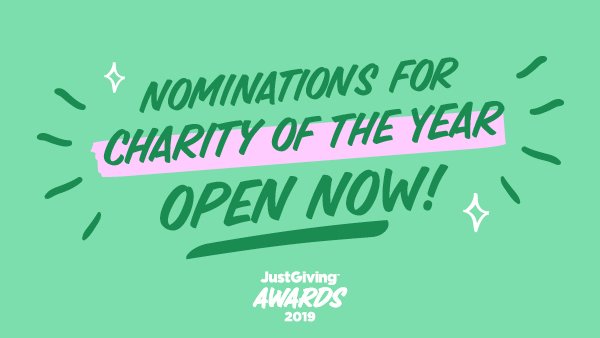 Nominations for the JustGiving Awards 2019 are now open! And we're on the lookout for our Charity of the Year 2019 – could you be in the running?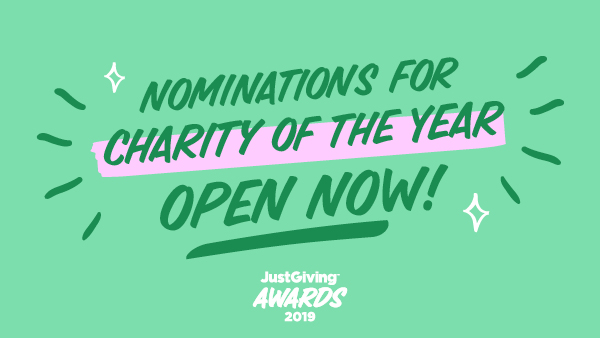 We're after nominations from your staff, volunteers and supporters. The more you get before Wednesday 17th July, the greater your chance of being shortlisted. Here's a free promotional toolkit to help you to get those nominations rolling in!
You could be joining the rest of our fundraising finalists who'll be up for public vote between Wednesday 24th July to Sunday 15th September 2019. Get the most votes, and we'll be handing over a trophy to you and your team at our ceremony in London this October. Sound good?
Get what 13,000+ charities are all after
There's only one Charity of the Year trophy, won previously by the likes of ShelterBox and Alzheimer's Society and the British Hen Welfare Trust whose Marketing & Communications Manager is Fran:
"It was the most wonderful experience being announced as the winner, considering we are such a small charity in comparison to others. The absolute best part of the whole thing was hearing our name read out on stage!"
And yours could be the next on our lips. 2019 is anyone's to win – no matter your size, you could be the 10th charity to win a JustGiving Award.
You'll be on a high for weeks, months – even a year!
Brace your social media team for a huge bump in likes, shares and comments when your regular givers and major supporters rush to congratulate you the morning after the awards night before. Winning (and all the attention that comes with it) will undoubtedly raise your charity's profile.
Give your team a pat on the back with the entire country watching
Nothing does more for your confidence than winning a national award. Fran from the British Hen Welfare Trust told us:
"It meant a huge amount for our hard work. It was a whirlwind of excitement, speeches, photos and, of course a few bubbles… we would love to go back and relive it."
Like the British Hen Welfare Trust last year, you too can burst with pride and enjoy all the attention. As a finalist, you'll star in a video all about your charity which is yours to keep and use as you wish for your own social media, websites or promotions. All without dipping into your marketing budget.
Fall in love with what gets you up in the morning – all over again
The JustGiving Awards is the most inspiring gathering of fundraisers, crowdfunders and celebrities on the plane – fact. This year it'll be hosted at The Royal Lancaster, in central London. And your team could be there as finalists!
Enter now for Charity of the Year 2019
Are you in? We've made it really easy. Just tell us your charity's proudest moments before Wednesday 17 July 2019.
To boost your chances of making the shortlist, be sure to mention examples of your creativity or innovation, target-smashing or supporter-helping prowess – your biggest break-throughs and extraordinary acts of kindness. Remember – be specific. The difference is in the detail.
Don't forget to download your free promotional kit of branded images, made specially for your Facebook, Twitter and Instagram, as well as banners and buttons for your website. Good luck!
Get inspiration in your inbox!
Don't miss out on digital fundraising tips, tools and trends.
Sally Falvey has worked in online fundraising for over 10 years, and is the Head of B2B Marketing at JustGiving. She's passionate about helping all charities use the latest technology to be more efficient and raise more money.