JustGiving Awards 2019: meet the finalists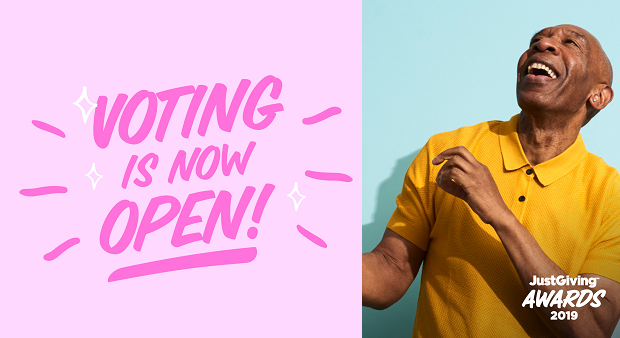 We're so excited to introduce you to the amazing finalists of the JustGiving Awards 2019!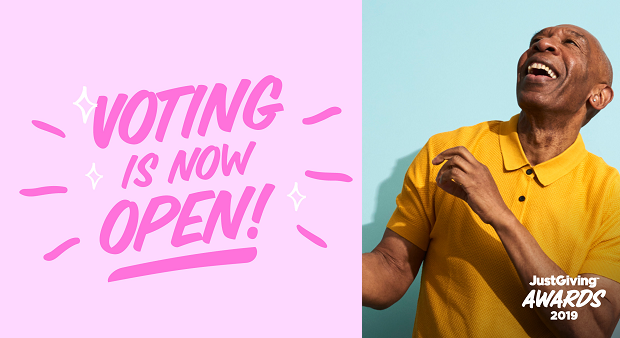 We've had a record-breaking number of nominations again this year, with over 50,000 nominations for individuals, teams and charities who deserve to be celebrated at our annual JustGiving Awards Ceremony, which will be happening in October this year.
THANK YOU to everyone that nominated – we are so immensely proud of all of the amazing things people are doing on JustGiving.  Now it's over to you to decide who should win. Here's the all-important link you need to cast your votes for this year's winners of the JustGiving Awards 2019.
And without further ado, please meet our incredible finalists:
Young Fundraiser of the Year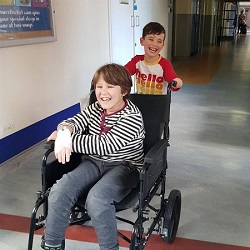 Nate Pakeman, age 8
Birmingham Children's Hospital is nearly £4,000 closer to buying a new ambulance thanks to Nate, who's taking on one sponsored challenge a month throughout 2019 to honour the year his best friend, Tobi was in hospital. Tobi passed away while Nate walked 100 miles in his name this January, but despite his grief, this young fundraiser kayaked 5 miles, completed more than 10 acts of kindness, a 24-hour silence, climbed to the top of The Shard on an indoor wall and Mount Snowdon, for real. And he's still going!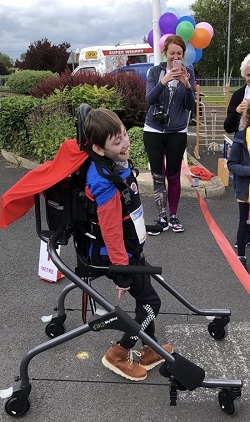 Alex Macpherson, age 13
How Alex raised over £3,000 for Rainbow House was thought medically impossible. That was until he put on his superhero cape and walked not only the 15 metres he ambitiously promised, but a full 50 metres at the Rainbow Ramble Challenge. With cerebral palsy as severe as his – standing, eating, even lifting his head was a struggle. But he's given his all during classes over 11 years to prepare for this challenge, having overcome emergency surgeries, a hip reconstruction operation and much more than any teenager should face.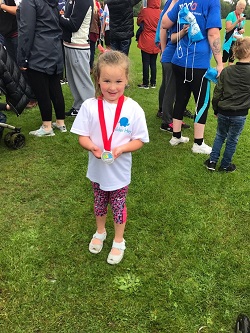 Freya Darnell, age 7
At 5 years old Freya took on a 5k to raise a mountain of cash and say thanks to Alder Hey Children's Charity for looking after her baby sister when she was born. After visiting the hospital to hand over the £3,000 she'd raised, Freya saw how many children needed help, and realised she didn't want to stop there – she decided to climb a real mountain! At 7 years old, Freya climbed Mount Snowden with her Dad and smashed her original target, raising over £2,400. She is now an Alder Hey Ambassador, raising awareness and money whenever she can.
---
Creative Fundraiser of the Year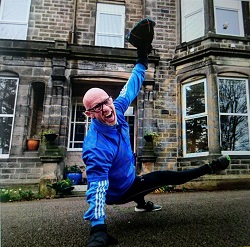 Steve Cody
Mel B's old fitness instructor, Steve doesn't listen to the Spice Girls as much as DJ Casper's 'Cha-Cha Slide' these days. He's playing it every day of 2019, doing all the moves in the plank position on his hands and toes, with a new group of backing dancers each time – and he's filming it. Several hundred people of all ages have been inspired to join him. From schools to hospitals, police stations to care homes – not only in the UK, but sliding to the left and the right in Spain too! They're all helping to raise awareness and over £8,000 for CancerCare North Lancashire & South Cumbria – who supported Steve's sister, Andrea through treatment for breast cancer.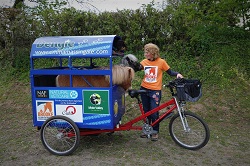 Emma Massingale
Think you could cycle 1,000 kilometres? While pulling two mini ponies and a dog in a cart? They might be little but at 180kg, Stanley and Percy aren't light, Emma could tell you. From Switzerland, through France, Germany, and the Netherlands, they had the wind in their manes, hay to snack on and the world whizzing by – leisurely making a point about the plight of working animals who aren't so pampered (or well-travelled!). Emma's £2,021 helps Brooke Action For Working Horses and Donkeys to make more animals happy and comfortable. She stopped in at local schools to bring smiles and slept out with her gang under the stars.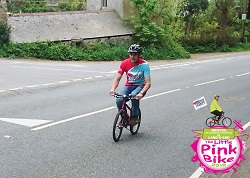 Peter Williams
Pan isn't his surname, yet this Peter was a six-foot big kid when he rode his daughter's little pink bike 211 back-busting and knee-bruising miles in her memory. Inspired by Ellie's love of cycling, Peter sat in the saddle of his daughter's last Christmas gift and set off from Bristol Children's Hospital, where Ellie was diagnosed with an incurable brain tumour at age 7. Finishing at Land's End, Peter raised over £52,000 for The Brain Tumour Charity – five times his ambitious target, all in memory of his little girl, on her little pink bike.
---
Endurance Fundraiser of the Year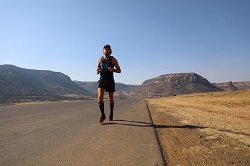 Nick Butter
Who runs the world? Nick. He's the very first to try to complete a marathon in all 196 countries, on all 7 continents, including Antarctica – and he's averaged one every three days. Mugged in Nigeria, food poisoning in Norway, bitten by a stray dog in Tunisia – his 675 day trip's not been without challenges. With eight World Records already broken, over £40,000 in the bank for Prostate Cancer UK and a promise made to Kevin Webber (our Endurance Fundraiser of the Year 2018), who inspired him to run, Nick's determined to do him proud.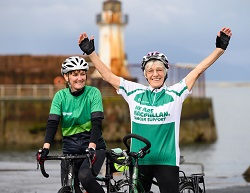 Mavis Paterson
The oldest woman to cycle the length of Britain (at 81!) is no stranger to epic bike rides. Motivated by memories of her three children, who died within four years of each other, all in their 40s, this year Mavis pedalled 960 miles from Land's End to John O'Groats finishing in just 23 days. Previously, she'd taken part in a 24-hour cycle challenge. But what's more? She's raised over £63,000 for Macmillan Cancer Support.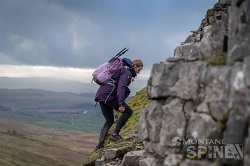 Shelli Gordon
Hyperthermia, a chest infection, 60 mile an hour winds – Shelli let nothing stop her coming second in one of the UK's most brutal ultra-runs – The Montane Spine Race. And Campaign Against Living Miserably got £28,753 for her extreme efforts, in her Tony's name after he took his life the year before. Determined to save more men from their demons, Shelli dashed up the Pennine Way, night and day, powered through the Peak District, Yorkshire Dales, Northumberland National Park, hurried to Hadrian's Wall, the Cheviots, and finished up at the Scottish borders – over 128 hours later.
---
Fundraising Team of the Year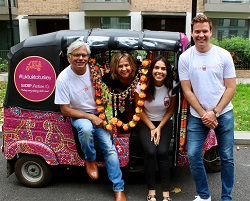 The Sumaria Family
How far did this team of four go? 3,700 miles to spread awareness of Sudden Unexpected Death in Epilepsy. From London to Istanbul, on their amazing pink Indian tuk-tuk in memory of Emily, who died unexpectedly at university five years ago. Her parents, Rachel and Bharat, her sister, Amy and Amy's boyfriend, James trundled through 21 European countries to raise money and awareness for SUDEP Action and their whacky adventure has raised over £150,000 so far.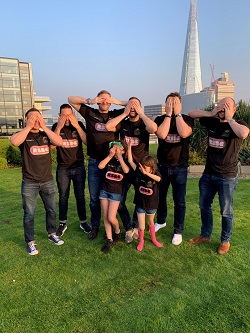 3 Peaks Blind Team
Matthew tied on his blindfold, grabbed one of his six team mates by the arm and marched 28 miles in 24 hours – up and down the three highest mountains in Scotland, England and Wales for the Royal Society for Blind Children. A charity who help children like his 9-year-old daughter, Alexa who has a rare eye condition and is likely to eventually become completely blind. Matt, Oliver, Doran, Ben, Ross and Jason took turns navigating Matthew through the National Three Peaks Challenge raising over £24,000.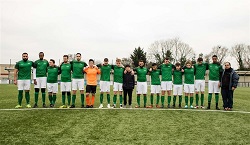 Safi Aziz XI
Like most football teams, this one has had their ups and downs. But their team spirit shone through the most after they lost one of their players,19-year-old-Safi, in a tragic accidental gas leak during his sleep whilst visiting relatives in Pakistan. To commemorate his life, at the beginning of this year they organised a memorial football match and have since continued to fundraise over £13,000 for Muslim Hands – helping projects that provide clean water in Mali and Kashmir.
---
Celebrity Fundraiser of the Year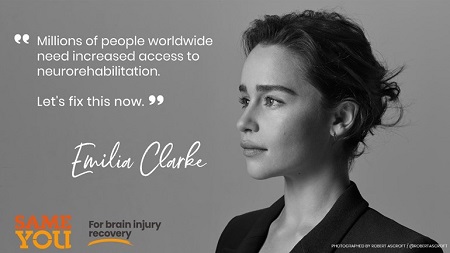 Emilia Clarke
Mother of Dragons on TV, mother of fundraising for SameYou – Emilia's bravery helped put more than £150,000 in the pot for the brain injury charity she launched in 2019. When she had a life-threatening stroke and double surgeries, it left her determined to get neuro-nurses advanced training and more young adults into recovery centres sooner, for better emotional and practical support. The actress has called for fans to speak about their experiences, and inspired thousands to raise money and take on fundraising challenges.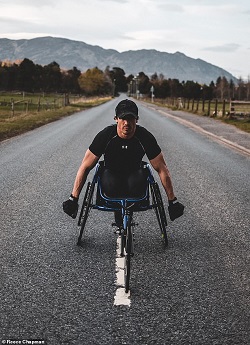 Josh Patterson
2018's Celebrity Fundraiser of the Year is at it again! Not only is Josh the first able-bodied person in a wheelchair to go from Land's End to John O'Groats, he's also a World Record holder for finishing all 900 miles in 19 days. With four friends along for the ride, the former Made In Chelsea star set out to prove you can achieve anything with self-belief – whether you suffer with mental health problems like he has or have a physical disability like his best friend, Ben. That's why he chose to support The Royal Marine Charity, Spinal Injuries Association, and Heads Together, who'll all share the £17,000 he raised.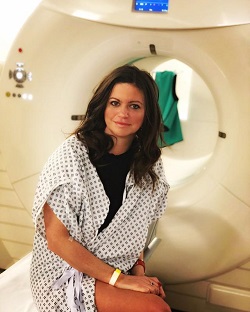 Deborah James
She's the Bowel Babe with the second most common cancer killer. And when she's not having treatment, writing bestsellers like 'F*** You Cancer', co-hosting her You, Me and The Big C podcast on the BBC, and warning us all online of the symptoms of bowel cancer, Deborah's also inspiring people to fundraise for Bowel Cancer UK and Cancer Research UK. Naturally, she's done her fair share of fundraising challenges too – everything from running the Royal Parks half marathon, to organising her very own BowelBabe ball, raising and inspiring others to raise well over £60,000.
---
Change Maker of the Year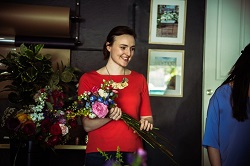 Jess Visser
This year, Strength & Stem will run floristry sessions for women who've escaped human trafficking – offering an empowering and therapeutic place where they'll get creative and find themselves part of a community. And it's all down to Jess, who's laid on afternoon teas, flower crown-making sessions and crowdfunded over £3,000 to offer travel, refreshments and materials, hire a venue and give hope to those who need it the most.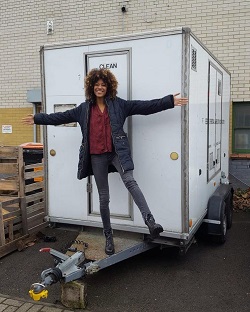 Sarah Lamptey
London's rough sleepers can now shower in two shower systems, one in a converted trailer and one in a shipping container – leaving them feeling clean, confident and better able to plan a happy future for the first time in months. All down to Sarah, who crowdfunded £5,390 for her ShowerBox project in 2018, to pay for and insure them. And there are more coming. When she gets the funding, she has bigger ideas for more mobile and permanent showers, washing machines and book swaps across London, enhancing the lives of the homeless.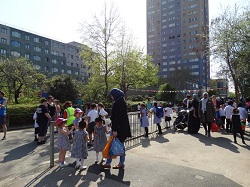 The Willow School and Broadwater's Children Centre
Children on Britain's most deprived estate are getting the ultimate summer holiday this year, with over £300,000 crowdfunded to spend on clubs, classes and day trips – things that they'd ordinarily never get to experience. Known for gang crime and violence, they'll be heading out of Broadwater Farm Estate in Tottenham, and getting strapped into rollercoasters at Chessington World of Adventure. Or splashing at the beach. Or coming nose to nose with safari animals. Parents can breathe a sigh of relief now The Willow School and Broadwater's Children Centre are opening their doors this summer.
---
Outstanding Commitment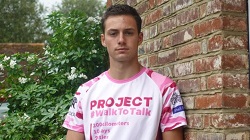 Ben West
Ben's younger brother, Sam took his life aged 15. Ever since, Ben's dedicated his life to campaigning for better diagnosis, treatment and support for depression, suicide and mental health to help more of us cope with loss as great and painful as his. After setting up a charity in Sam's name, he's also enlisted in his 'Pink Army' of mental health campaigners, got 200,000 signatures on his #SaveOurStudents petition for mental health first aiders in schools and organised a 200km charity walk – raising thousands in Sam's memory.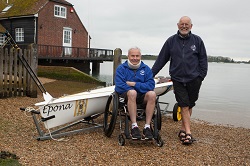 Paul Smith
With her picture in front of him for 5 hours 47 minutes, Paul – a paralysed Royal Navy veteran rowed the English Channel and got his good friend Marjorie over £10,000 closer to her fundraising target for Breast Cancer Haven – on the anniversary of her passing. Yet more remarkably, Paul overcame 12 years of locked-in syndrome following a road traffic accident, leaving him with life-long injuries. From being unable to talk or move a muscle except his eyes, Paul's pushed himself up the Rock of Gibraltar, wheeled from Plymouth to London, abseiled, skydived and more, raising thousands for charity and refusing to let anything stop him.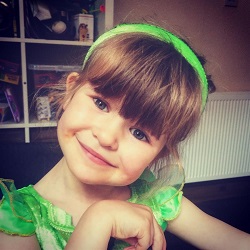 Katherine Tansey
Her 7-year old daughter's simple but stunning fundraising idea took the world by storm – and thanks to Katherine and her family's devotion, #IslaStones is thriving a year since Isla passed away after a brave battle with a rare form of cancer. To raise awareness, there are now brightly decorated stones hidden all around the world, from the North Pole and New Zealand to Mexico and Middlesbrough each with an instruction to post a photo on social media before re-hiding it. Over 65,000 of you have admired them on their Facebook group and donated to Abbie's Army Charity, raising over £17,000 to pay for research to find new medicines for rare and uncurable tumours.
---
Charity of the Year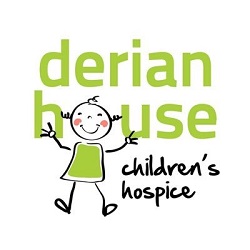 Derian House Children's Hospice
Derian House Children's Hospice provides respite and end-of-life care for children and young people with life-limiting conditions, across Lancashire and South Cumbria. Despite the nature of their work, Derian House is not a sad place; their corridors are full of joy and laughter as they do everything in their power to make sure that children and families make precious memories together. This year they even created their own video of the popular 'Baby Shark' (doo, doo, doo, doo!)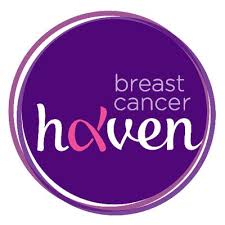 Breast Cancer Haven
One person is diagnosed with breast cancer every 10 minutes. Fortunately, nine in ten people survive their diagnosis for five years or more, but they can be left struggling emotionally, physically and financially. Since it opened its doors in 2000, Breast Cancer Haven has been offering vital support to anyone affected by breast cancer. Whether that's counselling or therapy – it's all designed to help people find themselves again.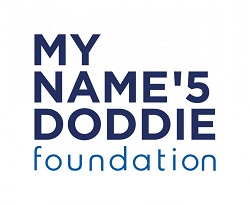 My Name'5 Doddie Foundation
After Doddie Weir, one of rugby's most recognisable personalities revealed he was suffering from Motor Neuron Disease, he launched a charity with the aim of raising funds for research and investigating potential cures for this as yet, incurable disease. My Name'5 Doddie Foundation is helping people like Doddie, who are living with MND and their families with mobility and transport needs, care, respite, and basic living requirements.
---
Voting now open
Cast your votes for this year's winners of the JustGiving Awards 2019
Get inspiration in your inbox!
Don't miss out on digital fundraising tips, tools and trends.
Sophie is Head of Brand at JustGiving. With over 7-years experience in the world of fundraising, she knows her stuff about building brand strategies and championing thoughtful marketing.