Three benefits of JustGiving reports that you might not know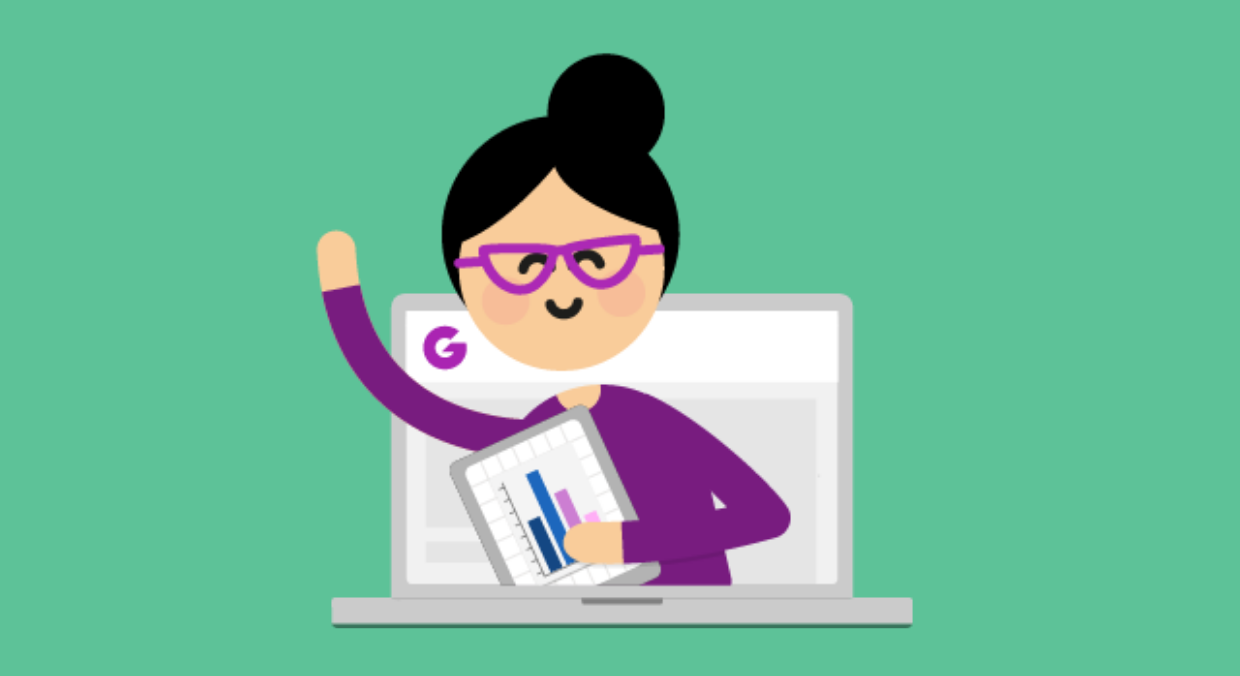 It's an undeniable fact that data provides you with some pretty valuable information and helps you to build up a bigger picture of how your fundraising, and fundraisers, are performing. This being said, there are two types of people in the world: those who love data, and those who would rather throw their computer out of the window than look at an excel spreadsheet. If you are the latter, this blog post is for you.
We completely understand that reporting can come with pain points, which is why we created charity reporting tools that are designed to show you just the data you need minus the clutter and confusing formulas.
What are the reporting tools and where can I find them?
Our reporting tools are available to charities who sign up to the JustGiving GROW membership plan. The reports can be found by logging into your charity account and then clicking the 'Reports' tab at the top of the page.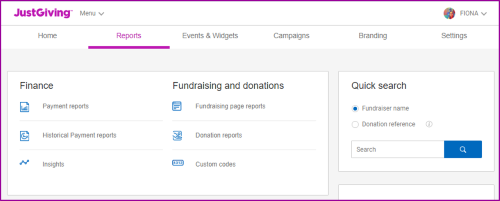 There are three types of charity reports available to you:
Payment reports – We've created two payment reports for you, one to show details of the funds generated through your JustGiving account and the second to show a break down of any Gift Aid claimed. JustGiving transfers all payments directly into your charity's bank account once a week on Thursdays, or once a month if your weekly total is less than £100, and then offers new and updated payment reports in your account the following Tuesday.
Fundraising Page reports – Fundraising Page reports are divided into pages created, pages expiring and pages created for specific events. This means that you know who to welcome, who to thank and which events are brimming with sign ups.
Donation reports – This report is exactly as the name suggests, it shows you everything that you need to know on both direct donations and donations given through Fundraising Pages. You can see all of your donor info and even customise the data time frame.
Who can access the reports?
There's no limit on the number of individual user logins that you can have for your JustGiving charity account, and each user can easily access the reporting tools. Your account admin has the power to set up new users, and if you don't know your admin then don't worry! Simply get in touch with a member of the JustGiving team and they'll be able to point you in the right direction.
Each user can set up and save their own preferences, from communications to favourite reports. This means that whether you work in accounts or as a fundraising manager, you can access the information you need from your JustGiving account quickly and easily. Plus, this is better for security as it means you won't be sharing one password with an entire team!
Three simple yet effective ways to gain better insights from your data
1. Create customised reporting templates
If you want to know every little detail of what's happening in your JustGiving account then you can download a full report crammed with everything that you could possibly need or want. Alternatively, if you have a few key areas that you regularly use in team meetings or find the most useful then you have the option to add or remove report columns using our simple tick boxes.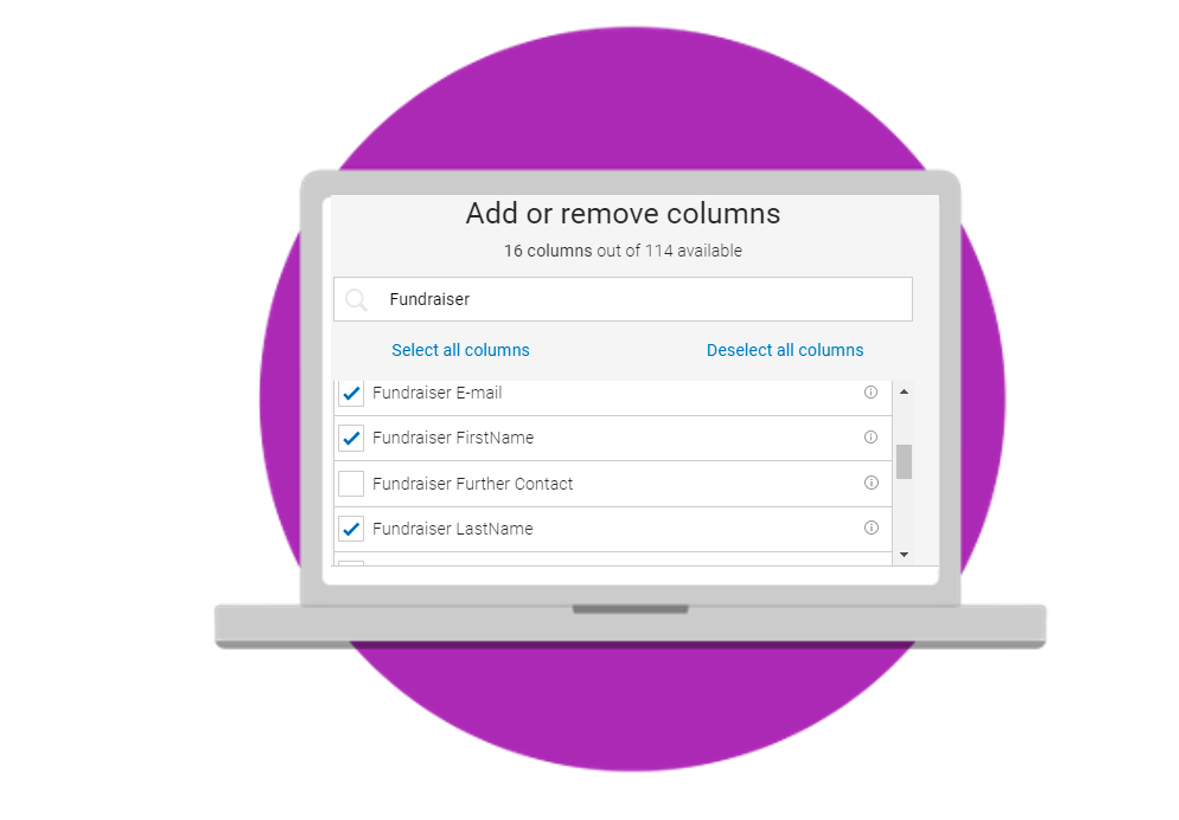 You can then save your chosen columns as a custom reporting template. You can create up to eight custom reports and the best part is that they're saved at a user level. This means that each person with their own login can save time by creating custom reporting templates which are relevant to their role within the organisation. Each person will only see their own custom templates, so they'll be able to find what they need straight away rather than having to wade through the entire organisation's templates.
2. Keep in touch with your fundraisers
Your Fundraising Page report shows you all of the pages that have been created by people wanting to raise money for your charity. Whilst a page is active you can contact the page owner at any time as part of your stewardship journey – whether it's to provide an update on an appeal that they're fundraising for or just to send a big ol' thank you.
However, if you want to keep in touch with someone after they've stopped actively fundraising then you need to have their permission. We want to help your charity connect with potential repeat fundraisers, so we ask people on your behalf if they'd like to opt in for future charity communications. We include their response, alongside the date they opted in, in the 'Fundraiser Further Contact' column of a Fundraising Page report. If they say yes, then you can add their contact details into your charity's database or CRM system.
3. Track the impact of your marketing
Any time you decide to do some new marketing activity – whether it's advertising, email updates or social media posts – it's really useful to track how well it performed and if your audience responded to it. If you're sending out specific messages that encourage people to fundraise/take part in a campaign, then you can monitor engagement by using the date filters in our reports to spot any spikes in activity.
Why is it useful to look at this? Well, think about it like this – you might spend a few hours writing and creating an email to all of your supporters, asking them to fundraise for a new campaign that your charity has organised. If two weeks later you download a Fundraising Page report and notice that there has been no new activity it could indicate that:
a) your messaging isn't resonating with supporters
b) the details in your database are out of date and need refreshing
You don't want to spend your limited time on marketing that doesn't actually appeal to your audience, so use reporting to keep track of what inspires extra donations or fundraising efforts!
There's more…
We might have told you about three big benefits to our reporting tools, but there are lots of different ways that you can use reporting to manage campaigns and learn more about your supporters. Our free on-demand webinar: Simple reporting tips to make the most of your JustGiving data shows you how to spot trends, nurture supporters and shares how Alcohol Change used reporting to enhance their Dry January campaign. Release your inner reporting wizard and watch the webinar here.
Get inspiration in your inbox!
Don't miss out on digital fundraising tips, tools and trends.