JustGiving's 2018 Year in Review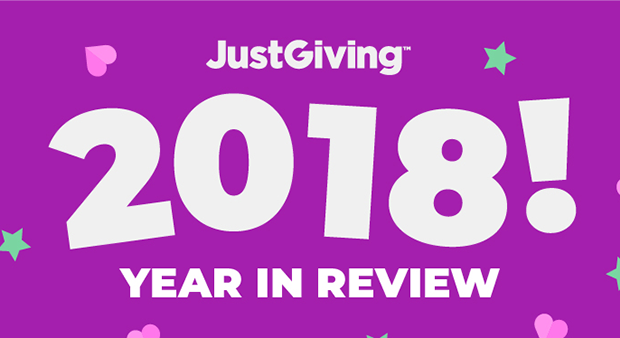 We hope all of you are settling in for what will be a wonderful Christmas and a very Happy New Year. Tis the season to reflect on the past and look forward to a hopeful future, and we want to share with you some of our highlights from a truly inspirational 2018.
Most shared Fundraising Page
In April this year Master Chef contestant Matt Campbell took part in the London marathon. Sadly, he collapsed before reaching the finish line and later passed away in hospital. An incredible 31,000 people came together to raise money in his memory, and the running community from over 40 countries came together to run the 3.7 miles that he was unable to complete.
Remember Matt Campbell?

Remember those 3.7 miles we all ran for him after he collapsed at this year's @LondonMarathon ?

Here's where the money is going and it's wonderful ❤️ https://t.co/GT0osFW96F

— Alison (@alisdavidson) September 12, 2018
Most shared Campaign Page
When a fire broke out at Chester Zoo just one week before Christmas, thousands of animal lovers around the world came together to support the Act for Wildlife conservation charity led by Chester Zoo.
If you want to help our friends @chesterzoo #chesterzoo #chester https://t.co/kx9nQUaV3e pic.twitter.com/DH6JJ2lhjT

— Lucy Meacock (@lucymitv) December 15, 2018
From anonymous charity ninjas…
This year we've noticed something pretty special. A group of people called the 'charity ninjas' who leap into action over night to donate to causes anonymously and quite literally change peoples lives. Over 350,000 donations have been made this year, and together the charity ninjas have raised over £6 million!
#charityninjas
Great work x https://t.co/Z0kmXpzWx2

— Rachel PS4 Widow (@RachelShovelton) December 21, 2018
…to well-known celebrity influencers
For her birthday this year, beauty vlogger Zoella decided to raise money for Mind – The Mental Health Charity. When word got round about her fundraising, her fans helped her raise over £13,000, making her the biggest JustGiving influencer this year. Nice one Zoella!
https://twitter.com/ZoeSugg/status/978950604310622208
Thank you for being part of it all
To see even more of our highlights from the year, take a look at our complete 2018 Year in Review. Thank you for being a part of JustGiving in 2018, we look forward to helping change even more lives together in the year ahead!
Get inspiration in your inbox!
Don't miss out on digital fundraising tips, tools and trends.