Key design principles for creating great social content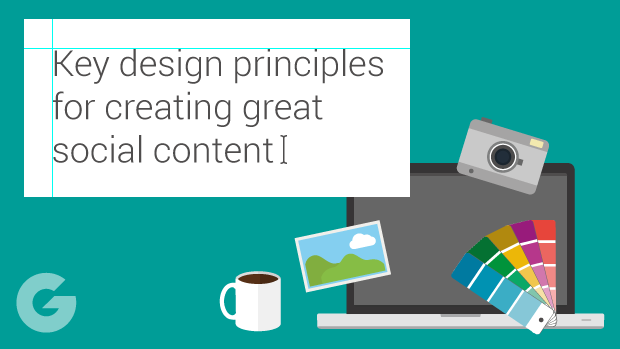 With the biggest social networks – Facebook, Instagram and Twitter – giving prominence to visual content, it's crucial to include images in your social content strategy. It's not for nothing, either: research undertaken by Buffer after Twitter's expanded images went live found that tweets with images gained 18% more clicks, 89% more favourites (now called likes) and 150% more retweets. Similarly Buzzsumo – an online content analytics tool – discovered that people were more than twice as likely to share an article with an image.
But creating engaging social graphics without a designer to help you can feel like a cumbersome task. Luckily, there are lots of online resources plus a few handy tips and tricks to help non-designers create beautiful, impactful content that tells your story (and generates lots of clicks!)
Limit your colours and fonts
It's easy to get excited and use lots of different colours to make your graphic stand out – but try to resist using too many. Using only one or two colours will ensure that your content is clear and easy to read, and sticking to your brand colours will make your communications consistent and instantly recognisable. Limiting your font choices also keeps your message nice and clear – if you're using more than a couple it can make things difficult to focus on.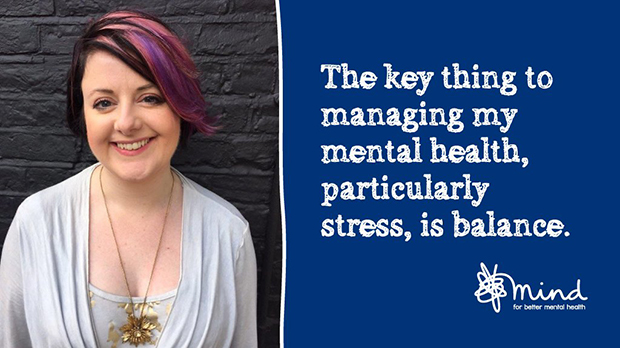 A graphic from Mind's Twitter feed – one colour, original imagery.
Use your own images
The key to good charity marketing lies in great storytelling, and using original imagery in your social content is a great way to tell your stories. Stock images have their place, but an image that's relevant to your charity is more likely to resonate with your audience. Of course, a badly-taken, fuzzy photo is unlikely to engage anybody – if you've not got any good quality images from marketing campaigns, try taking a camera along to fundraising events and getting some real life pictures of your supporters. A few tips for taking photos:
Think about space for text – zoom out a little on your subject, or take some photos with your subject to the right or left of the photo, to allow some room for text over your images.
It sounds basic, but make sure your photo is in focus. It's all too easy to end up with accidentally-blurred photos when you're caught up in the moment. Zoom in on the preview on your camera to double check.
Try to keep a consistent visual theme throughout your images – they should all look like part of the same set. This can be achieved in part by adding filters. Try PicMonkey, a free, online photo editor.
Simplicity is key
It's tempting to try and get all of the relevant information into your graphic, but that can sometimes include a campaign title, description, hashtag, CTA, logo, website URL and phone number. The result is that your audience doesn't know where to look and is confused about what action they should take. Don't forget that you can include a lot of the key information in the accompanying tweet or post, and that the links will be clickable too. Make your call to action as clear as possible, include your logo when you can, and keep all the other stuff in the post where it's easier to click through. It's worth remembering that a user's social feed can be a busy, frantic place; the simpler and clearer your graphic, the more impactful it will be.
There are always exceptions to the rule, however – and the Stonewall cover image below is a good example of how a simple colour palette can make a graphic with a lot of information much clearer.

An image from Stonewall's Facebook page – limited colours, real images, clear CTA.
Infographic, infographic, infographic
There's a reason people love a good infographic: our brains are hard-wired to process visual information quickly, or so says this infographic(!) from data agency, NeoMam. Creating interesting, bite-sized chunks is a great way to get your message shared. There are even tools to help – try Piktochart, an online infographic creator with plenty of templates to choose from, with no fee for the basic account. Infographics are a powerful way to share facts about what your charity is getting up to, how much a donation can help (i.e. "a £5 donations buys two vaccinations") and how a fundraiser can support you.
Other useful tools
Ready to get going? There are plenty of tools to help you design engaging content:
Canva – a design tool for non-designers, with drag-and-drop content, a library of images and an easy-to-use interface.
Social templates – Hubspot offer a range of templates to get started with, in exchange for signing up to their newsletter.
Unsplash and Pixabay – if you can't find any suitable images and do need to use stock photos, the images on Unsplash and Pixabay are free to use commercially, without attribution.
What tricks does your organisation use to create engaging visual content? We'd love to hear what you've been doing! Post a comment below to let us know. 
Get inspiration in your inbox!
Don't miss out on digital fundraising tips, tools and trends.
Michelle joined JustGiving in 2014, and works with our design, UX, marketing, product and brand teams to highlight our amazing fundraisers' stories, keep the JustGiving brand consistent across all of our communications and improve our users' experience on our site.