Three ways to kickstart your 2015 Christmas Campaign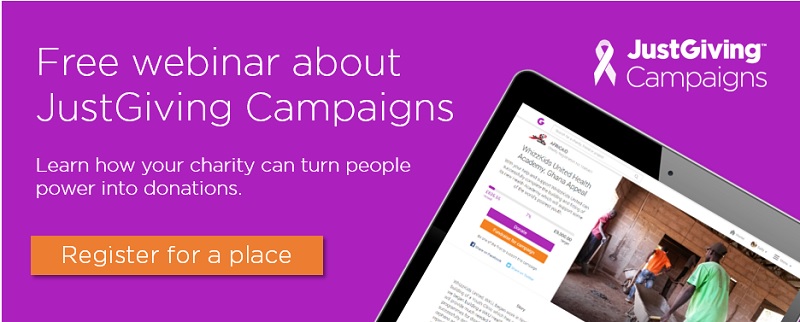 Ok, ok we're sorry to say the 'C' word so early in the year, but it won't be long before we start seeing Christmas decorations in the shops and those all-too familiar songs get played over… and over… and over again. Our data shows that people give more in the week before Christmas than any other time of the year. So make sure you're the early bird that catches the worm and start planning now to get your Christmas Campaign standing out from the crowd.
Here's three tips to get a head start with your Christmas Campaign
Plan your Campaign
Christmas is one of the most popular times of the year for charitable giving, so make sure you start thinking about your Christmas appeal theme early. Do you want to use the festive period to raise funds to support your charity throughout the year ahead? Or will you raise funds for a specific cause or project? Here's some of our favourite examples: Last year, Alder Hey Children's Charity ran an amazing IMAGINE Christmas appeal raising over £50,000 to make the hospital as 'Christmassy' and fun as possible for all the children and their families spending time on the wards over Christmas.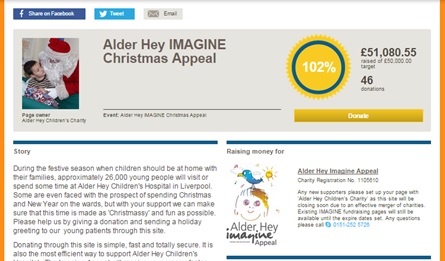 Medical Aid for Palestinians raised over £137,000 for refugee children of Palestine, to help support them through one of worst winters in decades. They regularly updated their page letting their supporters know how their donations were helping.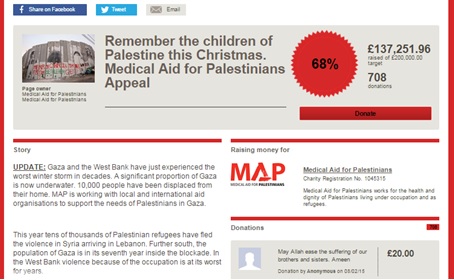 2. Create your Campaign Page
We've recently launched Campaigns – a new way for charities to crowdfund through JustGiving. With a Campaign Page you can create a branded central hub to tell your supporters all about your Christmas appeal. There's space for a 1000 character story, a striking central image and 10 supporting images. Your Campaign can receive donations AND your supporters can fundraise too! They take just a few minutes to create and then you can share it far and wide by following these simple promotion tips. Oh and did we mention they look great on a mobile device too? Here's an example of a Christmas Campaign Page that we've mocked up.

3. Promote your Campaign
Be sure to share your Campaign with your supporters via email, on social media and on your website. Your supporters can create their own Fundraising Pages from your Campaign Page to help support your Christmas appeal and by sharing their page with their networks your charity will reach an even wider audience. There's lots of ways your supporters can help your Christmas campaign, so why not inspire them with some fundraising ideas? Here's a free Fundraising A-Z that you can send them that's full of unusual ideas. Below are some great Christmas Fundraising Pages we saw on JustGiving last year:
From donations for carol singing to Christmas cards, you'll be amazed at the creative ideas your supporters will have!
Get inspiration in your inbox!
Don't miss out on digital fundraising tips, tools and trends.
Camilla is a Customer Success Manager at JustGiving. She joined in 2012 to help bring JustGiving into new markets and is dedicated to ensuring charities from all over the world utilise the platform to its full potential and making sure they get the most out of our fundraising tools.