Say it with flowers: lessons in engagement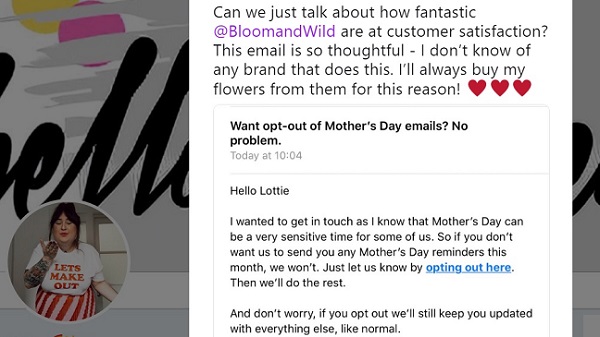 Mother's Day can provide a great fundraising opportunity for many charities, especially those with connections to children and babies, or maternal health.
Recently, however, a customer email from Bloom & Wild was shared into my Twitter feed that made me think again about using these calendar events as fundraising opportunities.
Bloom & Wild were offering anyone signed up to their mailing list an opportunity to opt out of receiving Mother's Day-specific content (a huge time in the calendar for any florist) as they were aware that for those customers who may have lost their mothers, or for those with difficult maternal relationships, all the marketing around the day could be very upsetting.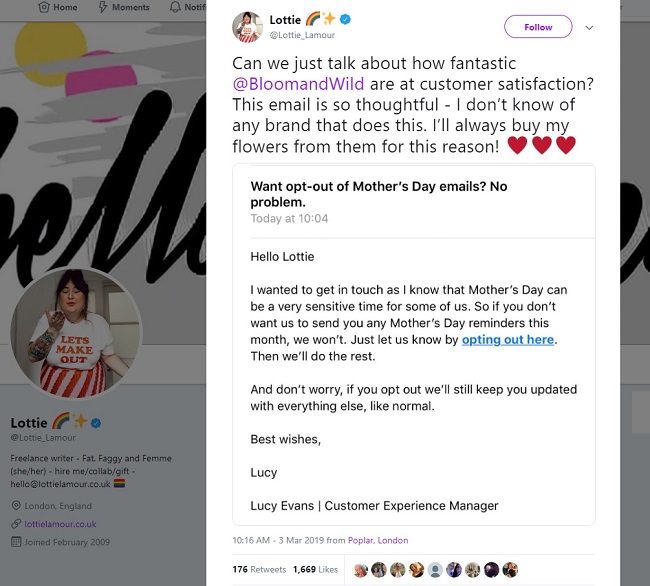 So, what can charities take for this excellent example of customer support?
1. Listen to your audience
Bloom & Wild must have been receiving feedback that their (and other companies) marketing was upsetting to a portion of their customers. Instead of pressing ahead with marketing at one of their busiest times of year regardless, they devised a way to respond to those supporters in a way that generated goodwill. The warm response online has been fantastic for their brand awareness and reputation.
2. Segment, and be confident in your segmentation
If Bloom & Wild have offered this option, they must be really sure that they can fulfil that promise. The least you should be recording is the channel that a supporter wants to be contacted on. But, depending on your database, you may wish to record that certain channel are preferential, that some supporters do not want to be asked for money directly but are happy to fundraise, or that they do not want to receive thank you letters. Being thorough and consistent with your data will be repaid in deeper supporter relationships and increased loyalty to your cause.
3. Be prepared to surprise and delight your supporters
Surprises don't have to mean personal thank you letters (though those always go down well) that can be heavy on team resource – this example went to the whole database, and just relies on some preparation to record and act on the feedback. Ask for ideas at your next team meeting. Collect ideas from the commercial sector. Test ideas with some of your most committed supporters in focus groups.
Who has surprised you with their customer service recently? Leave us a comment!
Get inspiration in your inbox!
Don't miss out on digital fundraising tips, tools and trends.