Interview: Lily Kendall, Young Women's Trust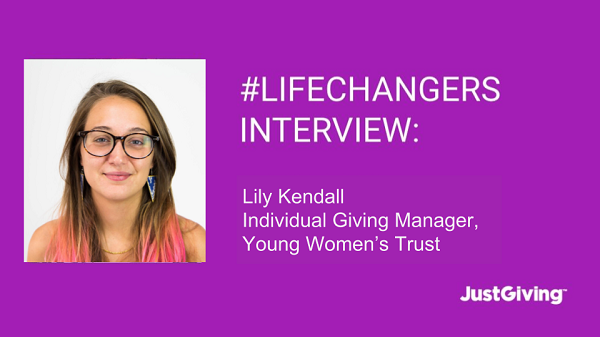 Hi Lily! Tell me, what does an Individual Giving Manager at a small charity actually do?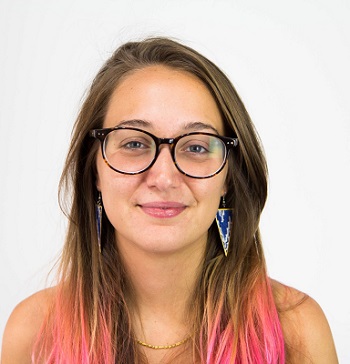 A bit of everything! I look after all our active challenge events, deliver stewardship and appeal mailings, come up with new fundraising ideas and campaigns to try, and often do all the creative in-house. I work with Nadina, our Digital Engagement Officer, to recruit new supporters through social. We don't have a database manager so I seem to have become that too! This is what I love about working in a small charity, there's always space to develop your ideas and it's very hands-on.
Give us your potted history.
I left uni with an English degree and no idea what to do with it. I worked in a film and TV post-production house for a while before deciding I wanted to work in the charity sector. I'd volunteered at a few different charities before. I went back to uni and did a human rights masters degree, then landed a job at The Prince's Trust. I started as an assistant and left 3 years later as Supporter Journeys Manager. I joined the Young Women's Trust in November last year.
Take us through your typical working day.
My role is so broad that there's not really a typical day. One moment I'm interviewing young women who have used our service so I can share their stories with supporters, the next I'm writing and designing a legacy mailing or shooting silly boomerangs with my colleagues to promote a new fundraising initiative. In the evening I might be shivering outside a gig shaking my bucket.
Because we're a small charity, we can respond to new ideas quickly. It leaves lots of room for creativity and makes for a very varied day-to-day.  
Why do you work for Young Women's Trust?
As a feminist, it's important to me to help other young women and campaign for gender equality. Speaking to the young women we help really drives it home that our work is so necessary. It feels great to know I'm spending every day standing up for what I believe in. It's not just what the organisation does that makes it great, it's the way it does it. The working environment feels really supportive, nurturing and inclusive, which makes an enormous difference. It really feels like you're part of something that practices what it preaches.
What is the main digital challenge in your role and how do you deal with it?
At the moment, we're trying to find new supporters to join our Champions group using social media advertising.  It's something new for both me and YWT, but we're dealing with the challenge by spending a lot of time really getting to know our audience, creating marketing personas and putting some clear tests in place to understand what works and what doesn't. Often the challenge with being part of a small charity is that you suddenly have to create something that you'd previously relied on an entire team to do for you! You end up learning a lot very quickly.
Which digital tools could you simply not do your job without and why?
I love sharing stories from the young women we support. They're so inspiring. We rely on mailchimp to regularly share these with our supporters, but in the future we hope to have much more video content, so video sharing sites may become more important.
Which charities are doing digital fundraising well?
Greenpeace are great. They've got a brilliant balance between sharing light-hearted animal content and tying it to a serious message about climate change and the environment. And they're great at making supporters feel like they can actually take action to make a difference.
Which brands or people from outside the sector inspire you?
Secret Cinema. They're so great at building worlds that people are desperate to be part of. The way they use marketing to ramp up excitement is so creative and impressive.
Which one Twitter account / blog / email newsletter do you think every Individual Giving Manager / small charity employee should follow?
Sofii.org is a good resource. Their 'I wish I'd thought of that' events, where fundraisers share great ideas they've seen from other people in the sector, are great places to get some inspiration.
Get inspiration in your inbox!
Don't miss out on digital fundraising tips, tools and trends.