Faster, smarter support with LiveChat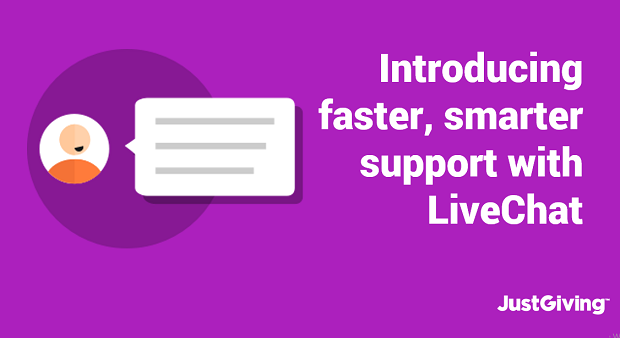 We're excited to share news with you today that we're introducing LiveChat as a way of offering charities faster, smarter and more efficient support. No more stopping what you're doing to search for our phone number – our team of experts now offers instant support online with whatever you need, without you leaving the page you're on.
Why introduce LiveChat?
Earlier this year we introduced LiveChat as a new way to support people fundraising, crowdfunding or donating on JustGiving. Since making this move In January, we've been able to help a whopping 10,055 more customers this year than last year!
Live Chat has also freed us up to cut email reply time by two thirds, respond to people in under one minute AND to hit a 95% customer satisfaction rate at the end of chats.
We're committed to giving everyone that uses JustGiving the best experience possible, so we are delighted to now be offering this fast and easy support to our charity customers as well!
Chat to us from anywhere
We've embeded our LiveChat widget on all the key web pages where we think it would be useful to have instant support – wherever you see this help button below, simply click on it to get instant, online support without having to leave the page you're working on.

Need some tips to help your Christmas campaign raise more? Want some guidance on our new reporting? No problem, we'll be there to help you with all that and more from within your account.
How does it work?
Once you've clicked on the Help button, you'll be able search our online FAQS for what you need before reaching out. Simply type in what help you're looking for and we'll offer you three relevant articles to answer your question.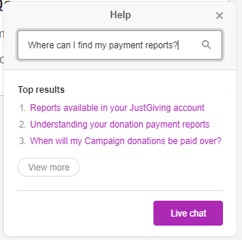 Still need help? Then you can chat online to a charity expert instantly from there.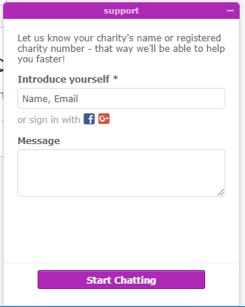 Are the robots taking over?
Don't worry, we're still the same support team that you were talking to before – just a faster, smarter and more efficient one.
Meet and learn more about our team of JustGiving Gurus giving you expert advice
Let us know what you think
We'd love to know about your experiences of LiveChat. Have you tested it at your charity? Comment below or tweet us @JGcauses.
Get inspiration in your inbox!
Don't miss out on digital fundraising tips, tools and trends.
Sophie is Head of Brand at JustGiving. With over 7-years experience in the world of fundraising, she knows her stuff about building brand strategies and championing thoughtful marketing.