Boost your London marathon activation with our £5 hack!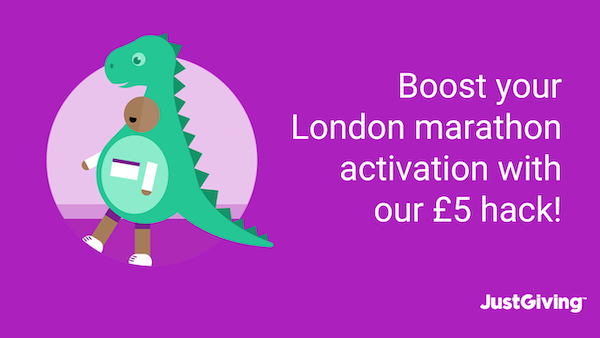 With the London marathon a few months away, we're still laser focussed on activation. For those new to the world of online fundraising, an activated page is one that has received at least one donation. Early activation is super important to reduce drop-out rates and increase engagement.
So, with that in mind, we wanted to spill the beans on a top secret* test we did in 2018 and how you can use this trick to hack your activation rate and give your fundraisers a boost!
(*We had a word with ourselves and thought it wasn't fair to keep it secret any longer!)
What did we test?
We wanted to know what happens when we make a £5 donation to a group of London marathon fundraisers who haven't received a penny (or a pound!) on their Fundraising Page.
Because we're responsible testers were included a "control group" (that's data science code for a group of folks who didn't receive the £5 donation). Ideally, we wanted to see a 20% increase in activation so we ran the test for 2 weeks across a big group of pages.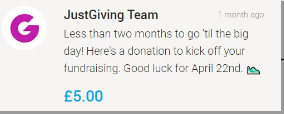 What did we learn?
We found that Fundraising Pages which received the £5 donation raised, on average, £118 more than the pages in the control group. This was a staggering 300% return on investment and fundraisers were more engaged as a result.
Give it a try yourself
Find your inactive fundraisers
Knowing who you'll need to help should make your life a lot easier. There's a tried and tested method to finding inactive fundraisers. Using JustGiving reports, you'll be able to create a bespoke report in your account. So when you want to check-in on your London marathon runners, you'll have the report ready and waiting to refresh.
Find those inactive fundraisers now!
Ask for a self-donate
It's not cheeky to ask for folks to self-donate. It might seem counter-intuitive if you haven't asked for a sign-up fee (surely that target is enough?!). But, there's some great thinking behind it – there's something inherently motivational about asking a supporter to commit to their fundraising with their own cash. That aside, it's also a great opportunity to set a benchmark donation for donors dropping onto the page. Often people don't know what an appropriate amount is to donate – a higher first donation sets an expectation (this could be a chance to ask for more than £5!)
We know that folks who donate to their own page for the London Marathon raise, on average, £800 more than those who don't. It's a great motivator and you should feel confident in asking your fundraisers to do it!
Or try a different ask to your corporate partners
Are you searching for a clever way to engage your corporate partners in your fundraising? Asking a corporate partner to pop a £5 donation onto all of runner's pages does a few magic things:
Notifies your runners of their first donation – this boosts activation!
Gives your corporate partners a chance to show off their logo and send a message
Their message is seen by the fundraiser and any future donors
So, why don't you give our £5 hacktivation a go and, as always, let us know how you got on!
Get inspiration in your inbox!
Don't miss out on digital fundraising tips, tools and trends.