Make It Rain: Tips & Tricks for #Crowdfunding Success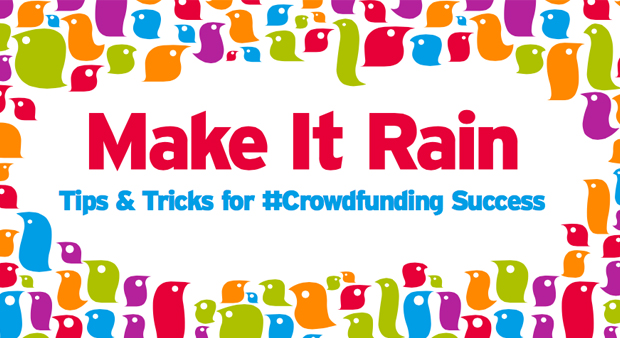 When we were brainstorming ideas for our next publication for charities, one topic immediately sprang to our mind here at Social Misfits Media – crowdfunding. We had been fielding questions from our clients, friends and partners about the topic – and whether it was right for their organisations.
The team at JustGiving had also seen a lot of success stories on their own crowdfunding platform, and so we got to work, identifying some great case studies for our latest guide, which launched today, 'Make It Rain: Tips & Tricks for #Crowdfunding Success.'
In our guide, we broke down the lifecycle of a successful crowdfunding campaign into three stages: Pre-Campaign, Live Campaign, and Post-Campaign. We also wanted to practice what we preached, and put our theories to the test. When the Managing Director of I.G. Advisors, our sister company, successfully crowdfunded over £20,000 for high-street fashion transparency app Not My Style, we knew we were onto something.
Pre-Campaign
Make sure that your messaging is on point – keep things compelling, concise, and informative.
Know your audience, and tailor your content to appeal to them!
Articulate your goals, and justify your target to your supporters.
Consider doing a 'soft launch', and reaching out to existing donors.
Prepare and prime your press and communications contacts.
Live Campaign
'If you build it, they will come' – This is not true for crowdfunding!
Think strategically about your communications activity, and getting your message out there.
Reach out to press, social media influencers and bloggers!
Keep your supporters informed and up-to-date.
Post Campaign
Keep in contact – don't go silent.
Acknowledge and thank your supporters!
Identify, cultivate and solicit new donors for your organisation.
Keep the crowd updated on the progress of your project.
The aim of the guide is to inspire charities to think strategically about their crowdfunding campaign – and whether they should do one at all. Crowdfunding isn't a magic bullet to solve your fundraising needs, and it won't be right for every project. We developed a handy flowchart quiz so you can see whether or not your next campaign should be crowdfunded – be sure to check it out!
To find out more about our latest guide, download it from the Social Misfits Media website here, or reach out to us on Twitter at @MisfitsMedia or @JGCauses!
Get inspiration in your inbox!
Don't miss out on digital fundraising tips, tools and trends.
Erin is the Communications and Social Media Advisor at Social Misfits Media, specialising in helping charities, foundations and non-profits better use social media to reach their goals. Follow Erin and Social Misfits Media at @ErinNiimi and @MisfitsMedia.