Making the most of #GivingTuesday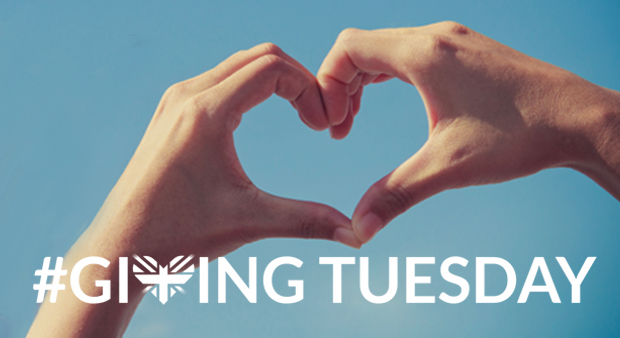 This year, #GivingTuesday falls on 1st December. As a global day of giving, it's an opportunity to come together and show the world why it's good to give.
The conversation around giving will be huge – last year, there were 698,600 mentions of the hashtag. It's a big opportunity for charities, but you'll need to be prepared if you want your message to cut though all that noise.
Lots of charities have already set up a JustGiving Campaign for #GivingTuesday. Here are four that have caught our eye and some tips for your #GivingTuesday campaign.
Encourage people to fundraise like Victoria's Promise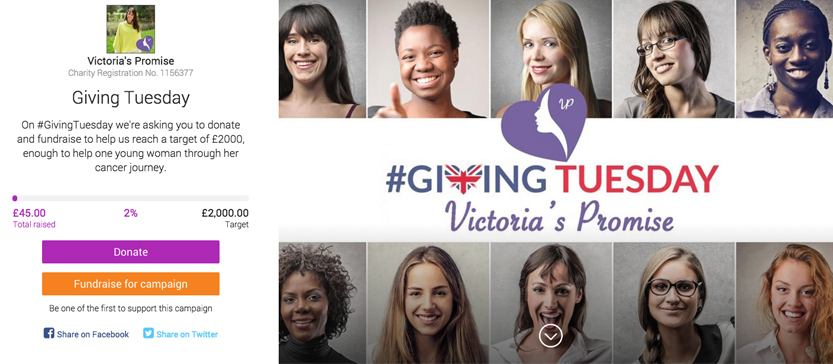 Victoria's Promise have set up a campaign to raise £2,000 – enough money for them to help one young woman through her cancer treatment.
We really love how they're encouraging people to fundraise for the campaign. If you take a look at their website, they've suggested lots of different ways supporters can fundraise for them on #GivingTuesday. People setting up fundraising pages and reaching out to their own networks will help Victoria's Promise raise more – and they've already had two fundraisers set up pages for the Campaign.
Set a target for the day like Haven's Hospice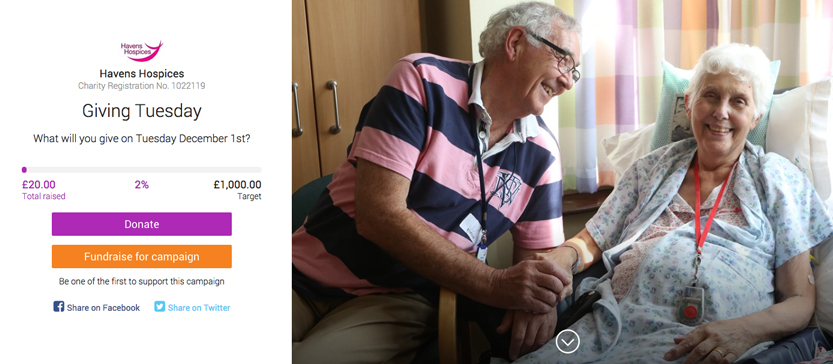 When a family has been told there's no cure for their loved one's illness, Havens Hospices' aim is to make the journey as comfortable as possible. For their #GivingTuesday Campaign, they've set a target of £1,000 to help them offer care to people at the end of their lives. We always advise fundraisers and charities to set a donation target because we know that pages with a target are likely to raise up to 40% more. We think that's even more important on #GivingTuesday, as helping you hit your target on the day gives people all the more reason to donate. What would your charity like to achieve on the day? What's the goal all of your supporters are working towards? And what impact would people's #GivingTuesday donations have?
Use great imagery like The Phyllis Harvey Horse & Donkey Trust and The Christie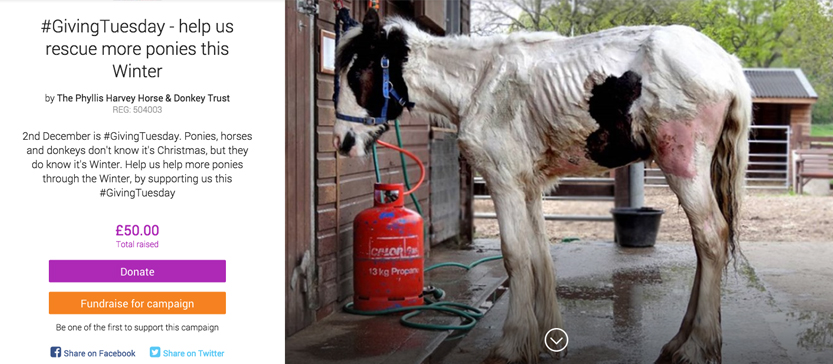 The Phyllis Harvey Horse & Donkey Trust have setup a #GivingTuesday Campaign to help ponies, horses and donkeys survive through the winter. In order to tell their story, they have used some quite shocking imagery to show the effect that cold weather and a lack of feed can have on these animals. The images depict the journey that one of their horses has been on – from the day she arrived in their care looking starved and frail, to the vibrant and healthy horse she became following some much needed TLC.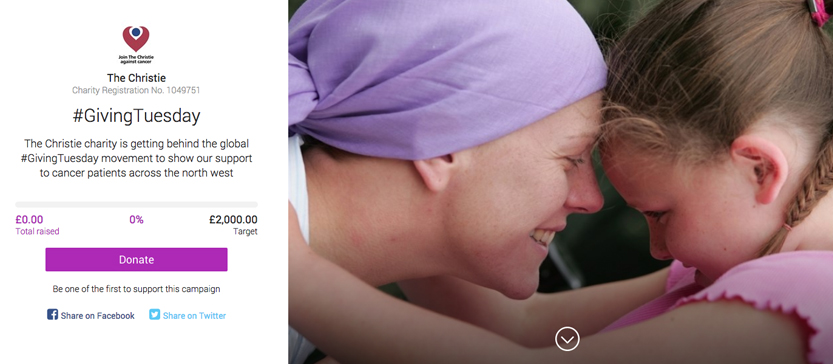 The Christie charity supports the work of The Christie NHS Foundation Trust; a specialist cancer unit in Manchester. For their #GivingTuesday campaign, they've used imagery to tell their story in a different way. The focus of their images is on the equipment and facilities that donations will help to provide, from scanning equipment through to recreational facilities such as a pool table. The images highlight the standard of care that people at the Christie receive, and will motivate supporters to help provide a better standard of facilities for those affected by cancer.
Ready to launch your charity's #GivingTuesday campaign? Set up a JustGiving Campaign Page today.
Get inspiration in your inbox!
Don't miss out on digital fundraising tips, tools and trends.
Phil leads our Small-To-Medium sized charity business and is committed to encouraging more charities to use JustGiving to its full potential. He's interested in how technology can inspire, encourage and facilitate more giving to causes of all sizes.