Making the move from everydayhero to JustGiving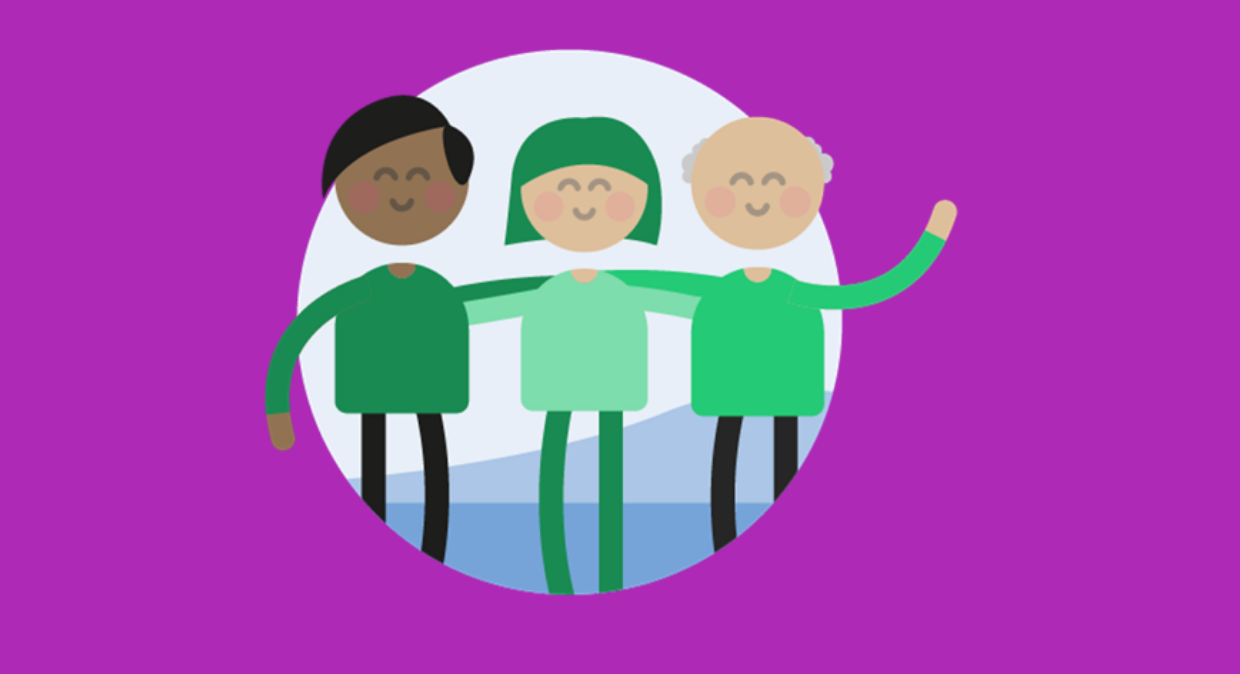 Since announcing the closure of the everydayhero® platform earlier this year, we've been working closely with our everydayhero colleagues to welcome them to JustGiving and to help thousands of charities transition their online fundraising campaigns over to our platform.
If your charity has recently joined us from everydayhero, thank you for choosing JustGiving as your trusted platform for online fundraising. You and your supporters deserve the best, and we're excited about all the new ways we can help your organisation to save time and raise more money.
In this post we've highlighted a few of our most popular and time-saving tools to help you make the most of JustGiving.
New to JustGiving? Find out how you can join us for free – with 0% platform fees and no monthly membership!
Fundraising tools and features on JustGiving every charity needs to know
Campaign Pages
JustGiving Campaign Pages act as an online hub where your supporters can come together to find out all they need to know about a specific project, event or appeal that your charity has launched. They're designed to make it easy for people to join in your campaign – either by donating or starting a Fundraising Page of their own, and keep track of its progress. A live total is displayed on the top of the page and you can post updates in the story section.
Some of the key features included in Campaign Pages are:
Add your branding: You can add your charity or campaign logo, customise the background image and colours shown on your page, as well as personalise the header image.
Tell your story: The story section allows you to tell supporters about why you're fundraising and what they can do to help. You can also add pictures and videos to your page, helping to bring your story to life.
Leaderboards: Your fundraisers can easily link their Fundraising Pages or Team Fundraising Pages, helping to build a community as others can see and support the pages. This creates a sense of friendly competition that will help to motivate donors and fundraisers alike.
QR Codes: All Campaign Pages come with a unique QR code that you can download and share on your marketing materials, easily directing members of the public to your page.
Deeplinks: In your account you will be able to find what we call a deeplink for your Campaign Page. When shared and clicked on, this link will take people straight into the donation journey, making it extra quick for people to give to your cause.
There's no limit to the number of Campaign Pages that you can create, and you can even run multiple pages simultaneously.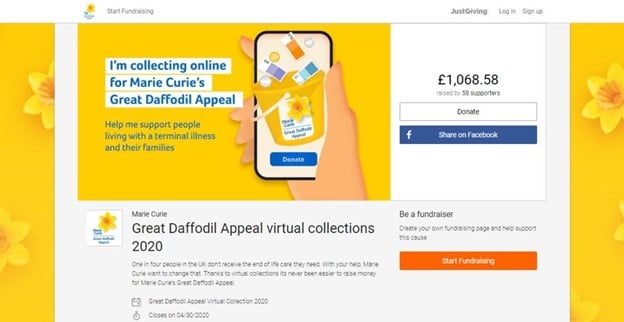 Virtual event tools
Whether you're new to virtual events or a seasoned pro, we've got a range of tools to suit your level of experience and budget. From a simple landing page that's easy to customise and quick to launch, through to a branded microsite with all the bells and whistles that you need.
To help you make the most of your virtual events, our offering focuses on four key elements: reach, simplicity, branding and expertise. You can find out more, plus see great examples of what other charities are using, on our dedicated virtual events landing page.
Customisable Reporting
In your JustGiving account you will find a reporting dashboard which contains three different types of reports.
1) Payment Reports
2) Fundraising Page Reports
3) Donation Reports
All of them can be easily exported into Excel and you can pick and choose which data fields you'd like to save as a custom report to quickly download whenever it's needed. It's never been easier to track activity, understand your fundraising impact, identify trends and to keep in touch with your fundraisers in a GDPR compliant way. There's also no limits on how many members of your charity can have a JustGiving account, and each person's templates and reporting preferences are saved to their own user profile. Our customer support team have written a handy blog here which shares further details about the reports and how users can get the most out of them.
Want to know something cool? We recently updated our Fundraising Page reports to include fitness reporting and to include extra filters! You can now see which fundraisers are sharing their fitness activity, as well the activity they've been doing, which is great for virtual events and understanding the positive impact that our Strava integration can have.
Resources
Supporting charities is at the heart of what we do, and we love being able to share valuable insights, expert advice, and fundraising tips – all for free! Here's a few links we recommend bookmarking:
How JustGiving helps your supporters
Fundraising Pages
Your supporters can easily create a personalised Fundraising Page in just a matter of minutes on JustGiving, and if they're part of a group then they also have the option to set up a Team Fundraising Page.
Virtual fundraising tools
When the initial lockdown period began, our development team sprang into action and in just a few weeks we able to launch new tools and integrations that help fundraisers (and charities!) embrace virtual fundraising opportunities.
Fitness tracking with Strava: Designed for people who want to keep fit and do good, our integration with fitness app Strava means that your fundraisers can easily log fitness activity, track progress and share any updates on their Fundraising Page and social media. The best part is that our research shows that fundraisers who track and share their fitness updates raise up to 40% more!
Livestreaming: Livestreaming is a great way to bring offline activities online. In response to COVID-19, we've seen some amazing creativity from fundraisers who have used it, from broadcasting head shaves to garden marathons. It allows fundraisers and their donors to stay connected, even in times of physical distance. Charities have also been using our livestreaming tool too! Through launching Fundraising Pages we've had charities broadcast quizzes and even carol concerts, sharing their activities with a larger audience who can donate and watch at the same time.
Tailored fundraising tips
We recently launched a new and improved fundraiser email journey, using our expertise to give people specific, data-driven recommendations that will help them feel confident about online fundraising and raising more money.
Starting raising more online today!
If you're ready to get started and launch a JustGiving account, then you click here to see the full list of plan features and how to set up your charity account.
If you have a few more questions, or would just like to some advice on if JustGiving is the right platform for you, then why not get in touch by emailing our friendly support team.
Get inspiration in your inbox!
Don't miss out on digital fundraising tips, tools and trends.
Toni Gregory is a Content Marketing Specialist and B2B copywriter.