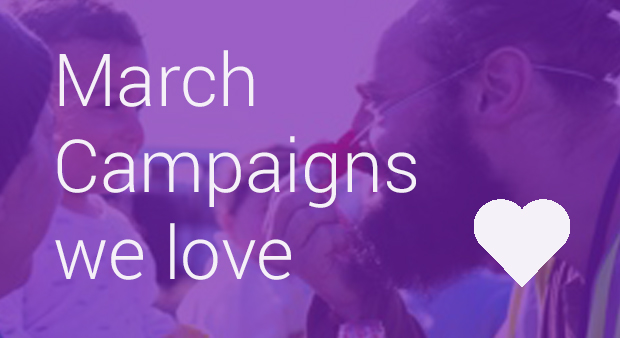 We're always amazed by the Campaign pages our charity partners create. Here are some of the Campaigns we loved in March:
United in Laughter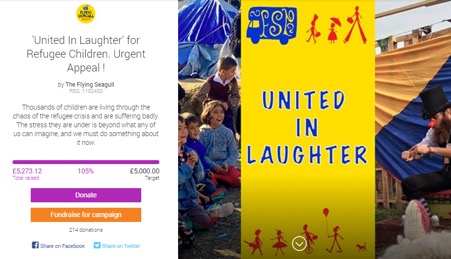 The Flying Seagull's United in Laughter project is raising funds to send their clown and play specialists to Turkey on 1st April to visit children living in refugee camps. As the story on their Campaign Page says: "Europe has been showing some very ugly faces recently, and it's time that we replace them with broad smiles and red noses." The clown and specialists are trained in working with children faced with trauma and their shows and workshops are all designed around building children's confidence. To help support their Campaign, one of their supporters, Tom, took on a 'Bear Grylls Survival Challenge' raising over £450 to help support the project. We've found that on average, Campaign Pages with active fundraising pages raise more than double Campaigns Pages without the fundraising option enabled. So make sure you enable the feature on your Campaign Pages and encourage your supporters to start fundraising. By sharing their fundraising story, people fundraising for your cause can help you get even more supporters for your Campaign, as they'll spread awareness of your appeal AND raise money.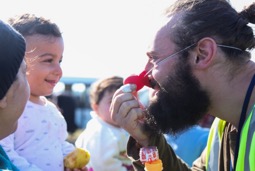 Depression Awareness Week by Depression Alliance
Depression Alliance's Awareness Week takes place 18-24th April. They're Campaign Page is raising awareness and money for their Friends in Need project. Friends in Need is a way for people affected by depression to meet online and in their local area.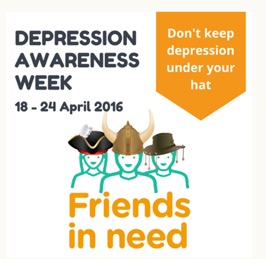 Awareness weeks are a great opportunity to raise funds as well as raising the profile of your cause, and Campaign page allows you to bring all your supporters and fundraisers together to help you do that. Depression Alliance have featured their Campaign on their charity profile page, meaning that anyone who visits their profile page on JustGiving will see what the charity are raising funds for at the moment. On average, Campaigns featured on charity profile pages raise nearly 2.5x more than Campaigns that aren't featured. Find out how to feature a Campaign on your profile page.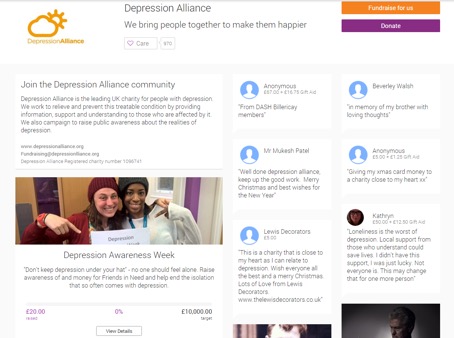 Rain Rescue's Makeover Appeal
This month the Rain Rescue kicked off a Campaign to raise funds for a kennel and cattery makeover. They need to raise £20,000 to revamp their kennel to improve the lives of abandoned and neglected animals in South Yorkshire.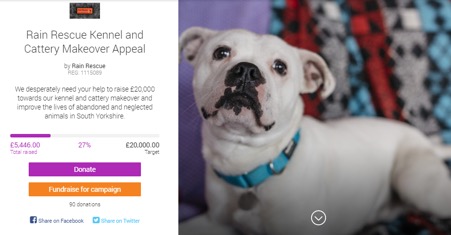 Campaigns are a great way to use your community to raise funds for a specific cause or project. Our Campaign Social Notifications mean that we will automatically email everyone who 'Cares' for your cause on JustGiving as soon as you have activated a new Campaign – helping you get the word out to your community, fast. Find out how to get more about Cares and why they are important. Rain Rescue are also promoting a text code along with their Campaign, which they are promoting on their Campaign Page and on Social Media, find out how to add a text code to your Campaign Page.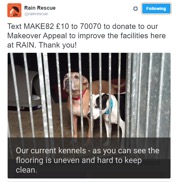 We can't wait to see the results of the kennel make-over! If you're looking to learn more about Campaigns then join our next free webinar on how to run a successful Campaign on April 7th at 3pm.  
Get inspiration in your inbox!
Don't miss out on digital fundraising tips, tools and trends.
Camilla is a Customer Success Manager at JustGiving. She joined in 2012 to help bring JustGiving into new markets and is dedicated to ensuring charities from all over the world utilise the platform to its full potential and making sure they get the most out of our fundraising tools.