Maximising charity donations this Christmas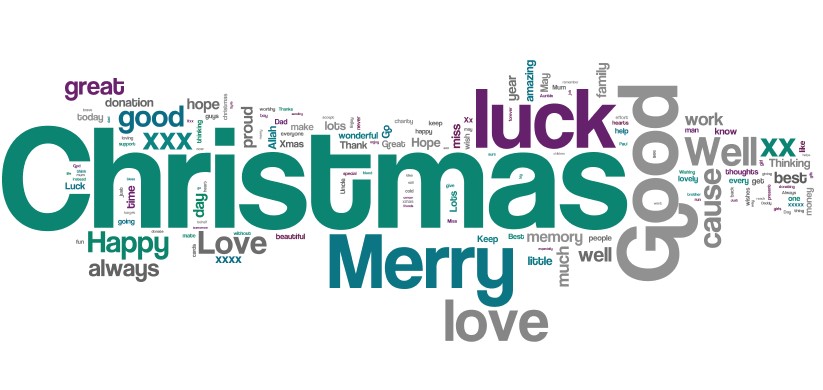 For many of us Christmas Day is a chance to have a break from work, spend some quality time with loved ones and indulge in a little too much food. But before you turn on that out of office message and switch off for a few days, it's worth checking you've got a few things in place to maximise donations over the Christmas break.
Be ready for the 12 days of mobile
Throughout the year we typically see that visits to JustGiving from people on their mobile phones and tablets spike over the weekend. Makes sense right? Less people are in the office, so instead of using their PC at work to go online, they're using their mobiles and tablets at home to access the internet.
Looking at our stats from last year (see fancy graph below), this trend is even more amplified over the Christmas break.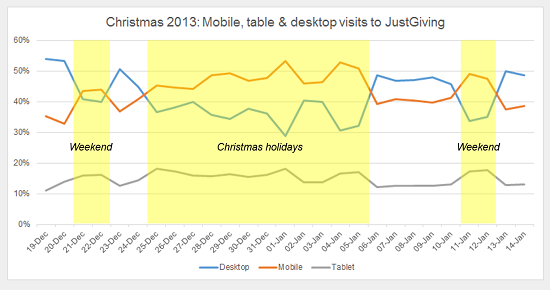 More people are at home over the Christmas holidays, ergo they use their mobile phones and tablets to do more of the things they normally do online on their PC. Like shopping (twice as many of us went online shopping on Christmas day as the year before) or donating to charity (51% more people made a donation through JustGiving on Christmas day last year than in 2012).
That means, during the Christmas break it's more important than ever to make sure your website and donation process works *really* well on a mobile phone. When we re-built our mobile donation process from scratch to enable 'one-touch' giving, we increased conversions by 33%, raising an extra £12 million in a year for good causes.  With Donate Box, our new social plugin, you can add our mobile-friendly donation process to your website in time for Christmas.
Be where the people are
Each year Facebook is one of the most visited sites in the world on Christmas Day, so schedule some posts to go out over the holidays to engage people with your cause. It's crowded though, with lots of brands vying for people's attention, so make sure the stories and content you share stand out from the crowd. Here's some of our favourite examples from last Christmas:
www.facebook.com/centrepoint.charity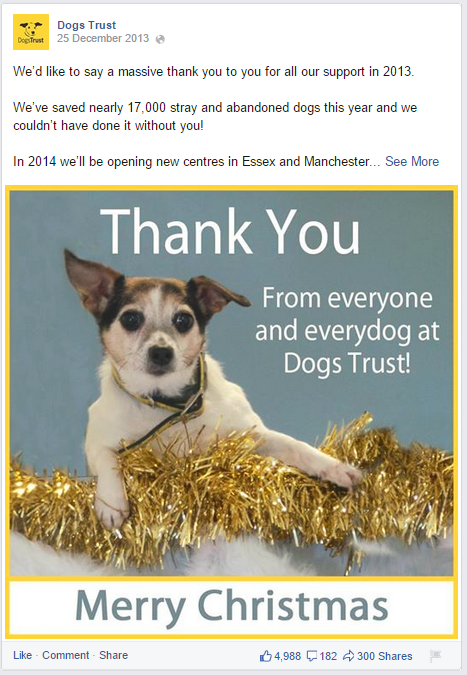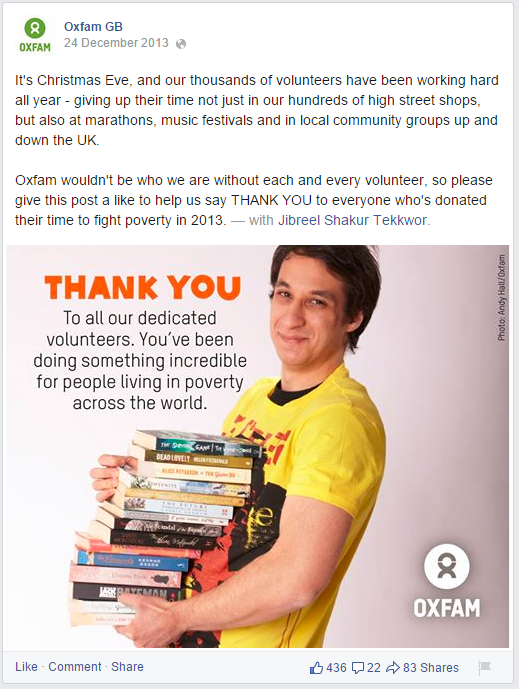 Related reads:
Get inspiration in your inbox!
Don't miss out on digital fundraising tips, tools and trends.
Sally Falvey has worked in online fundraising for over 10 years, and is the Head of Growth Marketing at JustGiving. She's passionate about helping all charities use the latest technology to be more efficient and raise more money.