Meet the inspiring winners of the JustGiving Awards 2017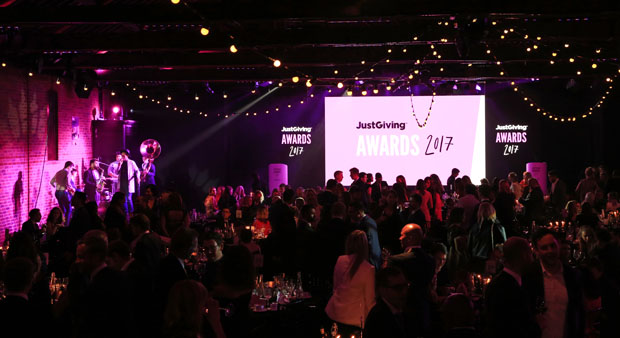 We are all still on cloud nine after Tuesday's JustGiving Awards! All of the finalists are incredible. Sharing their stories and celebrating their extraordinary achievements is both a joy and a privilege. We were immensely proud to celebrate them.
From 72,000 nominations, we celebrated 25 finalists and gave out awards in nine categories. Our individual and charity finalists have inspired more than 600,000 people from 93 countries to help raise an extraordinary £18 million.
Thank you to everyone who got involved in the awards this year – the thousands of people who took the time to nominate and vote. Here are your JustGiving Award winners 2017…
Creative Fundraiser of the Year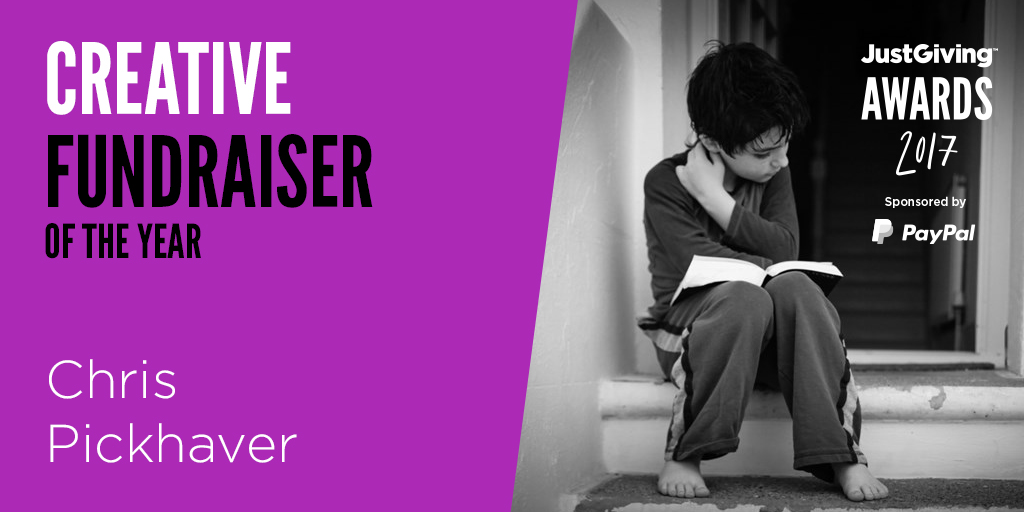 After a long struggle with mental illness, Chris' son Joe sadly took his own life last December. He was 16-years-old. Chris created a beautiful book of photographs in his son's memory that he uploaded to his JustGiving page. Joe's family wanted to raise £16,000 – one thousand pounds for every year of his life. They've raised over £43,000 for Young Minds Trust, a charity committed to improving the mental health of children.
Endurance Fundraiser of the Year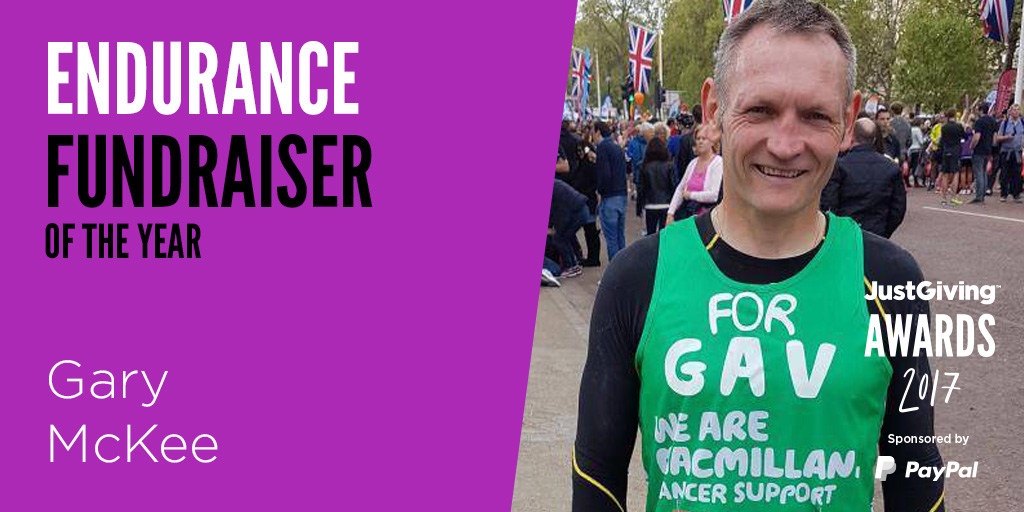 When Gary crossed the finish line of the London marathon, he was also crossing the finish line of his 100 marathons in 100 days challenge. He warmed up for the main event by running a marathon every single day for the 99 days leading up to it. Gary did it for his dad who was diagnosed with cancer 20 years ago and would have been 80 this year. Gary's raised over £100,000 for Macmillan.
Young Fundraiser of the Year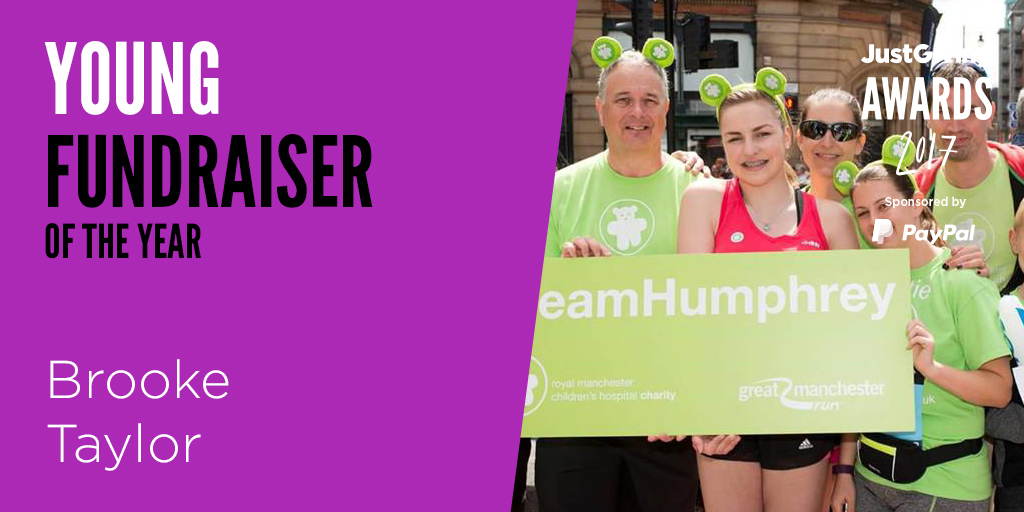 16-year-old Brooke has been a patient at Royal Manchester Children's Hospital since the day she was born. At 11 days old she had lifesaving surgery to remove a pelvic tumour and since then she's had more operations than birthdays. Last year, against medical advice, she completed the Manchester 10k with her surgeon by her side. This year, Brooke recruited more than 70 people to run with her in Brooke's Barmy Army including a brass band. Together they raised over £16,000 for the hospital.
The Outstanding Commitment Award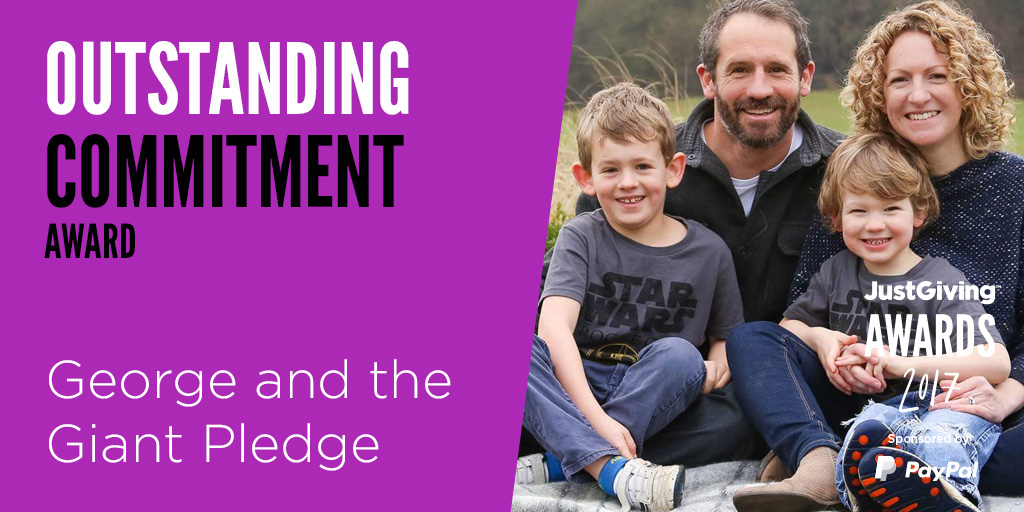 In January, four-year-old George was diagnosed with cancer. Blown away by the dedicated staff at The Royal Marsden, his mum and dad started George and the Giant Pledge. They set out to make things better for ALL kids facing cancer by raising £100,000. After smashing that target in just two weeks, they've inspired hundreds of people to join the pledge, raising over £430,000 in their quest to hit £1million.
The JustGiving Life Changer Award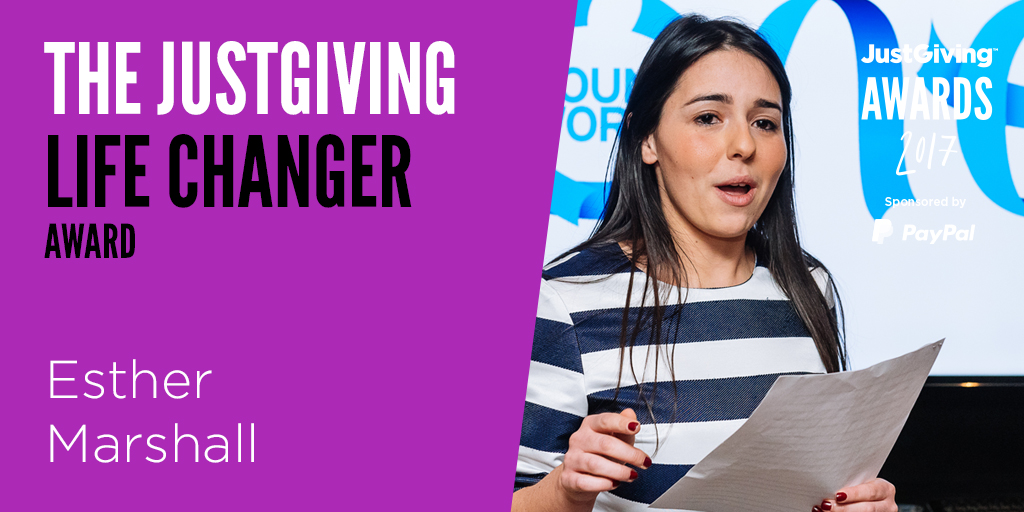 After surviving an abusive relationship, Esther vowed to help women and girls in similar circumstances to get back up on their feet, achieve their full potential and stand tall again. She started crowdfunding to set up sTandTall, an organisation that helps woman and girls get access to the support they need quickly and anonymously. The aim is to set up education programmes to teach people about the effects of bullying and abuse as well as holistic centres to provide restorative care to victims.
PayPal Crowdfunder of the Year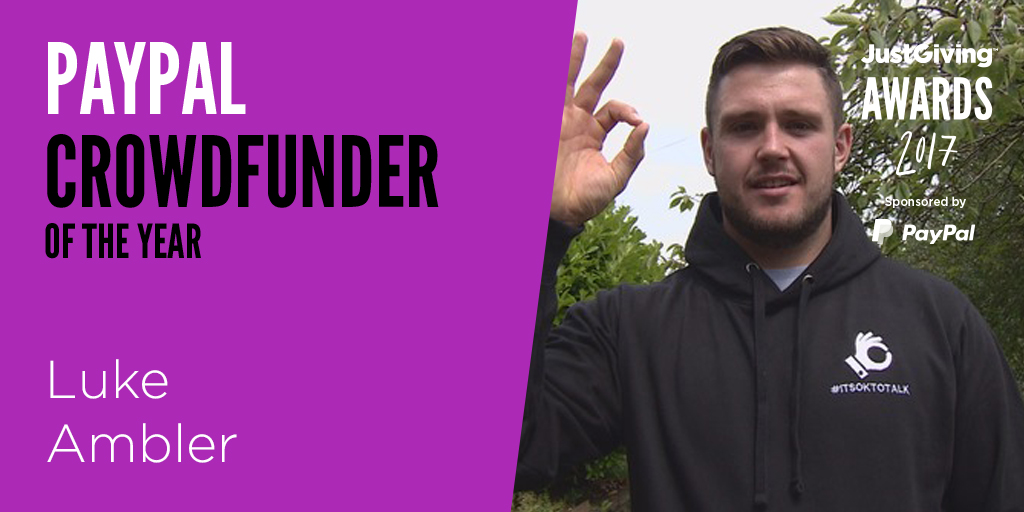 Luke launched #itsokaytotalk after his brother-in-law, Andy, sadly committed suicide in 2016. He wanted to create a safe space where men could speak without fear of being judged. He set up Andy's Man Club, encouraging men from all walks of life to talk to other like-minded men in his hometown. When the #itsokaytotalk selfie campaign took off on social media, Luke realised that this was a big problem nationally. He's now crowdfunding to set up an Andy's Man Club in areas across the UK.
Celebrity Fundraiser of the Year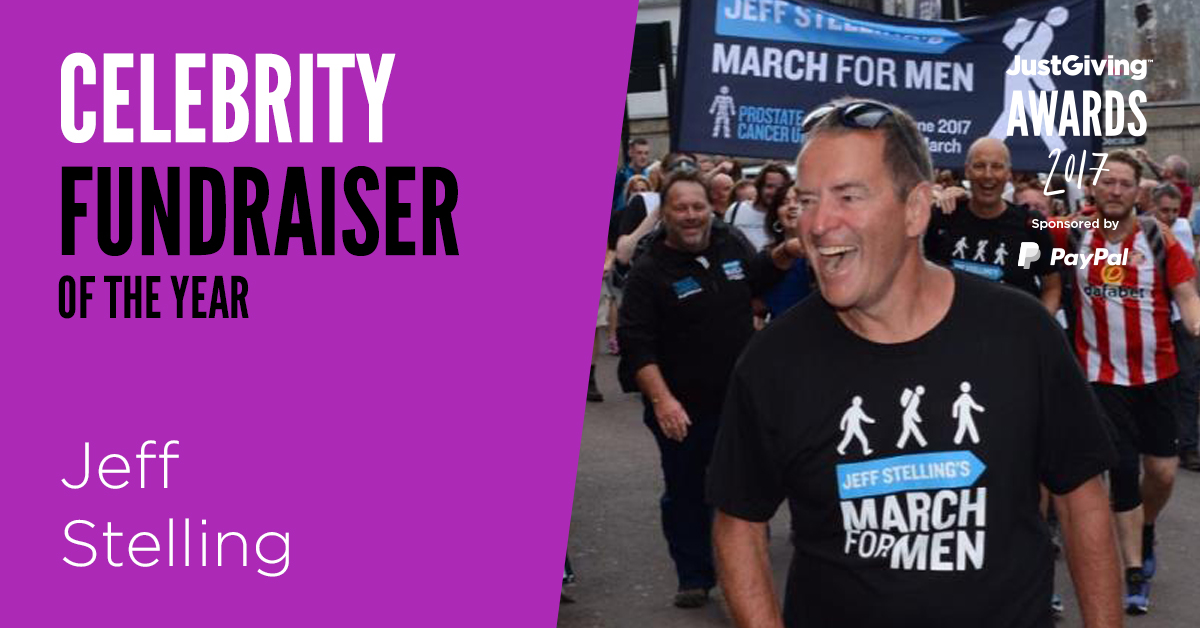 Football presenter Jeff Stelling's March for Men saw him walk 15 marathons in 15 days from Exeter to Newcastle, visiting 40 football clubs and encouraging hundreds of people to join him along the way. It was Jeff's second year of marching to beat prostate cancer, a disease that kills one man every hour. He's raised over £700,000 to help Prostate Cancer UK fight for better diagnosis, better treatment and better support.
Special Recognition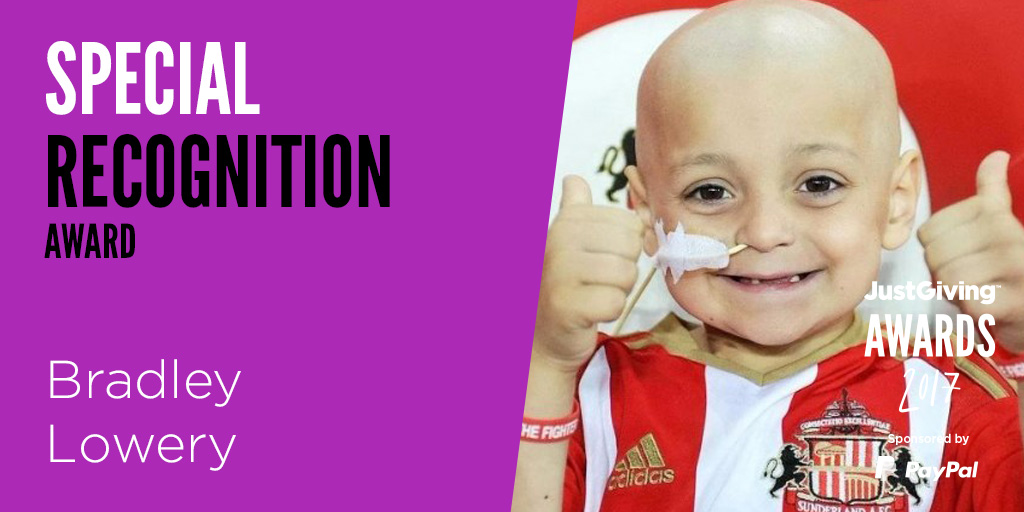 Bradley was diagnosed with a rare form of cancer, neuroblastoma, in January 2013 when he was just 18-months-old. He fought and beat the disease once, but sadly the cancer returned in July 2016. Gemma and Carl, his mum and dad, were told the devastating news that his cancer was terminal the following December.
Bradley went on to touch the lives of millions with his brave fight. As a huge Sunderland AFC fan, Bradley formed a close friendship with his football hero, Jermain Defoe. He regularly joined Jermain on the pitch as club mascot, with the striker playing a special role in Bradley's fight, regularly visiting him during his treatment. His story moved people all over the world, and Bradley's family raised over £700,000.
Six-year-old Bradley lost his battle on July 7th 2017. But his fight against neuroblastoma left a legacy that will help generations of children suffering from the disease. His story has raised crucial awareness and Gemma and Carl have set up the Bradley Lowery Foundation to help other children fight.
Get inspiration in your inbox!
Don't miss out on digital fundraising tips, tools and trends.
Helen looks after our social channels here at JustGiving. As social media manager she loves creating useful, inspiring content that connects with our community and celebrates their amazing achievements.