Meet your JustGiving Awards 2019 winners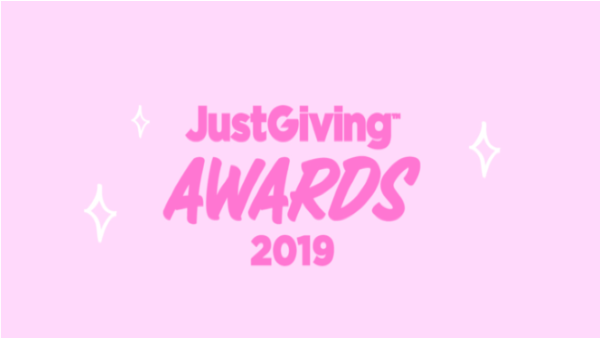 We can't believe that the JustGiving Awards are over for another year! It was an incredible evening which celebrated the dedication, generosity and unimaginable feats of fundraisers and charities from across the JustGiving community. This year we received the record number of 50,000 public nominations, and after weeks of deliberation, we managed to whittle this down to 24 finalists. We were honoured to have the opportunity to share each of the finalists' stories, and we finished the evening feeling inspired (and just a little bit emotional).
We want to take a moment to thank everyone who took the time out of their day to nominate and vote for this year's winners. We're proud to reveal that your 2019 winners are…
---
Celebrity Fundraiser of the Year 2019
Deborah James
In December 2016, Deborah was diagnosed with one of the rarest and most aggressive forms of stage 4 bowel cancer. The tumor was found to have a BRAF mutation, meaning that it's unresponsive to chemotherapy. Deborah took her life changing diagnosis as an opportunity to spread awareness and she set about not only fundraising, but sharing the signs and symptoms others need to be aware of. In between treatment, the self-proclaimed Bowel Babe has written bestsellers including F*** You Cancer, co-hosted You, Me and The Big C podcast on the BBC, written columns for The Sun and run her Bowel Babe blog. Not one to do things by half, she has also raised thousands of pounds for Bowel Cancer UK and organised her very own Bowelbabe Ball.
---
Change Maker of the Year 2019
Sarah Lamptey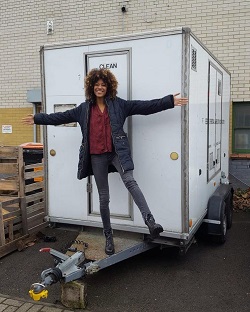 When volunteering at a homeless shelter, a chance conversation led Sarah to realise there was a need for better showering facilities for those sleeping rough. After starting an awareness petition and speaking to the Mayor of London's office, she decided it was time to kick into action and start her own crowdfunding campaign. Project ShowerBox has raised £5,820 to date, enough to convert one shipping container and a trailer into two shower systems. This is just the beginning of Sarah's campaigning, she has other long-term ideas on how to help enhance the lives of London's homeless, including permanent showers, washing machines and book swaps.
---
Charity of the Year 2019
Derian House Children's Hospice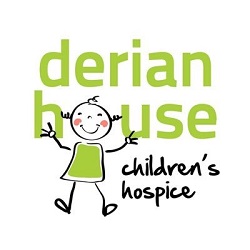 Derian House Children's Hospice provides respite and end-of-life care for children and young people with life-limiting conditions, across Lancashire and South Cumbria. The Derian House team are available 24/7, all year round, and aim to help children and young people create happy memories whilst also receiving quality end of life care. Their hospice cares for more than 400 children and young people each year, providing careers with the much needed opportunity to recharge their batteries. They also offer a range of services from day care and supervised play visits, to therapy and bereavement counselling. Despite the nature of their work, the team do everything in their power to make Derian House a happy place filled with joy and special memories.
---
Outstanding Commitment Award 2019
Katherine Tansey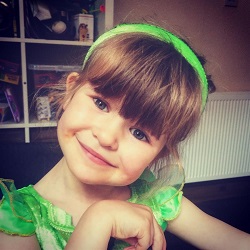 One morning in 2017, Katherine's daughter Isla woke up unable to walk. After several consultations and treatments, it was found that Isla had a cancerous tumour – glioblastoma multiforme (GBM) with a DIPG mutation – which had spread to her spine. Isla sadly lost her battle to cancer, but not before starting the incredible movement of #Islastones. The idea was simple yet wonderful. People were encouraged to find and paint a stone, make it as beautiful as possible, then take a picture and share it on Facebook before hiding it for others to find. Katherine has continued the movement and it has flourished to have over 65,000 people admire the stones on Facebook. The movement has also led to over £17,000 being raised for Abbie's Army Charity who are researching new medicines for rare and currently incurable tumours.
---
Creative Fundraiser of the Year 2019
Peter Williams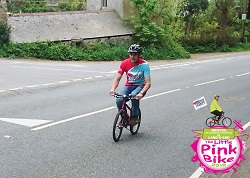 It's not everyday you see a six-foot man pedaling along on a pink child's bicycle, but that's exactly what Peter did in aid of The Brain Tumour Charity. His daughter Ellie had loved cycling from an early age, so after she lost her battle against cancer he wanted to celebrate her memory with unique and fitting challenge. He cycled the back breaking 211 miles from Bristol Children's Hospital to Land's End, raising over £52,000 in the process.
---
Endurance Fundraiser of the Year 2019
Mavis Paterson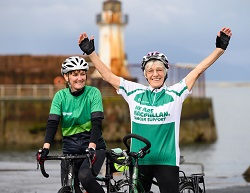 After taking part in a 24 hour cycle challenge in 2018, Mavis took to her bike once again and cycled from Land's End to John O'Groats all in aid of raising money for Macmillan Cancer Support. Mavis took on the 960 mile challenge in memory of her three adult children, Sandy, Katie and Bob. Not only did she raise an incredible £63,000, but she also became the oldest woman, at the fabulous age of 81, to cycle the length of Britain. Mavis has received incredible support from both her friend Heather, who cycled alongside her, and from the Macmillan Fundraising Committee in Stranraer who she credits for always backing her "daft ideas".
---
Fundraising Team of the Year 2019
The 3 Peaks Blind Team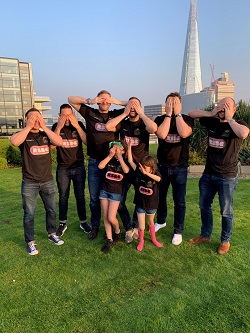 Research shows that in the UK nearly 90% of those who lose their sight in their youth won't work more than six month their adult lives. This issue is one that is particularly close to home for Matthew as his nine-year-old daughter, Alexa, has a rare eye condition that means she is likely to eventually become blind. Matthew joined forces with his friends Oliver, Doran, Ben, Ross and Jason and together they decided to take on the Three Peaks Challenge, hiking over 28 miles in 24 hours. However, this wasn't your typical challenge as, with the help of his teammates, Matthew took on the mountains whilst wearing a blindfold. Not only did the group raise over £24,000 for the Royal Society for Blind Children, but they also started a valuable conversation about the current perception of sight loss.
---
Young Fundraiser of the Year 2019
Alex Macpherson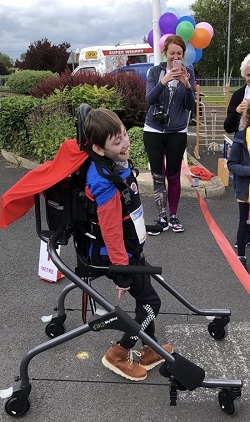 Just like a real life superhero, Alex donned a bright red cape and defied what his doctor's thought would be medically possible by walking a full 50 meters at the Rainbow Ramble Challenge. Alex and his family became involved with Rainbow House's conductive education when he was just two years old as he has grade five quadriplegic mixed cerebral palsy. Despite struggling with eating, standing and having had numerous emergency surgeries, Alex put all of his hard work into practice by exceeding his walking target of 15 meters by an extra 35 meters. His amazing efforts have raised over £3,500 for Rainbow House.
---
Special Recognition Award 2019
Shane Yerrell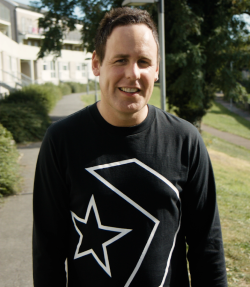 Shane is a man on a mission. After being the victim of a knife attack in 2007, Shane realised that he could turn his experience into a positive by supporting others who were going through their own traumatic or difficult situation. Determined to combat tragedy and hardship with kindness, he became a fundraising champion. He has run over 22 JustGiving pages, organising crowdfunding campaigns and taking on fundraising challenges. To date he has raised over £40,000, with each page supporting a different person, family or charity. Many of which he has never met.
Shane has been honoured with the Pride of Essex Award and a British Citizen Award, and now we're delighted to say he is also the JustGiving Special Recognition Award 2019 winner.
Get inspiration in your inbox!
Don't miss out on digital fundraising tips, tools and trends.
Sophie is Head of Brand at JustGiving. With over 7-years experience in the world of fundraising, she knows her stuff about building brand strategies and championing thoughtful marketing.