Product Update: February 2021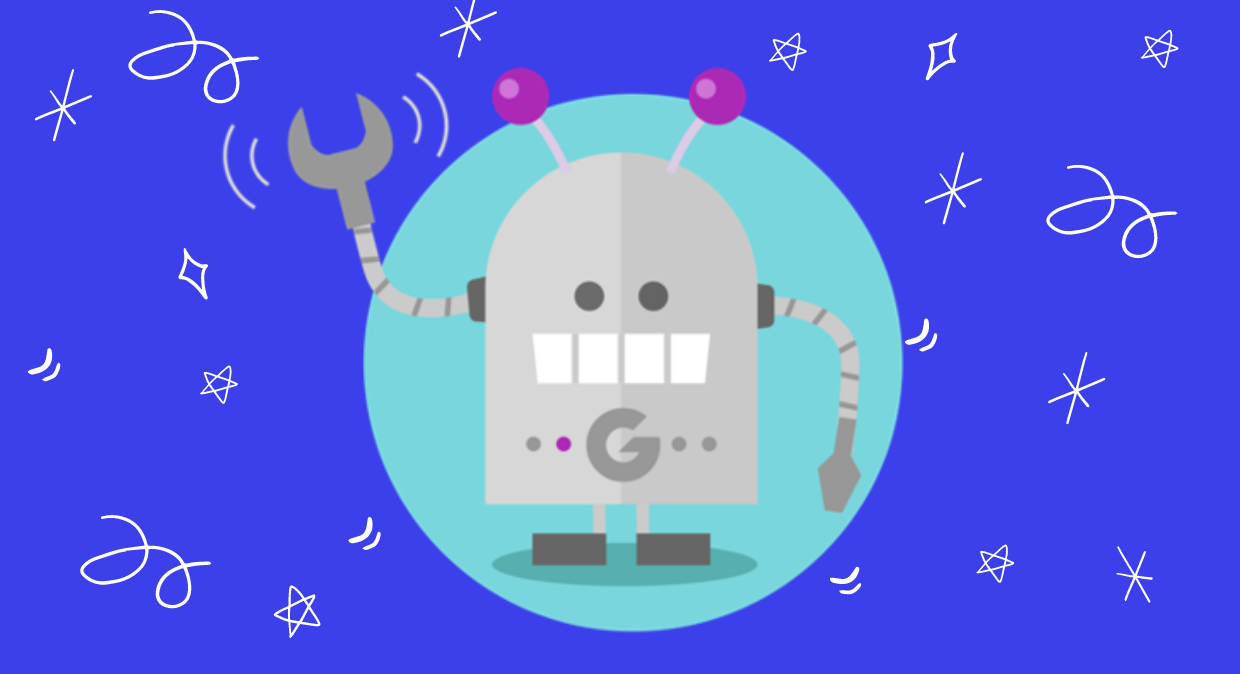 Welcome to our second monthly product update! We launched the first of our new blog series last month, sharing some of the awesome updates that our teams made in January. This included two new fundraiser email journeys, new donation buttons, and streamlined streaming processes.
We're excited to share even more news and updates, so without further ado, let's jump into the highlights for February 2021!
Direct Debit Giving on Fundraising Pages
As part of our commitment to help you raise more and acquire new supporters, we have launched Direct Debit Giving on all of our UK Fundraising Pages! This exciting new feature means that donors now have two giving options – they can give a one-off donation, or they can choose to continue supporting your charity with regular gifts until either the Fundraising Page closes or on an on-going basis.
This gives donors the freedom to support the charities they love through a site that they trust, plus all direct debit donations will appear in your JustGiving reports in your charity account. They initially appear in your Donation Reports as a Fundraising Page donation then, if the donor has chosen to continue giving after the Fundraising Page closes, their regular gift will appear as a direct donation.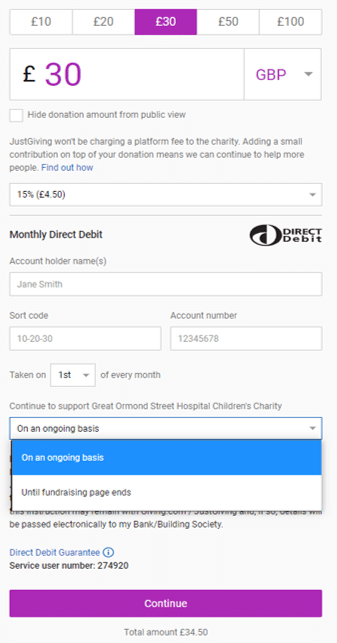 Our FinTech team have conducted rigorous testing of this new giving option and are continuing to optimise the experience for both you and your donors. The team is now aiming to take the functionality, feedback and process learnings to expand the Direct Debit Giving option to other pages later in the year, so keep your eyes peeled for updates on that!
Self-donate testing
When asked how fundraisers can raise more on JustGiving, our team always, always, always encourage people to self-donate. We know that when a person gives to their own Fundraising Page, their friends and family feel encouraged to also make a donation. Our Product Team wanted to explore if we could be doing more to encourage people to self-donate on their Fundraising Pages, so they launched a self-donate test.
The team divided people fundraising for charity on JustGiving into three groups in order to make the test both fair and accurate.
Group A (control group): No changes
Group B: Page owners saw a new pop-up upon successful creation of their fundraising page
'Give yourself the first donation. People are more likely to give when they see others have too. Get the ball rolling by making the first donation.'
Group C: Page owners saw a new pop-up upon successful creation of their fundraising page
'Back yourself! People who donate to their own page raise up to 42% more. It's the best way to kick start your fundraising, and only takes a minute or two.'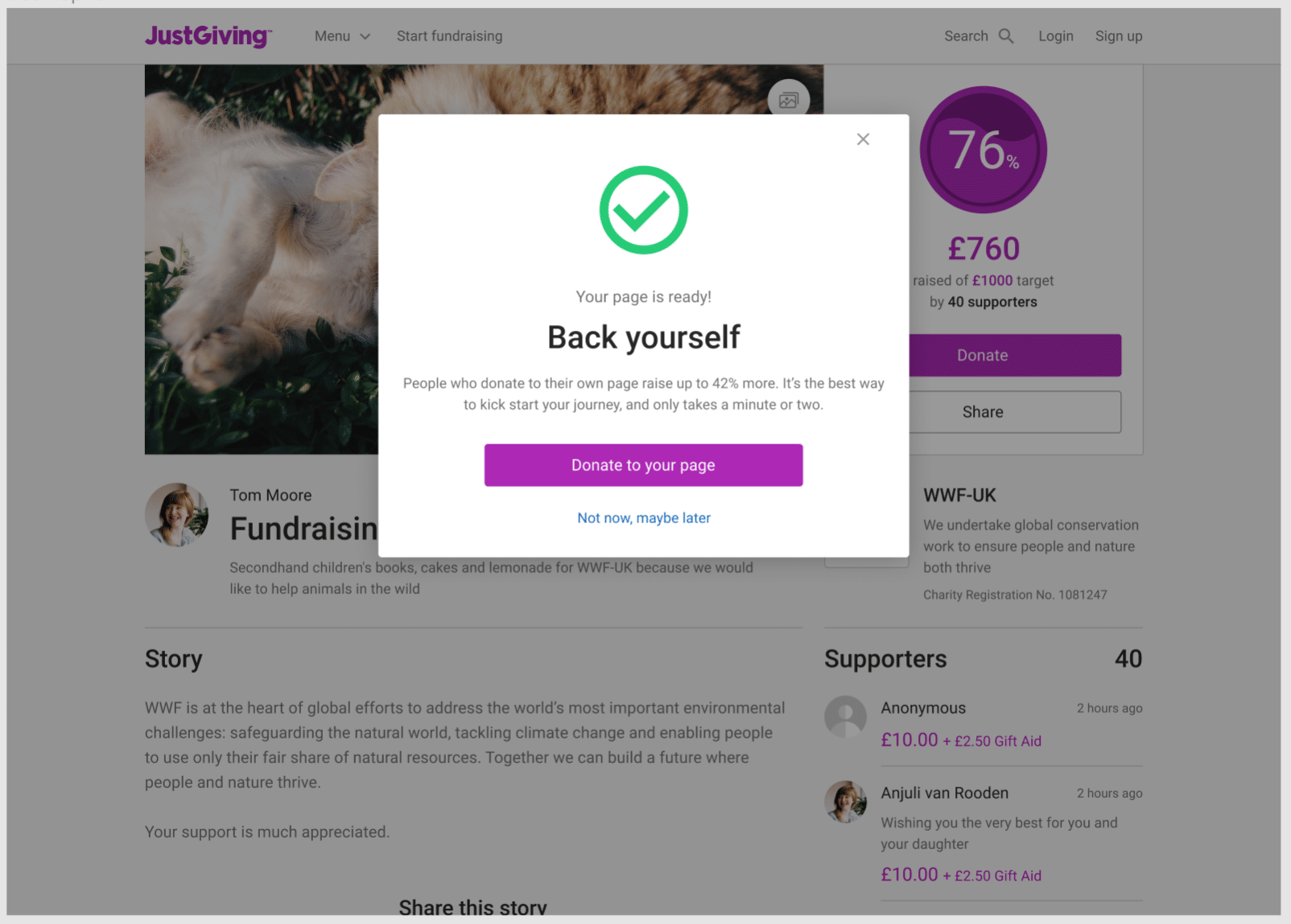 The results were astounding! Overall, we saw a 134% increase in self-donations immediately after a page was created, with Group C being the most likely to donate to themselves. Not only did people donate to their own pages, but those who saw the pop-ups in their account were also more likely to make a general donation – during our test we saw an incredible 101% increase in donations made by Fundraising Page owners. But wait, there's more! We also saw that those in Group B and C were more likely to click the 'share page' button and share their Fundraising Page url with their friends and family, with us seeing an overall 4% increase in page sharing.
The results from this test have now helped our team to understand what encourages fundraisers to donate both to their own pages AND to other JustGiving pages. We will keep the pop-ups active, using the wording preferred by Group C, to keep encouraging people to actively donate and share, and ultimately to raise more for you.
Bi-monthly virtual fundraising newsletter
We're delighted to share that from May onwards, we will officially be sending regular bi-monthly virtual fundraising newsletters to our charity community.
To date we have sent three, stand-alone virtual newsletters which have highlighted virtual specific resources available on JustGiving. The first was sent last September, and it was an overwhelming hit! This led us to send two additional editions in the hope of understanding if the appetite was driven by COVID-19 restrictions or a growing interest in virtual from our charity users. We quickly realised it was the latter, which is why we're so excited to make our virtual newsletters a regular offering! The newsletters will continue to share three top virtual fundraising resources, including recent blogs and webinars, and we'll also highlight any interesting reports, insights or tools – like our weekly Virtual Fundraising Chat service, run by our Customer Success Managers to support charities on all things virtual.
If you would like to receive the newsletter then you can simply log in to your JustGiving charity account, go to settings and email preferences, and then tick to receive monthly JustGiving newsletters.
Tell us your ideas and feedback
All of the product updates, innovations and new launches are done with YOU in mind, so share your ideas and platform feedback with us! Tell us what you'd love to see on JustGiving by using our Ideas Bank.
Get inspiration in your inbox!
Don't miss out on digital fundraising tips, tools and trends.
Toni Gregory is a Content Marketing Specialist and B2B copywriter.