Personalised videos for your London marathon runners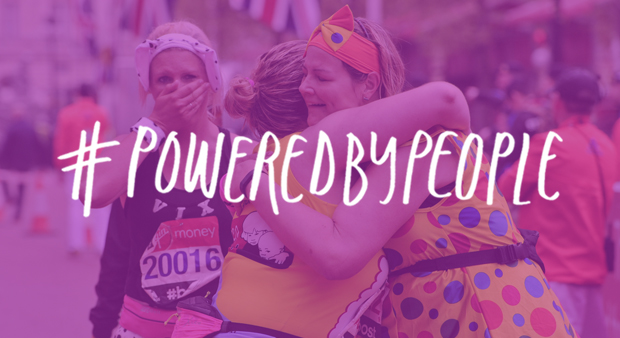 Off the back of last year's huge marathon success, the JustGiving team is thrilled to launch our 2016 #PoweredByPeople London marathon campaign. To celebrate your runners we've created personalised videos for every single one of them raising money on JustGiving. With our campaign we want to give your runners new ways to talk about their fundraising with all of their friends and networks. Here's an overview of the whole campaign and how your charity can get involved.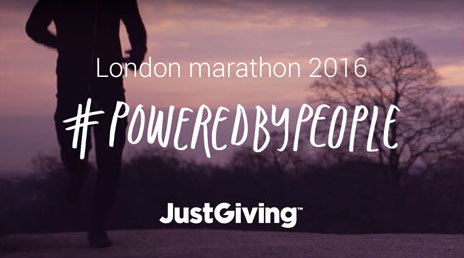 The idea
Nobody runs the marathon alone – every runner has supporters urging them on. So this year we're not just celebrating your amazing fundraisers – we want to hear all about the people who power them over the finish line too.
What we're doing
We're hitting all our social media channels to start conversions with marathon runners. From now until the marathon we'll be asking them:
Who they get out of bed for
Who inspired them to fundraise
Who keeps them going when training gets hard
Who makes it all worth it
We'll re-tweet our favourite stories as well as tweeting, curating and releasing brand new content from now until marathon day.
What's the latest?
As race day creeps closer, we know that your marathon fundraisers need a bit of extra support. So we created a personalised video for every London marathon runner, showing them celebrating what they've achieved so far. You can find your fundraisers' videos here, just enter their JustGiving Page address in the search bar.
How you can get involved
Make sure you use the #PoweredByPeople hashtag and inspire your supporters to get involved too!
Don't have any marathon runners? That's okay, we know that all fundraisers are #PoweredByPeople. We've seen lots of tweets from fundraisers taking part in all sorts events.
Get inspiration in your inbox!
Don't miss out on digital fundraising tips, tools and trends.
Deborah looks after JustGiving's paid media channels. She loves creating ads that engage and inspire their community, and spread the word about JustGiving around the world.