Why we've removed our 5% platform fee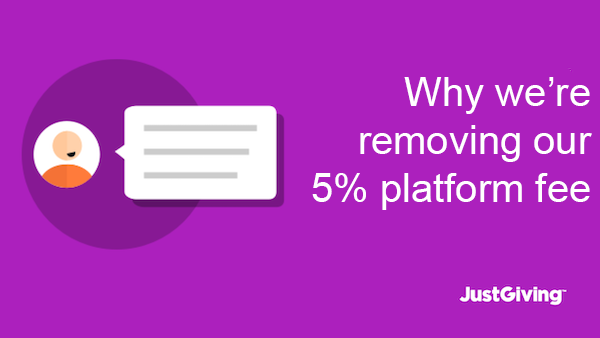 The world of fundraising has changed dramatically over the last two decades. JustGiving's platform has been a big part of this story: if you could travel back twenty years and ask someone to describe what fundraising for charities looked like, they might paint a picture of standing in the rain shaking a collection tin or being waylaid by a well-meaning volunteer while rushing down the high street.
Back in 2000 when our journey began, JustGiving's founders saw how technology could revolutionise fundraising, connecting charities directly to the millions of people out there who cared about their cause and wanted to support it – for example by running a marathon or competing in an event.
Since then, the world of online giving has gone from strength to strength: on JustGiving's platform alone, over £3.8billion has been raised for good causes. Life has changed radically since the early noughties and so has the way we support the causes that matter to us and help one another. Back then, fundraising online was a radical invention. These days, it's just the way many of us choose to give.
We're incredibly proud of JustGiving's history as the pioneer of online giving and are inspired by the generosity of our users. Now, JustGiving is taking its next exciting step into the future by removing our platform fee. This change will lower costs for charity partners, create greater transparency and choice for donors and supporters and underpin a sustainable future for the UK's biggest and best platform for giving, relied upon by charities of all sizes to fundraise in a safe, secure and reliable way.
From today, JustGiving will no longer charge a 5% platform fee to charities in the UK. Donors will be able to make a voluntary contribution to support the operation of JustGiving's platform. This means our 22 million users will be able to raise even more money for the causes they care about.
We believe that people who donate through JustGiving will be happy that more money will be going to their chosen charity, and by making a voluntary contribution to the UK's most-trusted giving platform we can continue to help charities and individuals raise even more money for good causes. That's why we're putting more power in the hands of our donors.
We're committed to providing a world-class platform and continuing to transform and grow online giving for the future, and the removal of platform fees across charity fundraising, donations and crowdfunding will help us do just that. The voluntary contributions made by donors will enable JustGiving to invest further in innovation, helping meet our long-term goal of growing the world of giving and making sure that no good cause goes unfunded.
The same ambition that underpins today's announcement also drove the changes we made in October, which saw the removal of platform fees for all crowdfunding, disasters and major incidents. All of the changes we've made have followed extensive consultation with JustGiving users and charities.
As the world of giving has grown and evolved, it's only right that our approach evolves with it. The changes we are announcing today represent one of the most significant in our near 20-year history. They will empower us to do even more.
Get inspiration in your inbox!
Don't miss out on digital fundraising tips, tools and trends.