Six successful Google AdWords charity campaigns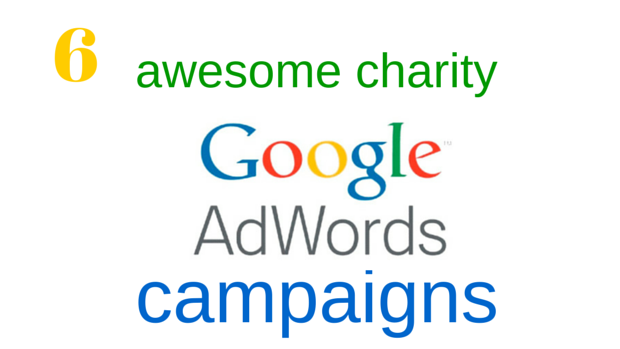 Google for Nonprofits gives registered charities access to almost £78,000 worth of AdWords credits per year, use of Google Apps to cut IT costs and access to premium YouTube features. Those AdWords credits are gold dust says Ross McCulloch as they allow you to reach new donors, volunteers and campaigners at no extra cost to your non-profit.
Here's six charities making the best use of their Google Ad Grant:
Shelter Scotland – making it simpler for people to donate unwanted furniture
The homelessness charity use geo-specific Adwords to drive furniture donations to their new Motherwell store. They combine Ads with a system called Response Tap, which provides a unique phone number to all users, forwarding calls on to the furniture collections driver, allowing them to track Ad to donation pick-up conversion.
Since March 2015 Ads have generated 390,683 impressions, resulting in 4,600 clicks. There have been 592 calls made to the store from digital activity, which gives a click to call rate of almost 13%. The driver has been recording all phone calls and attributing donations by channel. There have been 123 donations attributed to digital activity with an estimated resale value through the shop of £15,308 and an ROI of 523%. Digital donations have equated to 51% of all donations to the shop so far.
Elder Wisdom Circle – providing advice and recruiting volunteers
Elder Wisdom Circle harnesses the power of their Google Grant to pair advice-seekers with a network of seniors who provide advice based on their own life experiences. AdWords have had a huge impact on the charity's organisational aims, accounting for:
65% of advice-seekers who got in touch via AdWords
71% of overall website traffic
15% of online donations and volunteer registrations
[iframe id="https://www.youtube.com/embed/YfNn_HGI3Y8″ align="center" mode="normal"]
RNLI – increasing campaign engagement and conversion
RNLI's H2Only campaign challenges supporters to give up all drinks except water for ten days. Ad Words was key to actually getting people to sign up to take the challenge itself.
"By looking at the numbers on a week-on-week basis we were able to increase clicks to our site by 156%. Performance was really positive from a brand perspective, remaining competitive with an average position of 1, and an impression share of 81% across all terms." – Kate Whitlock, Marketing Manager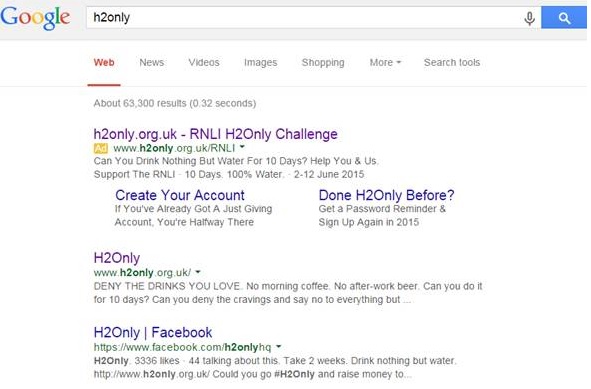 Scotland's Gardens – boosting garden visitor numbers and brand awareness
Since 2010 Scotland's Gardens Google Ads have been seen by almost 5 million people, driving over 100,000 visitors to their website – accounting for 15% of overall site traffic. 50% of visitors coming to the site via AdWords do so for the first time and the charity has seen a steady increase in visitor numbers and overall brand awareness as a result.
Relationships Scotland – helping the public find local mediation and counselling services
When couples are going through a divorce or separation a search online is often the first place they turn to for help. Relationships Scotland use Google AdWords to ensure they have a presence amongst the many Ads for litigation solicitors and self-help books. Geo-specific ads also help ensure people are connected to the family mediation, relationship counselling or child contact centre service closest to them.
"AdWords help us signpost people going through difficult life transitions, such as divorce or the breakdown of their relationship. We can connect people directly to our Member Services across Scotland, ensuring they get the professional mediation, counselling or child contact support they need." – Stuart Valentine, Chief Executive
Jo Walters Trust – increasing website traffic and donations
Jo Walters Trust have displayed Ads to almost 250,000 people in the last year. The majority of the Trust's website traffic now comes via targeted Ads and over a third of all new visitors come via an Ad they've clicked on within Google search results. The Trust raised £2,000 via a Christmas gift campaign – driven almost entirely via AdWords. They've also used AdWords to drive sales of charity ball tickets – raising £20,000 as a result. Here's some advice on using Google Adwords from the charity:
Charity Newbie #AdWords advice @ThirdSectorLab: 1. Learn how AdWords works 2. Plan the account 3. Track results in #Analytics 4. Stick at it

— Jo Walters Trust (@JoWaltersTrust) July 16, 2015
Is your charity using AdWords to drive donations, campaigns or volunteer recruitment? Leave us a comment below.
Want to learn how to run a successful Campaign on JustGiving? Sign up for our free webinar.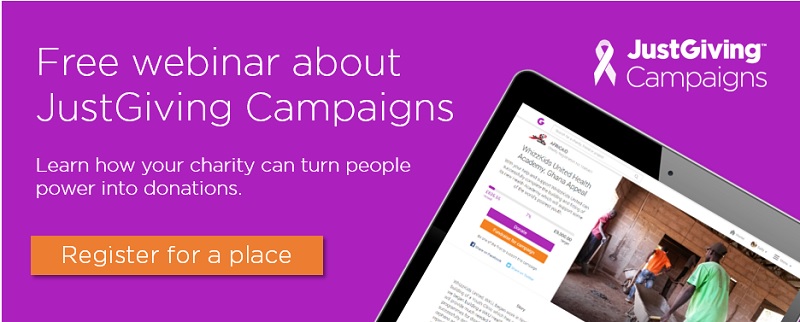 Get inspiration in your inbox!
Don't miss out on digital fundraising tips, tools and trends.
Ross McCulloch is the founder of Be Good Be Social training and events, as well as Direcor of Third Sector Lab - a digital media agency working exclusively with charities, housing associations and social enterprises. He has worked with a wide range of clients, including Relationships Scotland, SCVO, Oxfam Scotland, Enable Scotland and Breakthrough Breast Cancer. Ross also sits on Foundation Scotland's Impact and Innovation Committee and is Chair of Comic Relief's Community Cash Glasgow funding panel.