Small charities smashing it with digital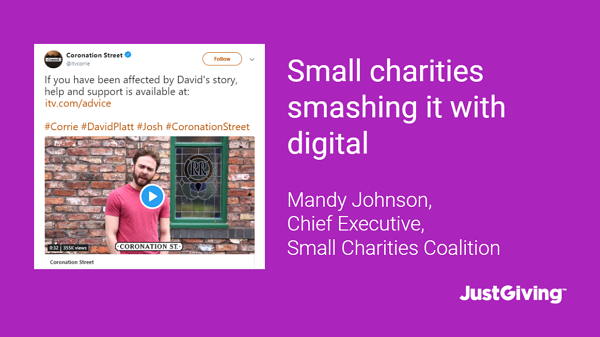 When you think of a small charity what comes to mind? There are many misconceptions about small charities, one of which is that they are less "professional", or less adept, than their larger charity cousins. This will always be true of some, but there are also many small charities doing amazing things, and with very limited resources.
Here are the five top tips I've learnt from the small charities smashing it on social media.
1. Make yourself relevant to current affairs
Charities often tell me that it's hard to get stand out on social media without paying for advertising. Big budgets definitely help, but I often see small charities breaking through the noise by jumping on external events that are pertinent to their cause.
A great example of this comes from Stay Brave. They're a small charity working to ensure that any survivor of abuse, regardless of gender or orientation, gets the help they need and respect they deserve. With no paid employees, their social media channels, like the rest of their work, are managed entirely by volunteers without any budget for advertising. Despite their limited resources, Stay Brave's social media is alive with relevant, regular and engaging content.
This was particularly apparent to me when I saw the way that they had been engaging with a storyline on Coronation Street about a man being raped.
If you have been affected by David's story, help and support is available at: https://t.co/W35MEI9xnr #Corrie #DavidPlatt #Josh #CoronationStreet pic.twitter.com/vJyEx8SMmf

— Coronation Street (@itvcorrie) March 16, 2018
2. Create campaigns
It is easy to see campaigns like Movember or #WearItPink and assume that achieving something similar is only possible with big brand and media agencies behind them. Great charity campaigns can be achieved with a simple idea and strong execution.
I saw a lovely campaign on Twitter recently from Theodora Children's Charity. The charity trains "Giggle Doctors", who visit children in hospital to make them laugh.
For a week in March, they ran a campaign called "#GiggleWeek". The campaign saw people taking to social media to share their giggles – raising money, awareness and smiles for their charitable work.
Thanks @luminousPR, enjoy our giggles for #Giggleweek! @GiveAGiggle is a fantastic charity, bringing laughter to kids in hospital. Challenging @UEAStudentEnt @theuserstory @Chris_NorfolkCC and @EposNow to beat our giggles! Text "HAHA20 £3" to 70070 to donate £3 to a great cause! pic.twitter.com/0H8nHzmOx7

— Safepoint (@safepointapp) March 21, 2018
To do something similar, charities need a clear call to action, a simple idea and a lot of focused communications in the build-up.
3. Take photos that bring your content to life
Many charities have started to cotton on to the fact that great visuals can really amplify messaging on social media. They're also a great way to ensure you are capturing people's attention.
This seems to have resulted in the same stock images being used over and over again. This is a shame, because it doesn't take much to take a few well-crafted, bespoke photographs that make your social media look unique and eye-catching.
Chilterns MS Centre do this very well. They help people gain greater control over their MS so that they continue to lead happy and healthy lives. This month they've been encouraging people to share a "caring cuppa", and taking lots of photos of delicious cream teas.
The tweet below was a particular favourite of mine. By taking the effort to find a cup and saucer in their own brand colours, the photo looked crisp and professional – a great way to engage your audience.
Our delicious cream teas are ready! Thanks @CreamTeaSociety for supporting us. Available at the Centre all week for just a £2 donation including tea or coffee. Why not pop in and see us! #caringcuppa #MSawarenessweek #coffeemorning #teabreak #clottedcream pic.twitter.com/vWpZLnjcFe

— Chilterns MS Centre (@ChilternsMS) April 23, 2018
4. Repurpose content
A great way to build an engaged audience on social media is to make sure that your charity is constantly putting out regular content. It can feel hard to constantly think of something new to say on social media.
A great way of filling in the gaps is to remind your followers of key moments from your charity's history. I loved this recent example from Fight Bladder Cancer, who posted a simple photo of a newspaper article reminding their supporters why they do the work that they do. This is an authentic and replicable way of keeping your social media audience engaged.
A reminder of our first ever full page article about #bladdercancer with Sarah who was diagnosed at 27 year old. She didn't make it to her planned wedding. #WhyWeDoThis pic.twitter.com/2bsumAMXcC

— Fight Bladder Cancer (@BladderCancerUK) April 22, 2018
5. Document your every day
Another simple and easy way to keep your content fresh and regular is to share what you are doing each day. It doesn't have to be hugely exciting – taking a photo of people and adding some text explaining what they are doing is an easy way of making your followers feel they are part of the work you are doing.
A great example of this comes from the Black Heroes Foundation, who share pictures and stories from when they are out and about.
Get inspiration in your inbox!
Don't miss out on digital fundraising tips, tools and trends.
Mandy Johnson is the Chief Executive of Small Charities Coalition, the Chair of the Institute of Fundraising South East and London Committee and a Trustee of War on Want and Mind in Mid Herts. Prior to joining Small Charities Coalition, Mandy worked for a variety of both private sector and non-profit organisations including Cancer Research UK, Marie Curie, Change.org and Deloitte. She has raised millions of pounds for the charities she's worked for and was named as one of the 50 most influential fundraisers of 2016 by Civil Society's 'Fundraising' Magazine.